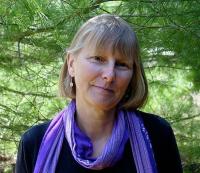 Lynn Davies (poet) was born in Moncton, New Brunswick, in 1954. Davies' published works of poetry, The Bridge That Carries the Road (1999) and Where Sound Pools (2005), were favourably received by the public. The Bridge was selected as a finalist for the Governor General's Award and short-listed for the Gerald Lampert Award in 2000. Her individual poems have been broadcast on the CBC and included in a number of anthologies and literary magazines, such as The Fiddlehead, The Malahat Review, and The New Brunswick Reader. Her early work developed from her love of travel and her habit of journal writing and is often in the form of short snapshots of places she's been, people she's known, and events and experiences she's had. Her later work in Where Sound Pools continues to explore many of the themes found in The Bridge. Davies' interest in place, relationships between people, nature, and family are still prominent themes. This work, however, more directly explores the impact of the external world on the psyche. The poems in this work speak to how human senses and imagination interpret the mundane.
Davies' family moved from Moncton to Newcastle, NB—now part of the city of Miramichi—just before she was to start grade three and remained there for five years. When Davies thinks of her childhood, she remembers Newcastle as the theatre of her youth.
The summer before she was to begin the eighth grade, Davies' family returned to Moncton where her parents bought and operated an independent bookstore known as "The Book Mark" on Main Street. Davies cites this environment and her mother, Anne, as early influences on her writing. She recalls clearly how her mother would recite from memory Robert Louis Stevenson poems and how she habitually read to Davies and her younger sister, Susan. In a house that valued the written word, Davies began to keep a diary regularly and, later on, journals. This practice is the foundation upon which she built her poetic voice.
In those formative years, Davies learned to embrace the written word but it was in the open air of the parks and forests of New Brunswick that she nurtured a lifelong passion for the outdoors. She was not actively involved in school sports or organizations but she was an avid hiker and outdoor enthusiast. She has hiked trails throughout the Maritimes and Canada, and has been washed-out trying to traverse the Dobson Trail more than once. Many of her poems express the passion she has for nature, hiking, and camping.
After graduating from Riverview High in 1972, Davies crossed the Atlantic Ocean and travelled abroad for nearly two years. She travelled in England and then went to Northern Norway for a summer to work as a farmhand. She picked grapes in France and worked illegally, without a valid visa, as a chambermaid in Holland. She eventually returned to Canada but continued to drift, writing a weekly travel column for a Moncton-based publication that is now out of print. Making the deadline was never an issue for Davies because she had a habit of writing every day. Finding a typewriter in order to type out final drafts, however, often proved difficult.
Davies eventually married in 1978. That same year she attended the University of King's College in Halifax, Nova Scotia. While an honours student at King's, she received the Honourable Ray Lawson Scholarship (1979), the Silver Medal in English (1980), and the Margaret Pond Memorial Prize (1983). She worked part time from 1980 to 1983 as a library assistant at the MacDonald Science Library on the Dalhousie University campus. Originally intending to study journalism, her focus changed and she graduated with a BA in English (Honours) in 1983.
From 1983 to 1987, she made a living as a freelance magazine writer. Her articles and essays appeared in Canadian Geographic, Nature Canada, Outdoor Canada, Arts Atlantic, and The Globe and Mail. She also taught creative writing for the Halifax City Continuing Education program. During this time, she moved to Vancouver with her husband, who was continuing his education. In the mid 1980s, the couple returned again to Halifax and started a family.
From 1987 to 1997, Davies became a self-described "stay at home mom." While she raised her daughter Josie (b. 1986) and son Patrick (b. 1987), she refined her prose. With the demands of motherhood, her daily writing became shorter, though she still did not consider herself a poet. She continued to write in her journal as she always had, recording life around her. Out of necessity she developed a poetic prose form that fit the circumstances of her lifestyle.
In the early 1990s, she attended the Maritime Writers' Workshop and was surprised when her writing was received by other participants as poetic prose. With a name for the technique she had been developing, she became comfortable with the idea of being a poet, although she still describes herself as a poet by accident.
In 1995, her poem "The Flamingo" was the first winner of the Lina Chartrand Award from Contemporary Verse. That same year she took part in the Writing Studio at the Banff Centre for Fine Arts.
In 1999, her first book (The Bridge That Carries the Road) was published by Brick Books. Its completion was the result of ten years of writing. Not a poet who pushes herself to complete a poem, she is a methodical and meticulous re-writer. Her talent was quickly recognized and The Bridge was nominated for the 1999 Governor General's Award. With the nomination came a promotional book tour across Canada that was sponsored by the Canada Council for the Arts.
Davies has always enjoyed working with children and volunteer organizations. She has worked with the Nashwaaksis Middle School Hiking Club; headed creative writing and bookmaking workshops for children at the Beaverbrook Art Gallery and in several local schools; worked with the Royal Road Elementary School Library; and has also held several writing-related teaching positions. She has also been a board member of the Writers' Federation of New Brunswick and been involved in literary festivals, including the Alden Nowlan Festival in Fredericton and the Word on the Street in Halifax. In 2002, she established ReadWell Tutoring, working as a tutor with children with special needs and reading difficulties.
Davies published her second collection of poetry, Where Sound Pools, in 2005 to positive reviews. She continues to write poetry several hours a week and finds inspiration in the works of Don McKay, Jan Zwicky, Roo Borson, Dennis Lee, and Sheree Fitch. She is also part of an informal writers' group that consists of several established writers from the Fredericton area who meet a few times a month to discuss their work.
Nicholas Learmouth, Winter 2009
St. Thomas University
For more information on Lynn Davies, please visit her entry at the New Brunswick Literature Curriculum in English.
Bibliography of Primary Sources
Davies, Lynn. The Bridge That Carries the Road. London, ON: Brick Books, 1999.
---. Personal interview. Oct. 2009.
---. Personal interview. Nov. 2009.
---. Where Sound Pools. Fredericton, NB: Goose Lane Editions, 2005.
Bibliography of Secondary Sources
Carey, Barb. "Poetry." Rev. of Where Sound Pools, by Lynn Davies. Toronto Star 20 Nov. 2005: D6.
Cronin, Ray. "Clear, Accessible, Inventive, Complex." Rev. of The Bridge That Carries the Road, by Lynn Davies. Daily Gleaner [Fredericton] 27 Nov. 1999: B7.
Lahey, Anita. Rev. of Where Sound Pools, by Lynn Davies. The Malahat Review 155 (Summer 2006): 87-89.
Leckie, Ross. "Living With Loneliness." Rev. of The Bridge That Carries the Road, by Lynn Davies. The New Brunswick Reader 23 Oct. 1999: 21.
Lynes, Jeanette, ed. Words Out There: Women Poets in Atlantic Canada. Lockport, NS: Roseway Publishing Co., 1999. 186-90.