The Maritime Writers' Workshop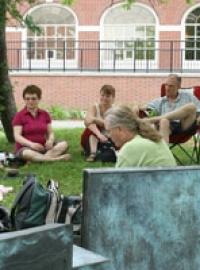 The Maritime Writers' Workshop (MWW) was founded by Mary Lund and Nancy Bauer in 1975 when Lund, a workshop junkie, asked Bauer to help her create an apprenticeship experience for aspiring writers in the Maritimes. At the time, no such workshops existed east of Toronto. Over its history, the MWW has relied on three important coordinators—Steven Peacock, Glenda Turner, and Rhona Sawlor—as well as members of UNB's McCord Hall "Ice House" group. In 2007, the UNB Arts Centre took over its management.
Contributing to the MWW's provenance was a changing literary climate in post-1967 Canada, a climate of increased national pride. Also, UNB had started an MA in creative writing in 1970. Lastly, increased government funding for the arts in New Brunswick made the initiative viable.
In its early years, the workshop's categories were restricted to fiction, poetry, and publishing. Later, it expanded to include journalism, non-fiction, and children's literature. In 2010, the price for the week-long workshop was $460, offset, in some cases, by financial awards of $40 to $405. For entrance, writers furnish manuscripts that are workshop-ready. Throughout the years there has been a focus on keeping class sizes small so that instructors can provide close feedback and develop personal relationships with participants. There are never more than forty attendees.
The first workshop was held at the Alumni Memorial building at UNB. Attendees were housed in the Lady Beaverbrook residence. The opening lecture was a highlight, and it has remained as a celebratory occasion open to the public. To this day, the workshop relies heavily on volunteers who assist in everything from organization and planning to participant registration.
Bauer and Lund's philosophy was that the workshop should be intensive and lecture-packed to submerge participants in the creative process. During the first year, the McCord Hall writers (Kent Thompson, Robert Gibbs, and Bill Bauer) were guest lecturers. John Metcalf was the out-of-province invited speaker, the idea of an invited outsider coming from Thompson. The Canada Council awarded a financial grant that covered Metcalf's airfare and honorarium.
A notice in Books in Canada described the workshop as a "polite and peaceful" (Boone) circle of literary promise because of a lack of competitiveness among participants. And despite the usual mix of novice and experienced writers, there was something for everyone, as Pat Good, one attendee, recounted. After giving up writing to raise her children, Good arrived at the MWW in 1990 with one unpublished manuscript while three out of seven classmates had published at least one book. After the workshop she enrolled in a creative writing course as part of her UNB MA programme. As Heather Browne Prince reminded her, "We're all bluebirds here. There are no robins or starlings" (qtd. in Boone).
Well known MWW graduates and instructors include Wayne Curtis, Dale Estey, Sheree Fitch, David Adams Richards, Shari Andrews, Jo-Anne Elder, David Helwig, Susan Kerslake, Kevin Major, Steven Heighton, and Sylvia Fraser.
Maisa Lebovitz, Spring 2010
St. Thomas University
Bibliography of Primary Sources
Bauer, Nancy. Email interviews. 2 Nov., 7 Dec. 2010.
Bibliography of Secondary Sources
Bauer, Nancy. "WFNB; Strength, Camaraderie in Joiners." New Brunswick Telegraph-Journal 22 May 2010: G2.
Blades, Joe. "The Poet's Corner of Canada: Fredericton, New Brunswick." Write Out Loud. 1 May 2010. Arts Council England. 30 Nov. 2010
<https://www.writeoutloud.net/public/blogentry.php?blogentryid=10119>.
Boone, Laurel. "Crafting the Writer." Books in Canada. 23 Dec. 2010
<http://www.booksincanada.com/article_view.asp?id=2511>.
"WFNB Member's Pages." Writers' Federation of New Brunswick. 14 Dec. 2010
<https://wfnb.ca/wfnb-members/>.
"Writers & Writing." The Writer's Union of Canada. 30 Nov. 2010
<https://www.writersunion.ca/>.