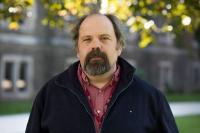 Shane Douglas Neilson (family physician and writer) was born 29 September 1975 in Sheffield, New Brunswick, and he moved to Oromocto when he was eight years old. Upon graduating from Oromocto High School, he studied biochemistry at the University of New Brunswick in Fredericton for three years. Neilson then applied to the Dalhousie Medical School where he gained early admittance at the age of nineteen. Because of prevailing attitudes toward medical traditions and hierarchies, Neilson struggled to graduate from medical school. After completing a one-month probationary clinical period, however, he was granted his medical degree, and, in 2000, he began his medical residency at Memorial University in St. John's, Newfoundland. Shortly thereafter he returned to Halifax where he spent a year as a trauma doctor in the teaching hospital's emergency ward.
Neilson's work was cut short by a depressive mood disorder, and suicidal thoughts forced him to leave his work in emergency medicine. After an attempted suicide, he spent six months in psychological recovery. His wife Janet (Mizuki) and daughter Zee played a significant role in his recovery to stable mental health. Mental illness has provided Neilson with "belief in emotion" (Personal interview). He says in his memoir, Call Me Doctor, that "I had to learn the hard way just what it did mean to become a doctor" (137). Through his recovery from depression, he rediscovered a love of medicine and rejoined the medical field as a family physician. He never returned to practice trauma medicine.
Neilson now lives in Guelph, Ontario with his wife, daughter, and son, Kaz, and he practices at the East Wellington Family Health facility. In addition to his practice, he continues to write poetry. He has become a critically acclaimed poet and author. His first work appeared in the New Brunswick Reader, a literary supplement of the Telegraph-Journal. In the following years, he published poems in eighteen periodicals, including four collections of his own poetry. His work now includes The Beaten Down Elegies (2003, poetry); an edited series of Alden Nowlan's medical poems, Alden Nowlan and Illness (2004); Call Me Doctor (2006, memoir); Exterminate My Heart (2008, poetry); Meniscus (2009, poetry); Approaches to Poetry: The Pre-Poem Moment (2009, anthology); and Complete Physical (2010, poetry). These works were greeted with critical acclaim upon publication. Michael O. Nowlan proclaimed in The Daily Gleaner that "Meniscus has an excellent balance in which the medical practitioner spans the vital features of life and death with precision, understanding, care, and realism" (D7). Call Me Doctor, Neilson's memoir, has gained much attention in the literary and medical fields. A review in the Canadian Medical Association Journal said, "Call Me Doctor is a relevant read for young medical professionals, candidly describing personal challenges faced by the author, Shane Neilson, on the path to becoming a doctor. He frames his unique experiences with both emotion and sincerity; every reader can relate" (Ng 504). Neilson continues to write while balancing family life and his medical practice. His forthcoming works are Gunmetal Blue (2011, memoir) and Alice and George (2012, poetry). Neilson also writes a regular column in the Canadian Medical Association Journal, and is an editor with Fog Hollow Press in Victoria, British Columbia.
Neilson credits Alden Nowlan as a significant influence on his literary life, saying that "Alden Nowlan's novel The Wanton Troopers" was especially powerful, containing something "that I could identify with" (Hodd). Neilson said that Nowlan's novel "changed his life" (Personal interview). He now has an almost complete collection of Nowlan's first editions with the exception of one rare piece. His admiration for Nowlan is clearly shown in the edited series of Nowlan's medical poems. Other influencesinclude Milton Acorn and Al Purdy, both also poets of the raw human condition.
Neilson's writing has been recognized with a number of awards. In 2009 he received the Mimi Divinsky Award for History and Narrative in Family Medicine. The award recognizes the narrative account of experiences in family medicine and comes with a one-thousand-dollar prize (Nowlan). In 2010, he was awarded first prize for his poem "New Year's Day" in the 15th annual Poem of the Year contest for Arch Poetry Magazine (Hodd).
Many of his poems talk of the rural New Brunswick of his youth, especially of its demise. Neilson recalls in "This is not a Rural Poem,"
The hills would roll if I say so. The stalks of corn that flank
the road
are a million sentries, fields have been cultivated to lie fallow,
the barns are collapsible and don't know where to repair. (1-4)
Neilson comes back to New Brunswick every year for poetry week on October 3rd. He drives along the Saint John River to the old farm his father owned in Sheffield, longing for old connections. He said in an interview that "if I had a choice I would live in New Brunswick, in Fredericton. I would live close to the University of New Brunswick, close to the Saint John River" (Personal interview).
Neilson's attachment to the province is clearly evident in his writing. In a personal interview, he offers advice to aspiring New Brunswick writers: "they are every bit as well positioned to [write], they don't need a more isolated place to goose their writing." He continues that "all you need to have is a good bookshelf and good exposure. Be very diligent about what you read, read for passion and emulate that passion." Citing his own experience, he confesses that "the reading came first, I read compulsively and this compulsivity led to reading critically, which shifted to mimicry and developing my own voice." He concluded by saying that "you don't need to leave New Brunswick," but for those that do, or have to, developing a loyalty to roots is essential. From that loyalty comes protection, he believes. "I don't like it when New Brunswick gets a bad rap."
Chantal Carson, Winter 2010
St. Thomas University
Bibliography of Primary Sources
Neilson, Shane. "Alice and George." The Fiddlehead 258 (Winter 2014): 90-92.
---, ed. Approaches to Poetry: The Pre-Poem Moment. Victoria: Frog Hollow Press, 2009.
---. The Beaten Down Elegies. Victoria: Frog Hollow Press, 2003.
---. Call Me Doctor. Lawrencetown Beach: Pottersfield Press, 2006.
---. Complete Physical. Erin: Porcupine's Quill, 2010.
---. Exterminate My Heart. Illus. Geaorge A. Walker. Contemporary Canadian Poets 4. Victoria: Frog Hollow Press, 2008.
---. Gunmetal Blue. Kingsville: Palimpsest Press, 2011.
---. Meniscus. Emeryville: Biblioasis, 2009.
---. Personal interview. 20 Dec. 2010.
Nowlan, Alden. Alden Nowlan and Illness. Ed. Shane Neilson. Canadian Masters Series 1. Victoria: Frog Hollow Press, 2004.
Bibliography of Secondary Sources
Hodd, Thomas. "Prognosis Poetry; New Brunswick Born Poet-Doctor Shane Neilson Has Found Literary Success and a Medical Practice in Erin, Ontario, Dealing With Tales of Life and Death Daily." Telegraph-Journal [Saint John, NB] 17 July 2010: S5.
Ng, Wendy. "Forging a Physician." Rev. of Call Me Doctor, by Shane Neilson. Canadian Medical Association Journal 29 Aug. 2006: 504.
Nowlan, Michael O. "Poems Span 'The Vital Features of Life and Death.'" The Daily Gleaner [Fredericton, NB] 16 Jan. 2010: D7.