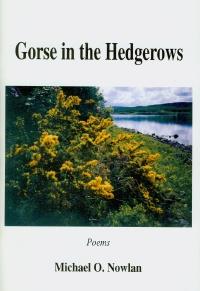 Michael O. Nowlan (teacher, poet, editor, columnist, reviewer, and expert stamp collector) was born in Chatham, New Brunswick on 1 September 1937, and died on 17 February 2021 in Fredericton, NB.
A distinguished teacher and committed citizen, he stood unshadowed next to A.G. Bailey and Fred Cogswell as one of the pre-eminent cultural workers in the province in the last fifty years. Like Bailey and Cogswell, he tirelessly promoted New Brunswick literature as a writer, critic, and educator.
He graduated from St. Thomas College (HS, 1955) and St. Thomas University (BA, 1959). In 1956, he joined the Canadian Officers Training Corps and became a Commanding Officer in the Cadet Services of Canada. After brief study at the Holy Heart Seminary in Halifax, he committed himself to a life of teaching, entering the profession in 1961 and spending most of his career at Oromocto High School (1964–88). He received education degrees from UNB in 1964 (BEd) and 1986 (MEd). In his years of teaching, he became one of the province's most celebrated teachers of literature, winning numerous awards and accolades from the New Brunswick Teachers' Association and the Canadian Council of Teachers of English. The most prestigious of those was the Merron Chorny Award for Lifetime Achievement for the teaching of English in Canada.
In 1988, he was seconded to the New Brunswick Department of Education as a Consultant for English Language Arts, and then served as assistant director in the Curriculum Development Branch from 1989 until his retirement in 1994. In those roles, he revamped the colonial (Loyalist and Anglican) language arts curricula to make it more representative of multi-ethnic regional voices, especially from Atlantic Canada. If, as generally accepted, Desmond Pacey gave us the canon of Canadian literature, so can it be said that Fred Cogswell and Michael O. Nowlan did the same for New Brunswick literature. Their work in defining the provincial canon continues to be unsurpassed.
Remarkably, Nowlan also found the time during those busy years to become a prolific writer—something that the demands of public-school teaching don't often allow.
Because his cultural contributions are exhaustive, a summary of those must suffice. First, he was a founding member of the Writers in Schools Project and the Writers' Federation of New Brunswick, both still vibrant organizations that support provincial writers and bring their work to reading publics. Second, he has been a tireless editor, endeavouring to bring the work of Maritime authors to national attention. He has edited for publication no less than fourteen collections, among those the well-known collection Stubborn Strength: A New Brunswick Anthology, a book that has long stood as one of the best samplings of New Brunswick writing on the market. Third, he has been a busy creative writer, publishing two children's books, six books of poetry, and two collections of stories, each well received by readers. And, finally, he has distinguished himself as a literary reviewer in the pages of many Canadian newspapers and journals. For fifteen years he was the books columnist for The Atlantic Advocate, and in 2010 he celebrated thirty-five years as the "reviewer emeritus" for The [Fredericton] Daily Gleaner. His work for that paper alone amounts to roughly 5000 items in the last thirty-five years, making him New Brunswick's foremost literary scribe. Many of Atlantic Canada's best-known writers got their first reviews from Nowlan, earning him the label "cultural watchdog and warden of the Maritimes." As fellow poet and editor Allison Mitcham wrote, Michael Nowlan "set himself the difficult task of nurturing a fledgling and often threatened literature close to home" (31).
Michael Nowlan was married to Gertrude (Gallant) of Chatham. They had five children. In 2010, St. Thomas University conferred an honorary doctorate on him for his years of service to the literary community of New Brunswick. Few people have worked as tirelessly and unselfishly to promote the creative expression of their fellow provincial citizens. In retirement, he continued to write, organize, and advocate for New Brunswick literature and culture.
Tony Tremblay, Summer 2010
St. Thomas University
Bibliography of Selected Primary Sources (Chronological)

Creative Writing
Nowlan, Michael O. Absolutely Absalom. Illus. C. Elizabeth Baker. Fredericton, NB: Lyndon House, 1981.
---. Yellow Boots for Bobby. Illus. Michael Price. Fredericton: Brunswick Press, 1984.
---. So Still Houses. Hantsport, NS: Lancelot Press, 1985.
---. Godes Rice: A Poem Sequence. Fredericton: Michael O. Nowlan, 1988.
---. Without Introductions. Hantsport, NS: Lancelot Press, 1989.
---. The Other Side. Fredericton: New Ireland Press, 1997.
---. Gorse in the Hedgerows. Fredericton: Michael O. Nowlan, 2000.
---. Listen to the Cricket: A Book of Haiku. Vancouver: Cogswell Books, 2006.
Editions and Anthologies
Nowlan, Michael O., ed. The Maritime Experience: Themes in Canadian Literature. Toronto: Macmillan, 1975. Themes in Canadian Literature.
---, ed. Canadian Myths and Legends. Toronto: Macmillan, 1977. Themes in Canadian Literature.
---, ed. A Literary Map of New Brunswick. Illus. George Mei. Fredericton: Capital Free Press, 1977.
Nowlan, Michael O., and Robertson Davies, eds. Question Time: A Play With Comments and Exercises. Toronto: Macmillan, 1977.
Campbell, Eugene C., Ellen A. Wright, and G.S. d'Avray Bailey. From Timber to Brick: Oromocto Heritage Houses. Ed. Michael O. Nowlan. Oromocto: Oromocto and Area Heritage Committee, 1979.
Nowlan, Michael O., and Harry D. Roberts, eds. The Newfoundland Fish Boxes: A Chronicle of the Fishery. Fredericton: Brunswick Press, 1982.
Nowlan, Michael O., ed. Stubborn Strength: A New Brunswick Anthology. Don Mills: Academic Press, 1983.
Nowlan, Michael O. New Brunswick Historic Events 1784–1984. Fredericton: New Brunswick Bicentennial Commission, 1984.
---, ed. A Land, a People: Short Stories by Canadian Writers. St. John's: Breakwater, 1986.
Whelan, Michael. Michael Whelan: Folk Poet of Renous River. Ed. Michael O. Nowlan. Fredericton: New Ireland Press, 1990.
Nowlan, Michael O., Elaine Crocker, and Eric Norman, eds. Choice Atlantic: Writers of Newfoundland and the Maritimes. St. John's: Breakwater, 1990.
Nowlan, Michael O., ed. The Last Bell: Memories of New Brunswick Christmas. Fredericton: New Ireland Press, 1992.
Sears, Rhonda. Creating An Enterprise Culture: Atlantic Canadian Edition. Ed. Michael O. Nowlan and Elisabeth Mouland. St. John's: Breakwater, 1995.
Nowlan, Michael O., and Ole Larsen. Ole Larsen's Miramichi: A Photographic Odyssey. Images of Our Past. Halifax: Nimbus, 1999.
Nowlan, Michael O. A Century of Service: The Knights of Columbus in New Brunswick, 1904–2004. Moncton: Faye Editions, 2004.
---. A History of St. Michael's Basilica, Miramichi. Saint John: Irish Canadian Cultural Association of New Brunswick, 2008.
Bibliography of Secondary Sources
Mitcham, Allison. "Michael Nowlan: Cultural Watchdog and Warden of the Maritimes." The Atlantic Advocate (Nov. 1991): 30-31.