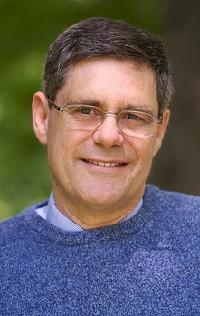 Laurence Hutchman (poet, editor, and professor) was born in Belfast, Northern Ireland, in 1948. His father moved to Canada in 1954, leaving Hutchman, his mother and sister, Eleanor, in Holland. In 1957, they moved to the Emery area of Toronto. Hutchman attended Gulfstream Public School and Emery Collegiate, graduating in 1967 from North Albion, Etobicoke. In 1972, he completed his BA in English at the University of Western Ontario and went on to complete his MA at Concordia University (1979) and his PhD at Université de Montréal (1988). His thesis was entitled "Style into Vision in Three Canadian Poets: Margaret Avison, Al Purdy and John Newlove." He currently (2009) lives in Edmundston, where he teaches Canadian Literature and Creative Writing at the Université de Moncton's Edmundston campus. He has published the following collections of poetry: The Twilight Kingdom (1973), Explorations (1975), Blue Rider (1985), Foreign National (1993), Emery (1998), Beyond Borders (2000), and Selected Poems (2007).
From 1986 to 1989, Hutchman served as the Quebec representative for the League of Canadian Poets, and from 1992 to 1994 he served as the New Brunswick and Prince Edward Island representative. In 2002, he became the president of the Writers' Federation of New Brunswick, a position he held until 2004. He received the Alden Nowlan Award for Excellence in English-language Literary Arts in 2007.
It is his collection of poems Beyond Borders that gives him a place in New Brunswick literature. In this collection he writes about Edmundston: the borders of the city, the urban society, and the natural splendor found within. His treatment also reflects the bilingual contours of the city and contains poems written in both English and French. Beyond Borders demonstrates the point that linguistic borders are largely assumed. People put imaginary lines on maps to construct differences. Though Hutchman acknowledges the many differences between people, his poems suggest that it is the commonalities that should be emphasized, for those points of intersection bring people together. He concludes that there is no clear distinction between where one place or time ends and another begins.
Hutchman puts the reader in the place that he is evoking. His attention to the details of the landscape draw the reader into his world, making readers feel as though they have been to the places he is describing. In the collection of poems titled Emery, he draws the reader into the place he experienced as a child, giving a clear picture of what the area of his youth was like, why it meant so much to him, and why he has carried it throughout his life.
He has a unique ability to take everyday items and infuse them with life so that they appear to be new. The spoon from his poem, "Spoon," is a good example; in it he demonstrates that poems are not mere words on a page but the feelings that the words draw out of a person. Just like poetry, the spoon is not from the earth, but it is transformed from the earth. Similarly in "The Cup," the coffee cup he drinks from becomes the world, containing people and places between his hands. He thus writes of the world we live in with a combination of realism and metaphorical surprise, providing the reader with a broader perspective of the world he inhabits.
His collection of poetry, Foreign National, demonstrates that he has not always had a place to call his own. Hutchman is not from Canada but his life and his experiences have been shaped by Canada. In Foreign National, he also speaks of his family and the history that they carry with them, such as his mother and his Dutch heritage ("Lost Language").
As one of the four editors of Coastlines: The Poetry of Atlantic Canada (2002), Hutchman contributed to the poetic canonization of Atlantic Canada. This collection of poetry details the life, land, and weather of our region as seen by sixty poets.
The poetry of Hutchman thus encompasses the history and diversity of Canada: its place, people, and conditions. His work provides an account of the world as interconnected in ways that go beyond the borders we have arbitrarily constructed.
Francis Porter, Winter 2009
St. Thomas University
Bibliography of Primary Sources
Hutchman, Laurence. Beyond Borders. Fredericton, NB: Broken Jaw Press, 2000.
---. Blue Riders. Montreal, PQ: Maker, 1985.
---. Emery. Windsor, NS: Black Moss, 1998.
---. Explorations. Montreal, PQ: DC Books, 1975.
---. Foreign National. Ottawa, ON: Agawa, 1993.
---. Reading the Water. Windsor, NS: Black Moss, 2008.
---. Selected Poems. Toronto, ON: Guernica, 2007.
---. The Twilight Kingdom. London, ON: Killaly, 1973.
Hutchman, Laurence, Anne Compton, Ross Leckie, and Robin McGrath., eds. Coastlines: the Poetry of Atlantic Canada. Fredericton, NB: Goose Lane Editions, 2002.
Bibliography of Secondary Sources
"Biography." Université de Moncton: Campus d'Edmunston. 2009. U de Moncton. 14 Oct. 2009
<https://www.umoncton.ca/umce-campus/>.
Cronin, Ray. "Poet Uses Language to Cross Borders." The Daily Gleaner [Fredericton, NB] 9 Dec. 2000.
Keith, W. J. "Poetic Coastings." Rev. of Coastlines: The Poetry of Atlantic Canada, by Anne Compton et al. Books in Canada 32.8 (2003): 38.
"Laurence Hutchman." Random Acts of Poetry. 14 Sept. 2008. Victoria Read Society. 14 Oct. 2009
<http://national-random-acts-of-poetry.blogspot.com/2008/09/laurence-hutchman.html>.
MacKinnon, Catou. "Professor's Poetry Reflects Diversity of Life in Edmundston." Telegraph-Journal [Saint John, NB] 12 Oct. 2000.
Reibetanz, Julia. "Poetry." Letters in Canada 71.1 (2001): 38-89.
Smith, Russell E. "New Volumes Reflect Canada: Five Writers Share Experiences, Emotions, and Language." Ottawa Citizen 21 Aug. 1994: B3.