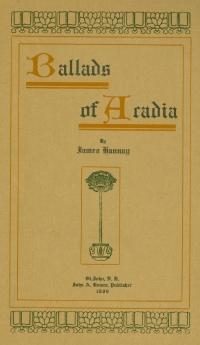 James Hannay (editor, journalist, lawyer, historian, and writer) was born 22 April 1842 in Richibucto, Kent County, New Brunswick. His father Reverend James Hannay, was a Presbyterian minister from Sorbie, in Wigtownshire, Scotland. His mother was Jane (Salter) from Hants County, Nova Scotia. The senior James Hannay was a Presbyterian minister in New Brunswick from 1833 until 1845 before moving back to Scotland. It was in Scotland that the junior James Hannay received the beginning of his education at New Kilpatrick Parish School. At the end of the 1850s, the family returned to New Brunswick where he continued and finished his education at the Saint John Grammar School. In 1864 he married Margaret (Ross), the daughter of Elias T. Ross of Saint John, New Brunswick.
Hannay studied law and in October 1867 he was declared barrister. That same year he became official reporter of the Supreme Court of New Brunswick, a position he held until his retirement in April 1873. He published two volumes of court decision reports, which are now volumes twelve and thirteen of The New Brunswick Reports. These contain all court decisions made in New Brunswick. In 1899 Hannay received an honorary doctorate of Civil Law from Acadia University.
Between 1868 and 1873 he wrote four historical ballads of Acadia, including "Aubrey" and "LaTour," which were published in Saint John's Stewart's Literary Quarterly in 1868 and 1869, and "The Maiden's Sacrifice" and "Port Royal," which were published in the Saint John Telegraph in 1873. The four ballads were later published in a small volume called Ballads of Acadia. It is clear in these ballads that Hannay had a passionate interest in the history of Acadia, in the traditions of the Micmac people, the Micmac raid on Chacouet, and the historical Acadian figures of Lady LaTour and Aubrey.
Hannay's literary works recall historical situations in a picturesque way. "The Maiden's Sacrifice," in Ballads of Acadia, demonstrates his mastery of painting an image to set the scene of the historical event. This ballad is about a Micmac maiden who sacrifices herself for her people. Hannay sets the mood using natural wonder and a sense of energized anticipation: "Around that savage village were maise fields waving green, 'Mid such sweet peace you scarce could guess that war had ever been" (6). Similarly: "On either shore the foam wreths shone like a line of snow, But all in front was darkness, 'twas death which lay below" (10).
Hannay began a career in journalism in 1872 when law no longer suited his liking. He began his newspaper career with the Saint John Daily Telegraph, though he still held his position with the Supreme Court until 1873. From 1883 until 1885, he moved to Montreal where he worked as an editor for The Montreal Herald, and from then until 1888 he was employed in the United States with The Brooklyn Eagle as an editor and writer. In 1888, he moved back to his native province where he worked in Saint John as editor of The Gazette. In 1893 he assumed the position of chief editor of the Daily Telegraph, also in Saint John.
The work that best reflects Hannay's passion for the Acadian and aboriginal peoples is his Nine Years a Captive: John Gyles' Among the Malicite Indians, from 1689 to 1698 (1875). Hannay wrote the introduction and historical notes. That same year he wrote a history of Saint John, where he spent most of his life.
During these years, Hannay was also working on a more comprehensive history of Acadia. No such history of Acadia under the French regime existed. What did exist was the documentation of events, and those were not researched thoroughly. To fill this lack, Hannay wrote History of Acadia, published in Saint John in 1879 and then in London, England in 1880. This historical work was received positively by the public, his colleagues, and reviewers. Not only did it represent Hannay as a historian but also displayed his remarkable literary skills as well, for the history is eloquently written.
That history was only the first of Hannay's works. What followed included "History of the Queen's Rangers," printed in the Saint John Sun in 1883, "History of the Loyalists," which appeared in the Telegraph in 1894, "The Township of Maugerville," which was published in a volume of the New Brunswick Historical Society, of which he was president, and "History of the War of 1812," published in 1901 in Saint John and by the Halifax Historical Society. His biographical work, "Life and Times of Sir Leonard Tilley," appeared in the Saint John Daily Telegraph in 1897.
Along with W.F. Ganong, W.O. Raymond, A.A. Stockton, Gilbert Bent, H.A. Cody, and James Vroom, Hannay also contributed substantially to The New Brunswick Magazine. One of Hannay's notable publications in that magazine appeared in the first volume. Called "The Brothers D'Amours," it was a history of the D'Amours family, who were the first French settlers on the Saint John River.
There are two Hannay works in particular that show his love and dedication to his native province of New Brunswick. They are History of New Brunswick (1909) and New Brunswick, Its Resources and Advantages (1902). The History of New Brunswick is a thoroughly researched and detailed history of the province, the best of its kind at the time. Hannay's aim was "to trace the development of the constitution, and the growth of the laws of New Brunswick from the foundation of the Province down to the present time" (Author's note). New Brunswick, Its Resources and Advantages is a book that systematically describes every county of New Brunswick, explaining each county's resources and advantages. Hannay's goal in this collection was to give people a regional overview and accounting so that they would know what area of the province would best suit their social and economic aspirations.
James Hannay died on 12 January 1910 at the age of 68, and was buried in Fredericton. He had a strong commitment to his native province, best expressed in his important and still-relevant historical writings.
Alexandra Blanchard, Fall 2010
St. Thomas University
Bibliography of Primary Sources
Hannay, James. Ballads of Acadia. Saint John, NB: Bowes, 1909.
---. "The Brothers D'Amours." New Brunswick Magazine 1.1 (1898): 25-40.
---. The Heroine of Acadia. Saint John, NB: The Strathmore Press, 1910.
---. The History of Acadia From Its First Discovery to Its Surrender to England by the Treaty of Paris. Saint John, NB: J. & A. MacMillan, 1879.
---. History of New Brunswick. Saint John, NB: Bowes, 1909.
---. History of the War of 1812, Between Great Britain and the United States of America. Saint John, NB: John A. Bowes, 1901.
---. Introduction. Nine Years a Captive, or John Gyles' Experience Among the Malicite Indians, from 1689 to 1698. By John Gyles. Saint John, NB: Daily Telegraph Steam Job Press, 1875. 3-6.
---. Lemuel Allan Wilmot. The Makers of Canada 7. Toronto, ON: Morang, 1907.
---. The Life and Times of Sir Leonard Tilley, Being a Political History of New Brunswick for the Past Seventy Years. Saint John, NB: n.p., 1897.
---. The Maidens' Sacrifice. Saint John, NB: n.p., 1909.
---. New Brunswick: Its Resources and Advantages. Fredericton, NB: Crown Land Department of the Province of New Brunswick, 1902.
---. St. John and Its Business: A History of St. John and a Statement in General Terms of Its Various Kinds of Business Successfully Prosecuted: The Dry Goods, Grocery, Insurance, Lumber, Manufacturing, the Press of Saint John, the Shipping, a View of the Prospects and Possibilities of Saint John as a Commercial Centre: Together With an Account of One Hundred Business Houses, Embracing the Leading or Representative Establishments in Each of the Different Lines. Saint John, NB: n.p., 1875.
---. The Story of Acadia. Kentville, NS: Dominion Atlantic Railway, 1895.
---. Wilmot and Tilley. The Makers of Canada. Toronto, ON: Morang, 1907.
Bibliography of Secondary Sources
Bell, D.G. "James Hannay." Dictionary of Canadian Biography. Vol. 13. Toronto, ON: U of Toronto P, 1994. Dictionary of Canadian Biography Online. 2000. U of Toronto/U Laval. 18 Feb. 2010
<http://www.biographi.ca/en/bio/hannay_james_13E.html>.
Harper, J.R. Historical Directory of New Brunswick Newspapers and Periodicals. Fredericton, NB: U of New Brunswick, 1961.
Jack, I.A., ed. Biographical Review: This Volume Contains Biographical Sketches of the Leading Citizens of the Province of New Brunswick. Boston, MA: Biographical Review Publishing Co., 1900.
Morgan, Henry J., ed. The Canadian Men and Women of the Time: A Hand-Book of Canadian Biography. Toronto, ON: Briggs, 1898.