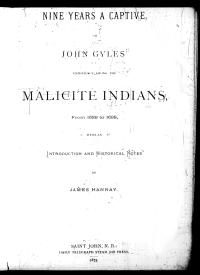 John Gyles was born in Pemaquid, Maine, in 1680(?), and died in 1755 in Roxbury, Massachusetts (now Boston). He was a military officer, interpreter, and author who is primarily known for his book Memoirs of Odd Adventures, Strange Deliverances, Etc., in the Captivity of John Gyles, Esq., Commander of the Garrison on Saint George River, in the District of Maine (memoir; nonfiction, 1736). His father, Thomas Gyles, was commissioned as chief justice of Pemaquid prior to the attack of the Maliseet Indians in 1689, during which time the young Gyles (approximately nine years old) was kidnapped and Thomas was killed.
This conflict at Pemaquid constituted a major, if early, episode in King William's War, which Richard VanDerBeets calls "the first major conflict in the French-English struggle for control of the continent" (Held Captive by Indians 91). Acting out against the ascendance of King William, King Louis XIV of France attempted to drive the English from North America. Strategies to this end included the dedicated work of missionaries from France "among the Micmac Indians of northern and eastern New Brunswick and Nova Scotia, the Passamaquoddies of the Passamaquoddy Bay coast, the Penobscots of Maine, and the Maliseets of the St. John River area to ensure loyalty to the French cause" (91-2). A second motivation for this attack may be attributed to a previous betrayal of the eastern peoples by Major Waldron close to the conclusion of King Philip's War in 1676. After earning the trust of some four hundred Native peoples, Major Waldron, along with the troops under the command of Captains Sill and Hawthorne, encouraged the enacting of war games in pantomime and promptly arrested more than half of those involved.
As a consequence, in August 1689, the Maliseet Indians attacked the establishment at Pemaquid. Although one brother managed to escape, Gyles' father and another brother were killed, and Gyles was separated from his mother and sister. He suffered as a captive of the Maliseet for six years and was then sold to the Frenchman Louis Damours de Chauffours in the summer of 1695. In June 1698, he was granted his freedom and returned to Boston. His grasp of the languages of the Native peoples of the eastern coast made Gyles valuable as an interpreter, and he was employed by the government of New England in this context until the end of his life: he served as a liaison for trade and the exchange of captives before becoming the commander of the garrison on St. George's River, New England, in 1725. In 1736, he published Memoirs of Odd Adventures.
While Gyles' book may purport to be an objective study that might be used, as James Hannay believes, to illustrate "the Indian stripped of his paint and feathers and without those romantic surroundings amid which writers of poetry and some historians have delighted to depict him" (3), it is clear that Gyles has written a carefully constructed fiction. His memoir consists of eight chapters, which range from the moment by moment reconstruction of the day of his kidnapping to a catalogue of creatures that are commonly found in the wilderness and utilized by the Maliseet. Several critics have pointed out that Gyles' account is of questionable accuracy by virtue of the fact that it was published with the intent to sell, and this has occasionally resulted in a view of Gyles as "more the publicist and performer than the observer and diarist" (New, History 50-1). Indeed, it is a rare fiction more rousing than a tale of hardship and adventure, which demonstrates that "North America had a turbulent and eventful Wild East as well as a Wild West" (Trueman vii).
The captivity narrative, however, is no mere adventure story. As a combination of fact and fiction, it is based on a discourse involving the construction and implementation of power—not only that of the captors, but of the narrator as well—and this notion itself is informative in a socio-cultural context. Even as a prisoner of the Maliseet, Gyles constructs himself in his narrative as a person of agency. In one account, the Maliseet recommend "fir balsam" in order to cleverly restore Gyles' frostbitten feet, but the narrator makes it clear that it is he who undertakes the action needed to survive: with "the use of my elbows and a stick in each hand, I shoved myself along as I say upon the ground over the snow from one tree to another, till I got some balsam" (29). This construction of his own power is also apparent in the presentation of the text itself. Gyles includes a chapter entitled "A Description of Several Creatures Commonly Taken by the Indians on St. John's River," which illustrates the habits of the beaver, wolverine, hedgehog (porcupine), and tortoise. In the chapter that immediately follows ("Of Their Feasting"), the celebratory traditions of the Maliseet are reported upon in a similarly detached and pseudo-scientific manner. Thus the Maliseet themselves are relegated to the status of powerless studied creatures alongside the animals that they hunt.
In addition, Gyles maintains an intriguing balance between the maintenance of himself as a besieged and heroic figure and of his utter dependence on the will of divine providence. This simultaneous presentation of the agency of the heroic man (Gyles himself) and the agency of God is nowhere more evident than on the title page of Gyles' original manuscript from 1736. This version, and evidently no other, includes a quotation from Homer's Odyssey, which reads as follows:
Forgetful youth! but know, the Power above
With ease can save each Object of his Love;
Wide as his Will, extends his boundless Grace;
Nor lost by Time, nor circumscrib'd by Place.
Happier his Lot, who, many sorrows' pass'd
Long labouring gains his natal Shore at last,
Than who, too speedy, hastes to end his Life
By some Stern Ruffian, [...]
The inclusion of this verse speaks not only to the importance of trust in the "boundless Grace" of God, but also to the implied importance of Gyles himself: by including a portion of this seminal Greek text in his own writing, Gyles neatly aligns himself and his own trials with the heroes of myth.
Gyles' memoir is thus a fascinating study, both in a literary and in an anthropological sense. It is an important work not only in terms of its chronicling of the habits and practices of the Maine/New Brunswick Maliseet but also by way of its acknowledgment of the complexity of their culture, which flies in the face of traditional Eurocentric condemnation. In spite of what may certainly be perceived as flaws relating to ethnographic imperialism and a clear Protestant agenda, Gyles' memoir is a valuable tool not only in the reconstruction of a people of the eastern coast about which little is known, but also in its pioneering synthesis of the major historical perspectives of early New Brunswick: in his fictionalized retelling of John Gyles' story, Stuart Trueman acknowledges that Gyles "was probably the first North American to understand all three elements—English, French and Indian—and to see things through their eyes" (ix).
Dana Schwab, Spring 2009
University of New Brunswick
For more information on John Gyles, please visit his entry at the New Brunswick Literature Curriculum in English.
Bibliography of Primary Sources
Gyles, John. Memoirs of Odd Adventures, Strange Deliverances, Etc., in the Captivity of John Gyles, Esq., Commander of the Garrison on Saint George River, in the District of Maine. Written by Himself. Boston, MA: S. Kneeland & T. Greene, 1736. [Rpt. Cincinnati, OH: Spiller & Gates, 1869.]
---. Nine Years a Captive, or John Gyles' Experience Among the Malacite Indians, From 1689–1698. Saint John, NB: Daily Telegraph Steam Job Press, 1875.
Bibliography of Secondary Sources
Ben-Zvi, Yael. "Ethnography and the Production of Foreignness in Indian Captivity Narratives." American Indian Quarterly 32.1 (2008): ix−xxxii.
Derounian-Stodola, Kathryn, ed. Introduction. Women's Indian Captivity Narratives. New York: Penguin, 1998. xxx−viii.
Drake, Samuel Adams. The Border Wars of New England, Commonly Called King William's and Queen Anne's Wars. Williamstown, MA: Corner House, 1973.
Hannay, James. Introduction. Nine Years a Captive, or John Gyles' Experience Among the Malacite Indians, From 1689–1698. By John Gyles. Saint John, NB: Daily Telegraph Steam Job Press, 1875. 3-6.
MacNutt, W.S. "John Gyles." Dictionary of Canadian Biography. Vol. 3. Toronto, ON: U of Toronto P, 1974. Dictionary of Canadian Biography Online. 2000. U of Toronto/U Laval. 14 Apr. 2009
<http://www.biographi.ca/en/bio/gyles_john_3E.html>.
New, W.H. Encyclopedia of Literature in Canada. Toronto, ON: U of Toronto P, 2002. 463.
---. A History of Canadian Literature. 2nd ed. Montreal, PQ & Kingston, ON: McGill-Queen's UP, 2003.
Trueman, Stuart. The Ordeal of John Gyles: Being an Account of His Odd Adventures, Strange Deliverances, Etc., as a Slave of the Maliseets. Toronto, ON: McClelland and Stewart, 1966.
VanDerBeets, Richard. Held Captive by Indians: Selected Narratives 1642–1836. Knoxville, TN: U of Tennessee P, 1973.
---. The Indian Captivity Narrative: An American Genre. Lanham, MD: UP of America, 1984.