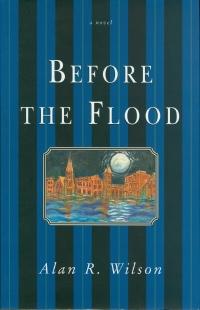 Alan Robert Wilson (novelist, poet, and analyst/statistician) was born in Moncton, New Brunswick. His published works include three books of poetry—Animate Objects (1995), Counting to 100 (1996), and Sky Atlas (2008)—as well as a novel, Before the Flood (1999). Wilson is presently (2009) working on a second novel, Lucifer's Hair, which he expects will be published in 2010 or 2011.
Wilson's father, Robert, worked as a lineman for the New Brunswick Telephone Company (NBTel) upon graduation from high school and later advanced to various managerial positions. His mother, Geraldine (MacFarlane), raised Wilson and his two brothers until the passing of his father, after which she went to work for NBTel as a secretary.
Wilson's primary and secondary education was broadly spread throughout New Brunswick. His primary school years were spent in the outskirts of two of New Brunswick's major cities: Bridgedale, a community outside of Moncton, and Rothesay, a community outside of Saint John. After moving to Woodstock, New Brunswick, with his family, he completed his secondary education at Woodstock Composite High School. These formative years in Woodstock set the stage for Wilson's first novel, Before the Flood, and ignited his passion for physics and astronomy. The latter interest inspired his three books of poetry. Stamp collecting, piano, softball, hockey, chess, and reading were also favorite hobbies during these early years. Most notable was his interest in science fiction inspired from the classics of H.G. Wells. This influence was key to the development of his interests in writing and astronomy. In fact, his fascination with Wells led to his first attempt to write a science fiction novel of his own in high school, which was never completed (Interview with author).
Wilson's interest in physics, aroused by his high school physics teacher and sundry reading, spurred his post-secondary education at the University of New Brunswick (UNB) in Fredericton, where he was awarded the George E. Foster Memorial Entrance Scholarship. Four years later, he obtained a BSc with honours in Physics. Upon completing his studies at UNB, he moved to Victoria, British Columbia. He later obtained an MFA in creative writing at the University of British Columbia, and still (2009) resides in Victoria with his partner and daughter. While attending graduate school, he was awarded a National Research Council of Canada Scholarship, and has since been the recipient of numerous Canada Council and BC Arts Council writing grants.
Before the Flood highlighted Wilson's preoccupation with the nature of place and community in New Brunswick. The novel is set in the river valley town of Woodstock, at the junction of the Saint John and Meduxnekeag rivers. The novel's narrator, adolescent Samuel MacFarlane, and his comrades experience the typical struggles of coming-of-age in a small town. However, these struggles are both secondary to, and further complicated by, the coming flood that will result from the completion of the Mactaquac Dam, south of his community. This hydroelectric project will forever change the landscape of their town (particularly their cherished Island Park) and alter other important landmarks that are significant to his community's heritage and close to the hearts of its residents.
Participation in workshops with BC poets Derek Wynand and Phyllis Webb inspired Wilson on a personal level. His writing was influenced by these poets and by "W.B. Yeats, for the sheer beauty of his writing, and Charles Simic, for the magical and eerie quality of his perceptions" (Interview with author).
A keen enthusiasm for science, namely physics and astronomy, coupled with a fervent desire to "explore this strange world in which we find ourselves," were key components in the development of the themes in Wilson's books of poetry (Interview with author). His most recent volume, Sky Atlas, is a collection of eighty-eight sonnets pertaining to the eighty-eight constellations. In another volume, Animate Objects, he writes of things widely referred to as "it," such as the moon and air travel or suitcases and isobars, as animate objects with lives of their own. Lastly, in the abstract poetry of Counting to 100, Wilson marries poetry with numbers, skillfully giving life and personality to these numbers and ascribing them with manifold significances, whether sexual or religious. Dealing with numbers daily in his career as a statistician for the University of Victoria undoubtedly played a key role in Wilson's attraction to this abstraction of quantification.
Even though his poetry is largely placeless, his other works illustrate a strong attachment to place. For Wilson, Woodstock becomes a prototype for a small community where people of all walks of life lived together—though not always harmoniously. His novel positions him as an important voice for a historical New Brunswick event that has deeply resonated with its residents, particularly those in communities upriver from the dam. In "Cry Me Two Rivers," Brian Smith observes that Wilson's "ability to capture the unique spirit of place, to track the random thoughts and oblique sense experiences that govern how things happen, is captivating and original" (3). Further, Diana Brebner asserts that Before the Flood is a "shimmering novel of place, love, and our inevitable histories" (41). Clearly, Wilson's novel has been important to our rich provincial literary heritage.
The novel has been read in various high school classrooms in New Brunswick, and a few university classrooms in Tennessee. It also inspired a screenplay produced and aired on Global and CBC Television. The screenplay was filmed in Sackville, NB, in 1999 and was a winner in the Atlantic Film Festival Competition. His novel and books of poetry have also surfaced in upwards of forty anthologies and journals, both Canadian and American.
Wilson's works have been favourably received by critics in a variety of reviews. In Meetings with Maritime Poets (2006), Anne Compton posits that Wilson's work is characterized by exactitude and precision (82). Brian Smith comments that, "as a result of Wilson's ability to connect small-town experience with broad and compelling themes, the tug of a more complex work is experienced. Each chapter is a superbly crafted story in itself" ("Cry Me Two Rivers" 3). In "Poetic Pre-Texts," Stephen Scobie refers to Wilson's Counting to 100 as a "numeric epic" (16). The same book of poetry garnered Wilson the following review in Canadian Literature: "Wilson…is cool, ironic, witty, and intellectual—the perfect classicist, absorbed in the abstract beauty of numbers" (Denham 180). Critical consensus holds that Wilson has a unique and clever ability to fuse numbers and physics with poetry.
Before the Flood received the Books in Canada First Novel Award. It was also shortlisted for the BC Book Prize for Fiction and the Stephen Leacock Memorial Medal for Literary Humour. Wilson's book of poetry, Sky Atlas, was shortlisted for the 2009 Atlantic Poetry Prize and a selection of sonnets that were later included in the volume won second prize in the CBC Literary Competition.
Stacy Monteith, Winter 2009
St. Thomas University
For more information on Alan Wilson, please visit his entry at the New Brunswick Literature Curriculum in English.
Bibliography of Primary Sources
Wilson, Alan R. Animate Objects. Winnipeg, MB: Turnstone, 1995.
---. Before the Flood. Dunvegan, ON: Cormorant, 1999.
---. Counting to 100. Toronto, ON: Wolsak & Wynn, 1996.
---. Personal interview. 9 Oct. 2009.
---. Sky Atlas. Markham, ON: Fitzhenry & Whiteside, 2008.
Bibliography of Secondary Sources
"Alan R. Wilson." Canadian Literature. U of British Columbia. 2 Sept. 2009
<https://canlit.ca/canlit_authors/alan-r-wilson/>.
Brebner, Diana. "First Novels: Crossing the Uncompassed Landscape of Human Affairs." Rev. of Before the Flood, by Alan R. Wilson. Books in Canada 28.6 (1999). Books in Canada. 25 June 2020
<http://www.booksincanada.com/article_view.asp?id=1240>.
Compton, Anne. "The Poetry of Numbers: Alan R. Wilson": Meetings With Maritime Poets. Markham, ON: Fitzhenry & Whiteside, 2006. 81-94.
Denham, Paul. "Various Alphabets." Canadian Literature 155 (Winter 1997): 180-181.
Fisher, Gordon. "Of Time and the River." Rev. of Before the Flood, by Alan R. Wilson. Canadian Literature 170-171 (Fall-Winter 2001): 249-250.
Goguen-Hughes, Line. "Wilson's Before the Flood Brims With Life." Rev. of Before the Flood, by Alan R. Wilson. Sunday Herald [Halifax, NS] 6 Feb. 2000: C8-9.
Holland, Eva. Rev. of Before the Flood, by Alan R. Wilson. In 2 Print (Spring 2000): 34.
Little, Melanie. "Nation of Haunted Childhoods." Vancouver Sun 28 Aug. 1999: E7-8.
Scobie, Stephen. "Poetic Pre-Texts." Monday Magazine 23.6 (30 Jan. - 6 Feb. 1997): 16.
Smith, Brian. "Cry Me Two Rivers." Rev. of Before the Flood, by Alan R. Wilson. Literary Review of Canada 8.8 (2000): 3-5.