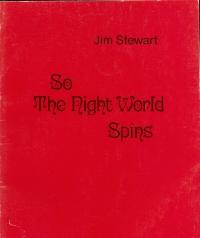 Jim Stewart (poet, musician) was born 30 January 1948 in Glasgow Scotland, but has lived the majority of his life in Saint John, New Brunswick. In his poems he writes as much about Scotland as he does about New Brunswick.
Stewart's father, James A. Stewart, was an accountant and his mother Janet (Oswald) was a homemaker. Stewart wrote a song, "The Promise," for their 50th wedding anniversary and dedicated his book of poetry The Mute's Song to them. He and his wife Jane are the parents of Maggie and Cameron.
Stewart went to primary and secondary school in Black's Harbour, New Brunswick. He then attended the University of New Brunswick, but left without a degree. Nevertheless, his university years were made significant by his friendship with Alden Nowlan, David Adams Richards, Ray Fraser, and other writers and musicians.
Stewart currently resides in Rothesay, east of Saint John. Rothesay is important to him because it accommodates his Scottish heritage. Rothesay, New Brunswick, is named after Rothesay, Scotland.
Stewart has written three books of poetry; Cormorant's Rock (1973) is his first collection. These poems are short, but that is Stewart's preferred form. "When I Hand You A Poem," for instance, is a brief yet powerful statement about handing a poem over to a loved one as a show of affection. "Night Dance" is about understanding the beauty of snow. The ending of the poem, "as if its whole/life were lived/for this one moment"—leaves the reader with a sense of wonder at the power of lived moments. The Mute's Song is Stewart's second collection of poetry, published in 1975. The poems in this collection focus more on human emotions. For example, "The Madman's Poem" is about feeling isolated from others because of thinking or viewing things differently. "Parallel" is a poem about bitterness and anger, emotions that come from thinking of a loved one while drinking away sorrows. Stewart's third collection of poetry, So the Night World Spins, was published in 1980. The poems in this book are vary widely. Poems such as "Highlands" and "Burns Cottage, Alloway" focus on Stewart's Scottish ancestry, while poems like "Spindrift/The Silkie" and "Pegasus/The Kelpie" are based on myths modeled after an ancient Greek figure and water creature that goes on land to disguise itself as a finely arrayed horse. The poems in this collection showcase Stewart's ability to combine myth and poetry.
Stewart is also an accomplished musician. His first album, The Marco Polo Suite, was released in 1992. The first public performance of The Marco Polo Suite was recorded by the National Film Board of Canada for use in its 1995 release The Marco Polo: Queen of the Seas. Portions of this album were used in the marine gallery exhibit of the Market Square annex of the New Brunswick Museum in Saint John. Portions were also given to Parks Canada for a film promoting Fundy National Park in Alma, New Brunswick. The songs on The Marc Polo Suite are contemporary Celtic that pay tribute to Canada's famous tall ship. Stewart's second album, Horses of the Wind, was released in 2000. The album features folk Celtic songs and includes four pipers and a drummer from the local Lions' Caledonian Pipe Band. The last track on the album, "Farwell to Friends," features Stewart on low whistle and includes his friends John Murphy and Bernie Houlshan from his band Hal An Tow.
Stewart's third album, Dancing With Maggie, was recorded at his home and released in 2008.
Stewart's primary influences are the musicians and poets he has met, such as Alden Nowlan. Stewart said of Nowlan: "[t]hrough my association with him and other writers I learned to trust the validity of my own perceptions and feelings" (Interview with author).
Stewart's poems have been featured in many literary magazines and anthologies, such as Alpha, The Fiddlehead, Dandelion, Proem, Light in Darkness, The Wascana Review, The Canadian Review, and East of Canada. He is, however, better known for his music. That music has been recorded and performed by various artists from across Canada.
His music has also received juried grants. The Marco Polo Suite won a Porcupine award in the category of Canadian History for "preserving Canadian history in song."
Jackie Allan, Spring 2010
St. Thomas University
Bibliography of Primary Sources
Stewart, Jim. Cormorant's Rock. Fredericton, NB: Fiddlehead Poetry Books, 1973.
---. Dancing With Maggie. Jim Stewart, 2008. CD.
---. Homepage. Jim Stewart. 23 June 2020
<http://www.jimstewartmusic.ca/>.
---. Horses of the Wind. Jim Stewart, 2000. CD.
---. The Marco Polo Suite. Epcom, 1992. CD.
---. The Mute's Song. New Brunswick Chapbooks 19. Fredericton, NB: The New Brunswick Chapbooks, 1975.
---. Personal interview. 7 Mar. 2010.
---. So the Night World Spins: Myth and Music Poems. Canada's Atlantic Poets 2. St. John's, NL: Breakwater, 1980.