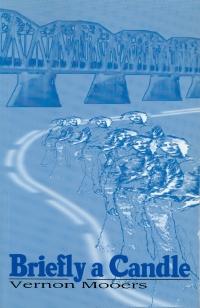 Vernon James Mooers (novelist, journalist, photographer, editor, and teacher) was born on 21 September 1951 in Dauphin, Manitoba, and died on 21 December 2021. While growing up, he spent much of his time east of Fredericton in what was then the town of Devon. His published works include one novel, nineteen short stories, and over two-hundred and fifty poems. His topics range from his time spent growing up in Fredericton to the experiences he has encountered while travelling and living in over forty-five countries around the world.

Mooers' father, Lorne, worked as a civil engineer with New Brunswick highways, and his mother, Vella (née O'Donnell), worked as an editor for The Atlantic Advocate and later for the New Brunswick government. Mooers is their middle child: brother to older sister Lorna, a teacher, and younger brother Colin, a professor at Toronto's Ryerson University.
Mooers received his early education at South Devon Elementary School and Devon Junior High and then moved to Fredericton High School. After graduation he went to the University of New Brunswick where he completed two years before becoming a salesman in Montreal. During that time he travelled in eastern Canada, the Bahamas, and Europe. After a year of travelling and working, he returned to the University of New Brunswick (UNB) to finish his undergraduate degree. After finishing his degree, he moved to western Canada where he worked at various jobs, including dishwashing, manual labor, house painting, and counselling youth. He then moved back to Fredericton to attend St. Thomas University for a two-year BEd. Once completed, he moved to Africa to teach English in secondary schools in Nigeria for four years. After this time, he returned to Fredericton to complete his MEd.

While in Maiduguri, Nigeria, Mooers met one of his most important literary influences. Richard Stevenson, a writer, became his mentor and began entering his pieces into contests. Soon, Mooers' work started to appear in literary magazines and caught the attention of critics. Mooers did most of his writing in coffee shops, parks, and public places.

He won numerous awards for his writing, his most memorable being the first prize in the Seoul Essay Contest. He was honoured at city hall and photographed with the Korean president, Lee Myung Bak. Another of his awards was for the best group of poems from the "Creative Arts Series" at UNB.
Mooers was a member of various organizations, including the Writers' Federation of New Brunswick, the Writers' Alliance of Newfoundland, and the Seoul Artistic Group. These associations enabled him to read and travel widely, from Moncton, New Brunswick to Busan, South Korea.

It is not surprising that travel forms the subject matter of much of his poetry. Many of his poems are written about his times living in Africa and Korea. His topics range from landscapes to traditions to the people he encountered. Many also reference unusual Korean items, such as Soju, a Korean alcoholic beverage, or Baduk, a Korean game.

Mooers' novel, Briefly a Candle (1999), is about fictional characters growing up in Fredericton, New Brunswick in the 1960s and '70s. The main characters are two boys, Jason and Eddie, who get themselves into everyday problems and predicaments. The boys learn to stick to their side of town and value what they have, regardless of the tragedies that confront them. Though wild and at times crude, their adventures recall for readers the freer times of the drug-addled '70s.
Mooers credited the person he became to the many adventures and mishaps he got himself into over the years. Those mishaps ranged from being financially broke and having to go days without food to being robbed in a foreign city and putting his head to rest at night on a milk crate. Mooers embraced the learning that came from those incidents, believing that they enabled him to write with a more compassionate knowledge of people, places, and cultures.
Erin Stairs, Winter 2009
St. Thomas University
Bibliography of Primary Sources
Mooers, Vernon. Beachtown Nights. Toronto, ON: Dozenpoems, 2006.
---. Briefly a Candle. Douglas, NB: Fundy Production Associates, 1999.
---. Crying Mountain, Korea Poems. Toronto, ON: Dozenpoems, 2005.
---. Gwangalli Beach, Korea Poems. Toronto, ON: Dozenpoems, 2009.
---. Gwangan Days. Toronto, ON: Dozenpoems, 2009.
---. Gypsie Hymns. St. John's, NL: Killick, 1993.
---. Nests on the Cliffs. Fredericton, NB: Coyote, 1992.
Bibliography of Secondary Sources
Nowlan, Michael O. "Novel Focuses on Fredericton." Rev. of Briefly a Candle, by Vernon Mooers. The Daily Gleaner [Fredericton, NB], 16 Apr. 1999. B13.