Cuthbert Goodridge MacDonald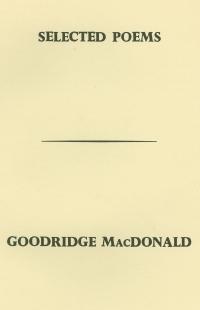 Cuthbert Goodridge MacDonald (poet, freelance writer, journalist, and editor) was born in Fredericton 10 May 1897. He died 9 January 1967 in Montreal. During his lifetime, he published several collections of poetry, including Armageddon and Other Poems (1917), Beggar Makes Music (1950), Compass Reading and Others (1955), The Dying General and Other Poems (1946), Recent Poems (1957), and Twenty-Four Poems (1958). A collection of his work, Selected Poems, was published posthumously in 1970. That selection included some of his poems that had not previously been published. MacDonald attained success in the 19th-century romantic style, and had poems published in Delta, Queen's Quarterly, Canadian Forum, Saturday Night, the Canadian Poetry Magazine, and The Fiddlehead.
MacDonald's family included several well-known writers and poets, including Elizabeth Roberts MacDonald (his mother), Sir Charles G.D. Roberts, Theodore Goodridge Roberts, Bliss Carman, Dorothy Roberts, Ralph Waldo Emerson, and the painter Goodridge Roberts from Montreal. The Roberts were considered a dynasty in Canadian poetry and held a pre-eminent position in Canadian letters for most of the 19th-century.
MacDonald's father, Samuel Archibald Roberts MacDonald, was a druggist in Fredericton and cousin to MacDonald's mother before they married in 1896. His mother, Jane Elizabeth Gostwycke Roberts, was born and grew up in Westcock, Westmorland County. She was educated at the Collegiate School (Fredericton) and the University of New Brunswick. A major influence on Goodridge, his mother published several works, including Dream Verses, and Others in 1906. This collection of one hundred and seventeen poems attempted to capture the beauty of nature in the style to which the Roberts' poets had become accustomed. Considered delicate, she died in Ottawa in November 1922.
Educated in local Fredericton schools until 1912, MacDonald moved with his family to Nelson, British Columbia, where he attended Nelson High School. From there he moved to Winnipeg in 1914. In 1915, his parents separated and his mother moved her sons to Ottawa. In Ottawa, MacDonald worked as a civil servant until 1916 when he enlisted in the war. From 1917 to 1918, he was deployed with the Queen's Field Ambulance, Canadian Expeditionary Force (CEF). He was honourably discharged from that position because of bad health.
MacDonald also was an editor of The Montreal Herald, a prominent newspaper that supported the British constitution. In MacDonald's time, it served as a voice for well educated British men and expressed ideals that reiterated liberal fundamentals. Its principles aligned exactly with MacDonald's Catholic upbringing and the importance of the arts as emphasized by his family.
MacDonald's poetic style was similar to other poets in his family. His verse is technically proficient and emotionally powerful. As with many poets of the same period, his poetry is romantic, conservative, pastoral, and written in traditional metre and form. Many of his poems delight in the natural wonders of New Brunswick and the Atlantic Provinces, such as the poems "By St. Margaret's Bay" and "Inlets and Mirrors," which describes the Digby shore. As described by critic Northrop Frye, "the insight [his poems] express has much intelligence and humour" (93). Several of his later poems deal with war, specifically World War I, such as "Out of the West," a poem describing a battalion of soldiers on their way to Europe:
Out of the West they come
Into West they go,
And ever the throbbing battle-drum
Beats on against the foe.
His poems about war were included in anthologies of Canadian war poetry such as Canadian Poems of the Great War (1918).
After MacDonald's death in Montreal on 9 January 1967, he was cremated and buried in his family plot in Fredericton. On 10 November 1967, a memorial service arranged by the University of New Brunswick was held in his honour. At the ceremony, his poems and life were celebrated by numerous poets from Canada and the United States.
Lauren Houlihan, Winter 2009
St. Thomas University
Bibliography of Primary Sources
MacDonald, Goodridge. Armageddon and Other Poems. N.p.: n.p., 1917.
---. Beggar Makes Music. Toronto: Ryerson Press, 1950.
---. Compass Reading and Others. Toronto: Ryerson Press, 1955.
---. The Dying General and Other Poems. Toronto: Ryerson Press, 1946.
---. Recent Poems. Toronto: Ryerson Press, 1957.
---. Selected Poems. Fredericton, NB: Fiddlehead Poetry Books, 1970.
---. Twenty-Four Poems. Fredericton, NB: Fiddlehead, 1958.
Bibliography of Secondary Sources
Bentley, D.M.R. "Poems in Early Canadian Newspapers—Montreal Herald: Introduction." Canadian Poetry Press 20, Nov. 2009
<https://canadianpoetry.org/library/poems-in-early-canadian-newspapers/>.
Cook, Janice, comp. "Roberts Family Chronology." University of New Brunswick Archives and Special Collections. 10 June 1999. Nov. 2009
<https://web.lib.unb.ca/archives/finding/roberts/chron.html>.
Elizabeth Roberts MacDonald Fonds. MG L22. Archives and Special Collections. Harriet Irving University. U of New Brunswick, Fredericton, NB.
Garvin, John W., comp. and ed. Canadian Poems of the Great War. Toronto, ON: McCelland & Stewart, 1918.
MacPherson, Jay. "Autobiography." Literary History of Canada. Ed. Carl F. Klinck. 2nd ed. Vol. 2. Toronto, ON: U of Toronto P, 1976. 127-133.
Maxwell, L.M.B. The River St. John and Its Poets. Fredericton, NB: U of New Brunswick P, 1947.
Northrop, Frye. Northrop Frye on Canada. Toronto, ON: U of Toronto P, 2003.
Vance, Jonathan F. Death So Noble: Memory, Meaning, and the First World War. New York, NY: U of British Columbia P, 1999.
Wagner, Anton, ed. Establishing Our Boundaries: English-Canadian Theatre Criticism. Toronto, ON: U of Toronto P, 1999.
Watters, Reginald. A Checklist of Canadian Literature and Background Materials, 1628–1960. 2nd ed. Toronto, ON: U of Toronto P, 1972.