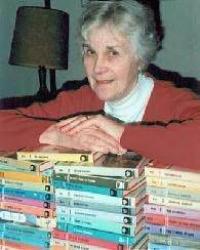 Elizabeth (Betty) Flora Kidd was born in 1926 in Liverpool, England and died on 19 March 2008 in Saint John, New Brunswick.
Kidd's family developed her interest in literature at an early age. Though her parents were working class and ran a laundromat, she grew up surrounded by stories (Gerus). Her mother and grandmother insisted upon her reading literary authors such as Jane Austen, and her father supplied her with adventure novels and mystical, exciting tales of his own childhood and Liverpool's history (Vaillancourt). After attending live theatre with her mother as a child, Kidd began to write plays, making up stories based upon the gossip she overheard from her older siblings (Fitzgerald 13).
Kidd earned a degree from Liverpool University in 1948, returning the next year to train as a teacher. For many years, she taught English and literature appreciation to high schoolers (Fitzgerald 14). While in university she met Robert (Wilf) Kidd, and the two married in 1950. They lived in Scotland, where Kidd published her first two novels, before moving to Montreal in 1967 and finally settling in Saint John in 1977. Both Scotland and Saint John feature in some of her novels, and she said that living in the slow-moving Saint John allowed her to write as much as she did (Maclean).
Before she began writing novels, Kidd published magazine articles in the hope of making money. Her mother-in-law was an avid reader of Mills & Boon romances, and when Kidd voiced her skepticism of their quality, her mother-in-law challenged her to write a book herself. Always one to accept a challenge, Kidd completed her first novel in 1964 (Hersey).
Over the course of her career, Kidd wrote sixty-four romance novels, sometimes writing up to five a year (Maclean). Her first novel, Visit to Rowanbank, was published in 1966 by Mills & Boon. It had originally been written as a mystery, Kidd's preferred genre, but the publishers only accepted romances. Afterward, she received a contract for two more books, starting a long relationship with the publishing house (which later merged with Harlequin) (Hersey). Some of her other books from this period include Whistle and I'll Come (1967), Stranger in the Glen (1975), and To Play with Fire (1977). She stopped writing for Harlequin in 1989 due to the publishing company's growing restrictions on plot (Vaillancourt).
Kidd wrote three books centered on Saint John's history after that city's Marco Polo Project reached out to her. They asked her to showcase their project, which was building a replica of the Marco Polo, a historic three-masted sailing ship that sailed from Saint John in 1851. She wrote To Hell or Melbourne, about the ship's first voyage, in 1994; Until We Meet Again, a historical romance, in 1998; and Restless Spirits, a ghost story, in 2000 (Hersey).
Kidd's books about the Marco Polo have encouraged readers to embrace Canadian and New Brunswick history. She was hailed as an "unsung hero" for helping the Saint John community grow and thrive (Odgen C10). To Hell or Melbourne was similarly praised as a "carefully researched example of social history… [which] should be required reading in Saint John history classes" (Fitzgerald 16).
The reception of Kidd's romance novels, however, wasn't always as enthusiastic as it was for her Marco Polo series. One critic called her work "crap," and The New Brunswick Writers' Federation reportedly "didn't want those sorts of writers" (Fitzgerald 15). Nevertheless, as one of Harlequin's most popular authors in her time, Kidd had avid readers. She stated in an interview, "I've often felt like stopping but then I'd get a letter from readers asking me to continue. It was incentive" (qtd. in Branswell 10). She refused to let negative reviews affect her, as she believed her books filled a need for relaxation and imagination in her readers and did not demand to be read in a serious or academic way. Of her writing process, she said "you put in a little bit of reality... but the rest is pure imagination... now what is better?" (qtd. in Hersey).
On her reception as an author, Kidd stated "I'm not a celebrity and I don't want to be. You do things in life because they are a challenge" (qtd. in Fitzgerald 14). She stayed true to herself by writing strong and independent heroines modelled after the type of woman her parents had encouraged her to be. In her novel Strange as a Dream, when the heroine is asked "Are you playing hard to get?" she replies, "No!... Can't you understand? I want to follow the career for which I was trained. I want to spread my wings a little, feel my independence" (qtd. in Gerus). Of her characters, Kidd wrote women who were "a bit adventurous... competent, capable... they are searching for something," adding that "my daughter is the sort of person I would like to write about" (qtd. in Fitzgerald 15). Her female characters break the expected heroine mould of helpless girls waiting to be rescued. Instead, her women are adventurous and capable people who her readers can look up to.
Indeed, Kidd's heroines are not the "sit at home" type. The theme of adventure is pervasive in her work, and Kidd indulges in her own love of sailing and travelling in her novels (Branswell). A line from her novel To Hell or Melbourne exemplifies this love: "the ship was running before the wind, under brilliant sunny skies, across a turquoise blue sea, past the purple mountains and glittering yellow sands of the islands of Hispaniola and Cuba" (136). She understood that her readers were mostly women who wanted a bit of fantasy and escapism, and she was happy to provide it. She was, then, committed to writing her books to be a release from everyday life for her readers.
Katy Johnson, Fall 2019
St. Thomas University
Bibliography of Primary Sources (Selected)
Kidd, Flora. Dangerous Encounter. Toronto: Harlequin Books, 1984.
---. Night on the Mountain. Toronto: Harlequin Books, 1973.
---. Personal Affair. Toronto: Harlequin Books, 1981.
---. Restless Spirits. Saint John: Dreamcatcher Publishing Inc., 2000.
---. Strange As a Dream. London: Mills & Boon, 1968.
---. Stranger in the Glen. Toronto: Harlequin Books, 1975.
---. To Hell or Melbourne. Saint John: Dreamcatcher Publishing Inc., 1994.
---. To Play With Fire. Toronto: Harlequin Books, 1977.
---. Tropical Tempest. Toronto: Harlequin Books, 1983.
---. Until We Meet Again. Saint John: Dreamcatcher Publishing Inc., 1998.
---. Visit to Rowanbank. London: Mills & Boon, 1966.
---. Whistle and I'll Come. London: Mills & Boon, 1967.
Bibliography of Secondary Sources
Branswell, Helen. "'Heart Throb' Writer Says She's an 'Optimist.'" The Daily Gleaner [Fredericton] 26 Sept. 1980: 10.
Cunningham, April. "Richard Kidd Composes Score for Musical Marco Polo." Telegraph-Journal [Saint John] 30 Sept. 2010: C5.
Fitzgerald, Sylvie. "A Storyteller by Choice." Telegraph-Journal [Saint John] 23 Aug. 2003. New Brunswick READER: 12+.
Gerus, Claire. "Love Story." Telegraph-Journal [Saint John] 25 Sept. 1980: n. pag.
Gowan, Derwin. "Setting Sail for Adventure." Telegraph-Journal [Saint John] 5 Mar. 1994. New Brunswick READER: 23.
Hersey, Linda. "Flora Kidd's New Book Takes Different Tack." Daily Gleaner [Fredericton] 16 Apr. 1994. Today's Woman: 2.
Maclean, David. "Harlequin Author Had 64 Romance Novels to Her Credit." Telegraph-Journal [Saint John] 29 Mar. 2008: B4.
Mullen, Mike. "Kidd Had a Passion for Boats, Sailing." Telegraph-Journal [Saint John] 15 Sept. 2008: C4.
Odgen, Barry. "Author Thanked for Marco Polo Books." Telegraph-Journal [Saint John] 12 Nov. 2002: C10.
Vaillancourt, Christianne. "At the Helm of Romance." Telegraph-Journal [Saint John] 5 Mar. 1994: A3.