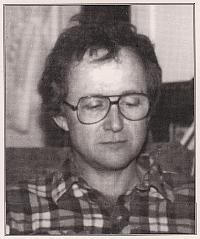 Edward Gates (poet, blueberry and trout farmer, karate instructor, and school teacher) was born on 23 April 1950 in Saint John, New Brunswick. He is the author of five poetry collections, three books and two chapbooks, and his individual poems have appeared in numerous Canadian and American journals. He is a member of the Writers' Federation of New Brunswick. His first collection of poetry was written in memory of his father Ralph Gates (1918–1990) and for his mother Gladys Gates.
Gates attended primary school at Prince Albert in Saint John. His family moved to Hampton, NB, when he was in grade two so that his parents could renovate an old service station into a restaurant known as "The Gateway Restaurant." Gates received his next two years of early education in a one-room schoolhouse called "Lakeside," which was near Hampton. He then went on to complete grades five to nine at Hampton Consolidated School. He spent his high school years at Bethany Bible College in Sussex, where he recalls attending church services three to four times on Sunday, prayer meetings on Wednesday evenings, and religious devotions throughout the week. It is these years that account for some of the Biblical allusions in his poetry.
At the one-room schoolhouse that Gates attended as a young boy, there was no plumbing. He remembers that there was, however, a water cooler that had "cone shaped cups that you could wear on your head as a hat" (Interview with author). Printed on the side of these paper cups were poetic lines. Gates recalls reading a passage from "The Rime of the Ancient Mariner" by Samuel Taylor Coleridge: "water, water everywhere, nor any drop to drink." These cone-shaped cups clearly sparked an attraction to poetry in his young mind.
Gates received his BA in 1974 and his MA in History from the University of New Brunswick (UNB) in 1976. His Master's thesis, entitled "Gladstone's West-County Tour, June 1889: A Study of Party Dialogue," was concerned primarily with biography. In it, he focused on the speeches of William Ewert Gladstone. He went back to school to complete his BEd degree at UNB Saint John in 1981. During that time, he took a creative writing course with Michael Brian Oliver. It was these Saturday creative writing classes that acquainted Gates with the ghazal form and introduced him to the writing of Sackville's John Thompson, a poet who would later have a profound influence on his own writing style.
After completing his BEd, Gates taught in northern Saskatchewan for three years, in an area known as La Loche. His poem "Isadore" (22-23) from the collection The Guest Touches Only Those Who Prepare (1991) is named after one of his students. The poem captures the frustrations of a student whose first language is Chipewyan as he tries to learn English. Gates helped his students to overcome obstacles like these, and took great joy in watching them learn. He also taught karate lessons to the other teachers as a way of staying in shape. As much as Gates enjoyed his students in La Loche, he could not stand being indoors all the time. He moved back to Saint John and worked (deliberately outdoors) as a trout and then a blueberry farmer.
The New Brunswick poets John Thompson and Robert Hawkes have had a profound influence on Gates' writing style. When he picked up Thompson's Stilt Jack (1978), he was immediately inspired by the powerful images, remembering them as stark and basic survival images: "I didn't really care what they meant; they just affected me," he said (Interview with author). It was Thompson's use of the ghazal form that especially caught his eye and prompted him to try his own. In his preface to Stilt Jack, Thompson says "the Ghazal allows the imagination to move by its own nature: discovering an alien design, illogical and without sense—a chart of the disorderly, against false reason and the tacking together of poor narratives. It is a poem of contrasts, dreams, astonishing leaps. The Ghazal has been called 'drunken and amatory' and I think it is" (5). Gates uses the ghazal form as a starting point and then allows the form to take him where it wants to go. He experiments with other forms such as the prose poem, line poem, and long poem, but he considers the ghazal his favourite.
From his UNB professor Robert Hawkes, Gates learned how to use language in a concise way and not to be too flowery or repetitive in his writing, ensuring that every word counts. He did not want to waste the reader's time or undermine his or her intelligence by spelling out all the details: "If a poem becomes too flowery, it can be boring" (Interview with author). It is not only the way the poem reads that is important to Gates, but also the way the poem appears on the page. He tends to play with the lines of his poetry, putting in pauses and longer breaks where necessary, believing that style should maintain its integrity throughout each poem.

The small farming community of Belleisle Creek, NB, provided the inspiration and context for much of his poetry. In the preface to his first collection, The Guest Touches Only Those Who Prepare, Thomas R. Smith comments that his poems are rooted in New Brunswick earth. The images Gates brings to life from his surroundings are stunning in this collection: cranberries on a fallen tree branch become "like part of a woman's necklace" (37); a wasp's nest becomes a "mouthless, eyeless head, as if a sculptor, through grief/ or unevenness of purpose could not finish with his hands what/ started in his heart and mind when he was a boy" (69); a blue heron walks with "the grace of a woman handling expensive china" (33). Reviewer George Elliott Clarke felt that, in this particular collection, both family and nature are the actors while the prose poem is the stage (52). Gates' next collection of poetry, entitled Seeing the World with One Eye (1998), displayed his favourite form: the ghazal. Again, but through the formal apparatus of the ghazal, the reader witnesses what is going on in the immediate surroundings of the poet: apples fall like ideas outside his window (II), snow curls like frozen waves under the eaves of his house (XXIII), and blue herons walk the shore of his pond for food (XXXIII). Gates invites the reader to see the world through his eyes.
Gates has received many awards for his poetry, such as the Alfred G. Bailey Prize and the Poet's Corner Award. A complete list of his awards can be found on his personal website. He and wife Dorina Gates currently (2010) reside in Belleisle Creek with their three children. They opened Gates Belle Arts on 15 October 2001, where art exhibits, lessons, and poetry readings are held. His poetry collections include beautiful works of art painted by Dorina, who signs her artwork with the pen name "Rusty." The eyes of the poet shine as he lovingly refers to his wife as "Rusty Gates."
Kali Wells, Winter 2009
St. Thomas University
Bibliography of Primary Sources
Gates, Edward. Heart's Cupboard. Fredericton, NB: Broken Jaw Press, 2006.
---. The Guest Touches Only Those Who Prepare. Riverview, NB: Owl's Head, 1991.
---. Personal interview. 18 Nov. 2009.
---. Seeing the World With One Eye. Fredericton, NB: Broken Jaw Press, 1998.
---. The Slow Curve of the Past. Salamanca 14. Fredericton, NB: Wild East Publications, 1992.
---. There Are No Limits to How Far the Traveller Can Go. Illus. Dorina Gates. Fredericton, NB: Broken Jaw Press, 1997.
Bibliography of Secondary Sources
Clarke, George Elliott. "Orienting and Disorienting." Rev. of The Guest Touches Only Those Who Prepare, by Edward Gates. Books in Canada 21.2 (Mar. 1992): 52-53.
Homepage. Dorina Gates: Feel the Colour. 7 Mar. 2009. Gates Belle Arts. 19 Oct. 2009
<https://www.gatesbellearts.net/>.
Thompson, John. Stilt Jack. Toronto, ON: House of Anansi, 1978.