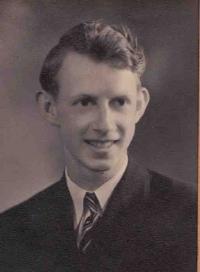 Donald ("Don") Byron Gammon (writer, poet, and editor) was born in Bathurst, New Brunswick, 12 December 1924 and died in Fredericton, New Brunswick, 7 August 2004. He was the son of Alfretta (Ronalds) and William Gammon. Gammon attended and graduated from Bathurst High School with honours in 1942. Upon receiving a four-year Lord Beaverbrook Scholarship and the Bliss Carman Scholarship for poetry, he continued his education at the University of New Brunswick (UNB), where he lived in residence and influenced younger writers such as Bob Gibbs and Allan Donaldson. He graduated with a BA in 1946 and completed his MA in English, also at UNB, the following year. Between degrees, he travelled to London on a Beaverbrook Overseas Scholarship.
At the age of twelve, Gammon composed a Remembrance Day poem (called "Remembrance Day") which was published by the Hoboken Legionnaire (New York) in 1936. In 1938, at age fourteen, Gammon won a province wide essay contest sponsored by the New Brunswick Command of the Canadian Legion, with an essay entitled "The Significance of Remembrance Day." In 1949, he won a competition to write a song for New Brunswick ("The Hymn for New Brunswick"). He also penned the music and lyrics to "The New Brunswick Carol" that played throughout the province.
Gammon's artistic output consisted mostly of poetry published in The Fiddlehead, now Canada's longest-running literary journal. He was the first editor of the journal (from 1945–7) while he was a student at UNB, editing issues one through seven as well as issue twelve in March 1951. In addition to his editorial position with The Fiddlehead, he was also editor of UNB's The Brunswickan, Canada's oldest student newspaper. Besides publishing in The Fiddlehead, poems and articles by Gammon appeared in The Atlantic Advocate in the 1950s.
In 1951 Gammon married Frances Allison Firth of Campbellton, New Brunswick, who was also a University of New Brunswick MA graduate and a fellow member of the Bliss Carman Society. The two attended library school together in Toronto before Gammon was offered a position at the Legislative Library in Fredericton. He later transferred to the position of head librarian of the Agriculture Canada Research Station in Fredericton, where he remained until his retirement.
Most of Gammon's poetry was published in issues two through six of The Fiddlehead. Some of his memorable poems of that period include "The Fiddlehead," "Bubbles," "Sun," and "The Cove." After he graduated from university, his writing slowed considerably. His love for poetry was evident in his careful description of local landscapes and his dedication to New Brunswick poets. As an early editor, he was crucial to the development of important forums for New Brunswick authors.
Pamela Carvell, Winter 2008
St. Thomas University
Bibliography of Primary Sources
Gammon, Donald B. "Bubbles" and "Sun." The Fiddlehead 4 (Feb. 1946): 40.
---. "The Concept of Nature in Nineteenth Century Canadian Poetry, With Special Reference to Goldsmith, Sangster, and Roberts." MA thesis. U of New Brunswick, 1948.
---. "The Cove" and "James Played Games With Jacob." The Fiddlehead 9 (1949?): 84, 88-89.
---. "Is Equals Id." The Fiddlehead 10 (1949?): 100.
---. "River Boat" and "The Flavour of Now." The Fiddlehead 3 (Oct. 1945): 26.
---. "The Road to Nowhere" and "The Egg that Hatched." The Fiddlehead 6 (Feb. 1947): 55, 62.
---. "Scarecrow," "At Church," and "One of Them." The Fiddlehead 8 (1948?): 73, 76, 81.
---. "Untitled." The Fiddlehead 2 (April 1945): 20.
---. "Untitled." The Fiddlehead 5 (Nov. 1946): 46.
Bibliography of Secondary Sources
Campbell, Sabine et al., eds. Fiddlehead Gold: 50 Years of the Fiddlehead Magazine. Fredericton, NB: Goose Lane Editions, 1995. 11-16.
"Donald Byron Gammon." Obituaries. The Daily Gleaner 11 Aug. 2004. Brunswick News Inc. 25 Nov. 2008
<https://obituaries.telegraphjournal.com/daily-gleaner/obituaries/>.
Gibbs, Robert. "Donald Byron Gammon (1924 to 2004): First Editor of The Fiddlehead 1945 to 1947." The Fiddlehead 221 (Autumn 2004): 20.
---. "Three Decades and a Bit Under the Elms: A Fragmentary Memoir." Essays on Canadian Writing 31 (Summer 1985): 231-39.
Leckie, Ross. "The Fiddlehead." The Fiddlehead 221 (Autumn 2004): 5.