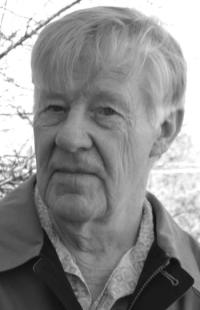 Allan Rogers Donaldson (novelist, short-story writer, and English professor) was born 2 October 1929 in Taber, Alberta, and he died on 8 April 2022 in Fredericton, NB. His published works—a collection of short stories titled Paradise Siding (1984) and a novel, Maclean (2005)—show the influence of his early life in Carleton County during the 1930s and '40s. His fiction describes life in a small town on the Saint John River, focusing strongly on characters and exploring the lasting local impacts of war on even those communities that are geographically distant from the front lines of conflict.
After living in Taber for a short time, Donaldson returned with his mother, Daisy (Rogers), to Woodstock in 1931, where her Irish immigrant ancestors had lived for several generations. Donaldson's father, Allan, remained in Alberta, where he was employed as a ranch worker. The younger Allan lived in Woodstock and surrounding communities until he moved to Fredericton to attend the University of New Brunswick in 1945. He lived for many years in Fredericton with his wife, Marjory, a painter and portraitist of significant renown.
Donaldson's primary and secondary education took place at Woodstock's L.P. Fisher Memorial School. In 1945 he graduated at the top of his class, receiving a Beaverbrook undergraduate scholarship that allowed him to attend UNB in Fredericton. While studying there, Donaldson lived in the Beaverbrook Residence, where, he later learned, some of the other residents jokingly called him "Red Allan" because of his red hair and left-leaning sympathies.
While doing undergraduate work at UNB, he admired and was influenced by Professor David R. Galloway. After Donaldson won the second-year English prize, Professor Ralph Hicklan convinced him to join the Honours English program, which he did in 1947, receiving his BA in English Literature in 1950. He then enrolled in the MA program at UNB, where he was influenced by Desmond Pacey. During Pacey's tenure as chair of the UNB Department of English (1945–69), students were encouraged to write about Canadian literature; however, Donaldson insisted that he be permitted to pursue his own interests and produced an MA thesis on "The Development of Style and Thought in the Poetry of Stephen Spender" (1951).
His work at UNB earned Donaldson a Beaverbrook Overseas Scholarship. He studied at the University of London from September 1951 until December 1953, completing a second MA. During this period, he lived near the St. John's Wood section of London. Research for his second MA thesis—on the influence of Irish nationalism on the early poetry of W.B. Yeats—included reading Yeats' papers at the National Library of Ireland in Dublin.
After completing his MA in London, Donaldson took a teaching position at McGill University in 1954. The next year he returned to New Brunswick, where he taught for six months at McAdam High School. In 1956, he was one of a number of professors hired at UNB when the university's Department of English expanded quickly in the post-war period under Pacey's leadership. Bruno Bobak's 1970 painting Kent's Punch depicts the celebrated group of teachers and writers who were a part of UNB's Department of English during this period: Allan Donaldson, Robert Gibbs, Alden Nowlan, Kent Thompson, Desmond Pacey, Bill Bauer, and Fred Cogswell. Donaldson remained at UNB until his retirement in 1988.
Personal and historical events in Donaldson's young life prompted his preoccupation with the social impacts of the First and Second World Wars. In his adolescence, he was aware of World War II being fought overseas. While tamping railroad ties and laying steel with a railroad gang near Ripples, New Brunswick in 1945, he read news reports of the atomic bomb that was dropped on Hiroshima, Japan. While in high school, he received the equivalent of basic training from armed forces personnel as the captain of the local Royal Canadian Army Cadet Corps. He was also aware of the Fredericton Internment Camp, or "Camp B," located about twenty kilometers north of Fredericton near Ripples. There, Jewish exiles from Austria and Germany who had fled to England were jailed alongside Nazi prisoners of war in 1940.
Donaldson's first collection of seven stories, Paradise Siding, is set during the Second World War. Several of its linked, first-person stories ("Elegy for a Sergeant," "Ruby," and "The Sisters") are character sketches of one or more of the inhabitants of a town seen through the eyes of a semi-omniscient narrator recounting memories of his young life. References to the war as an event that shapes historical context and directly influences character are vivid throughout the collection. The impact of these stories is heightened by a realist style. In "The Refugee," the narrator describes the experience of a fictionalized young man from the exiled Camp B Jewish community living in rural New Brunswick. In recounting interactions with two German prisoners of war and various misunderstood or mistrusted neighbors and townspeople, the narrator gains a sense of the disparity between the shallow, unexamined impressions of people and a fuller, more humane knowledge of mankind. Together, the stories comprise a bildungsroman of 1940s small-town New Brunswick. Though the collection is now out of print, one story, "Elegy for a Sergeant," appeared in the Canadian middle-school reader Responding to Reading, which was published in 1983.
The terse dialogue and descriptive realism of Donaldson's fiction may have been influenced by his early infatuation with "Western" movies, an interest which was indulged by his mother who, though a schoolteacher, also worked at the box office of the local cinema in Woodstock in the late 1930s and early '40s. This allowed him free entry into the theatre, enabling him to see as many as three films a week—usually Westerns centered on cowboy-hero protagonists.
After retirement, Donaldson published his first novel. Maclean describes one day in the life of John Maclean in August 1943. Set in a town up-river from Fredericton, the placement and description of the town library, post office, school, and hotel are reminiscent of the Woodstock of Donaldson's youth. John is a World War I veteran who survived a poison gas attack. Back home in New Brunswick, he struggles with poverty, alcoholism, alienation, distrust, and doubt. The story is punctuated by John's reminiscences of childhood and of his own actions in the war.
Maclean is thematically similar to Charles Yale Harrison's Generals Die in Bed, except that it is set in Canada after the soldier's return home with flashbacks to the European front. This difference permits the narrative to focus on war's inescapable impact on the returned soldier, and the local community's reaction to, and treatment of, his psychological and physical injuries. Like Harrison's 1930 novel, however, Maclean is a modernist treatment that deals with questions of the futility of war, the emptiness of jingoistic patriotism, and the meaning and existence of God.
Published by Halifax's Vagrant Press, an imprint of Nimbus Publishing, Maclean was short-listed for the 2005 Writers' Trust of Canada Fiction Prize and received an honourable mention in 2006 in the Canada-East category for Best Regional fiction (Independent Publisher Book Awards). Donaldson's manuscript A Grain of Sand (1997) also won the H.R. (Bill) Percy Prize for Unpublished Novel.
Joel Butler, Spring 2009
University of New Brunswick
Bibliography of Primary Sources
Donaldson, Allan. The Case Against Owen Williams. Halifax, NS: Vagrant Press, 2010.
---. Maclean. Halifax, NS: Vagrant Press, 2005.
---. Paradise Siding. Fredericton, NB: Goose Lane Editions, 1984.
Bibliography of Secondary Sources
Anderson, Mary Jo. "Explosive, Knockout Lineup; Books on Moosehead's Beer Bandit Among Atlantic Publishers Fall Releases." Rev. of Maclean. The Sunday Herald [Halifax, NS] 25 Sept. 2005: A11.
---. "Nimbus Branches Out Into Fiction Market; Publisher Launches Vagrant Press Imprint." The Sunday Herald [Halifax, NS] 8 May 2005: S14.
Bartley, Jim. "All Quiet on the Down East Front." Rev. of Maclean. Globe and Mail [Toronto, ON] 24 Sept. 2005: D24.
---. "Bartley's Top Five." Rev. of Maclean. Globe and Mail [Toronto, ON] 3 Dec. 2005: D8.
Bauer, Nancy. "Fulfilling Fiction Crafts a Tattoo." Telegraph-Journal [Saint John, NB] 7 Mar. 2009: G2.
---. "Province Should Star in More Fiction: State of the Art." Telegraph-Journal [Saint John, NB] 24 Mar. 2007: H2.
---. "Support for a Land of Scribblers." Telegraph-Journal [Saint John, NB] 18 Apr. 2009: G2.
Caines, Lauren. "One Heart, One Way: Alden Nowlan, A Writer's Life." Rev. of One Heart, One Way: Alden Nowlan, A Writer's Life by Gregory Cook. English Studies in Canada 30.4 (2004): 246-50.
Connell, Allison. "After the Trenches." Rev. of Maclean. Telegraph-Journal [Saint John, NB] 25 Mar. 2006: A15.
Donnelly, Pat. "Writers' Trust Helps Canadian Literature Thrive." The Gazette [Montreal, PQ] 18 Feb. 2006: H4.
Erskine, Bruce. "Leave the Door Open: No Pat Ending in Debut Novel About a First World War Veteran." Rev. of Maclean. The Sunday Herald [Halifax, NS] 30 Oct. 2005.
"Former UNB Prof's Novel Up For Award." The Daily Gleaner [Fredericton, NB] 4 Feb. 2006: B2.
"Fredericton Writer on Award Short-List." Telegraph-Journal [Saint John, NB] 7 Feb. 2006: A8.
Kinsella, W.P. "First Novels." Rev. of Maclean. Books in Canada Online 10 May 2009
<http://www.booksincanada.com/article_view.asp?id=4625>.
"Maclean." Rev. of Maclean. Telegraph-Journal [Saint John, NB] 4 Mar. 2006: A8.
"N.B. Author Shortlisted for Fiction Prize." The Sunday Herald [Halifax, NS] 5 Feb. 2006.
Pacey, Tish. "Maclean Described As Fine First Novel." Rev. of Maclean. The Daily Gleaner [Fredericton, NB] 22 Oct. 2005: Life Section.
Tattrie, Jon. "In Stubborn Pursuit of a Publisher." Rev. of Maclean. The Daily News [Halifax, NS] 1 Apr. 2007
<https://www.jontattrie.ca/>.
"Woodstock Writer Nominated For National Prize." Telegraph-Journal [Saint John, ON] 18 Feb. 2006: A4.