Annie Harvie (Ross) Foster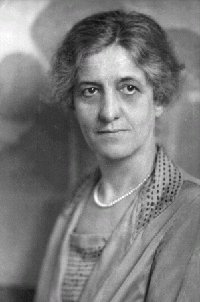 Annie Harvie (Ross) Foster Hanley (nurse, teacher, author, journalist, politician, social activist) was born in 1875 in Fredericton, New Brunswick to Robert Fulton Ross, a blacksmith, and Christine (Doak) Ross. She had two younger siblings, James Loggie and Margaret Stevens. Foster lived much of her childhood in Woodstock, NB, where she was educated at the Carleton County Grammar School and graduated at the top of her class. She obtained a BA from the University of New Brunswick in 1896 and in the following years worked as both a nurse and a teacher. In the 1920s, after a brief stint as an alderman in Nelson, British Columbia, she began to make a living as a journalist and author. She married twice: in 1915 to William Garland Foster and in 1945 to Patrick Hanley. Foster died on 18 June 1974 at the age of 99 in White Rock, BC.
Annie Harvie Ross, or "Nan" as she was known to her friends, entered the University of New Brunswick in the fall of 1892 as part of a freshman class of only seventeen, half of which were co-eds. Her time at UNB was very influential in her future writing career, as she was greatly impressed and influenced by her professors, especially Dr. Loring Woart Bailey, a particular favourite. Bailey's teaching method "gave a bird's eye view of all science" (Foster, "Intellectual Influences" 9), an all-encompassing approach that is reflected in Foster's eclectic style and range of interests. Her experiences at UNB also helped to foster an interest in literature due in part to the efforts of Dr. William Stockley, a young English professor from Dublin who impressed Foster so much that she felt she was in the "presence of genius" in his classes (9).
Another key influence was the general literary culture of Fredericton, which included the "father of Canadian literature," Charles G.D. Roberts, and his cousin Bliss Carman. Foster's comment that the Roberts family "influenced students of literature at UNB for years" (9) was prescient indeed. In 1896, she was awarded a BA in English as well as a Grammar School license that allowed her to teach.
Foster went on to train as a nurse at the Philadelphia Polyclinic Hospital (now the University of Pennsylvania Hospital) and obtained a nursing diploma in 1901, after which she worked as a nurse both in the United States and in Woodstock, NB, where she was the first Matron of the Carlton County Hospital (now Fisher Memorial Hospital). Health problems forced her to leave her nursing career, and, in 1905, she began teaching in Saskatchewan. She later moved to British Columbia in 1908, where she would ultimately spend most of her life.
In 1908, while teaching in Nelson, BC, she met William Garland Foster, editor of the Nelson Daily News. She taught in the local area and in 1912 she became the principal of Hume School. After years of friendship, she and Foster married in 1915. In 1916 he was shipped overseas for military training in England. After spending a brief period of time with her family in Woodstock, Annie left for England upon receiving word that her husband was ill. Once there, she commenced nursing work with the British Red Cross, which continued until 1917, when poor health forced her to return once again to her native province. While in New Brunswick she received notice that her husband was killed in action on 14 October 1918, only three weeks before the Armistice.
Foster returned to Nelson in 1919, where she worked with government social service in the area of mental health, with a particular focus on returning veterans. She continued these efforts as the president of the Great War Veterans Association for Nelson, BC, and attended the Convention of 1920 as the only woman delegate. It was in 1923 that she began writing articles for the Vancouver Daily Province based on her experiences overseas during the war. In 1922 she unsuccessfully ran for Mayor of Nelson. She also ran, unsuccessfully for the BC Provincial Legislature under the banner of the Provincial Party of BC in 1924; after this defeat she moved to Vancouver where she continued writing for the Daily Province, as well as widening her scope to magazine and book-length pieces.
Foster's writing career began relatively late in life; it wasn't until she was in her forties that she began to seriously consider writing as a full-time occupation. She was very interested in marginalized groups, including aboriginal peoples and a Russian sect called the Doukhobor who lived in Western Canada, though her treatment of each group is often indicative of the prevailing prejudices of her time. She was also a proud patriot, evidenced by her books High Days and Holidays in Canada and Makers of History. These are important identifiers of her love of Canada, as well as her tendency to be an "apologist for Canadian culture" (Belier 8).
Perhaps her most famous work was her first published book, The Mohawk Princess: Being Some Account of the Life of Tekahion-wake (E. Pauline Johnson). Foster's connection to Johnson (1861–1913) began after she attended a lecture on Johnson's work and life. She was intrigued by the prominent Mohawk-Canadian poet and actress who had been prolific in life but died in poverty. In 1926, Annie began working on Johnson's biography to the exclusion of all else, and in 1931 published The Mohawk Princess, which remained the standard biography of Johnson until 1965 (Welwood 200).
Interested always in improving her researching, indexing, and writing skills, Foster was one of the first to undertake a Bachelor of Library Science degree at McGill University in Montreal, from which she graduated in 1931 at the age of 55. The next year, almost forty years after graduating from UNB, she was awarded a Master's degree in English after submitting her manuscript for The Mohawk Princess in lieu of a thesis.
Several of Hanley's more substantial book-length works are unpublished manuscripts, including a biography of Arthur Meighan, a study on the Doukhobors, and a collection of Haida myths, as well her own autobiography. Foster's style of writing is at times "rudimentary," and often in need of an editor. As biographer and Foster authority Frances Welwood notes, these manuscripts are unlikely to ever be published, as they are "not truly significant for their intellectual content, but rather for the forceful points of view she frequently adopted and the mindset of a very Canadian woman of her era" (202). Much of Foster's published materials are magazine articles, which were contributed to the Vancouver Daily Province, Canadian Author and Bookman, Saturday Night, Dalhousie Review, The Canadian Magazine, the British Annual of Literature, as well as UNB's own The Brunswickan (Belier 8).
Foster was a member of the Canadian Author Club since its inception in 1920; President and Secretary of the Vancouver Branch of the Canadian Authors' Association; member of the Executive of the Women's Canadian Club of Vancouver; President of the Women's Civic League, White Rock; one of the first women to be admitted to the UNB Alumni Association, as well as the first woman to serve on its Executive Council; and one of the original members of the UNB Associated Alumnae upon its formation in 1910. She also established a scholarship at the University of New Brunswick in memory of her father, the Robert Fulton Ross Memorial Prize in Anthropology.
Lindsey MacCallum, Summer 2013
UNB Archives & Special Collections
Bibliography of Primary Sources
Foster, Annie Garland. The Canadian Doukhobors: A Study in Communism. N.d. MS. 174 pages. UNB Archives & Special Collections, Fredericton, NB. MG L 7.
---. Index of British Columbia Authors. N.d. MS. 112 pages. UNB Archives & Special Collections, Fredericton, NB. MG L 7.
---. Index of British Columbian Author, Part II, Post War Section. N.d. MS. UNB Archives & Special Collections, Fredericton, NB. MG L 7.
---. Indian Trails in Maple Land: Myths of Haida Land. N.d. MS. 90 pages. UNB Archives & Special Collections, Fredericton, NB. MG L 7.
Foster, Annie H. Makers of History. Toronto, ON: Ryerson Press, 1946.
Foster, Annie H., and Anne Grierson. High Days and Holidays in Canada: A Collection of Holidays Facts for Canadian Schools. Toronto, ON: Ryerson Press, 1938.
Foster, Mrs. Garland. The Inscrutable Canadian: A Life of the Rt. Hon. Arthur Meighen, K.C. N.d. (Rev. ed. 1960) TS. 490 pages. UNB Archives & Special Collections, Fredericton, NB. MG L 7.
---. "Intellectual Influences at UNB in the Nineties." The Brunswickan 66.10 (1946): 7-9.
---. The Mohawk Princess: Being Some Account of the Life of Tekahion-wake (E. Pauline Johnson). Vancouver, BC: Lion's Gate, 1931.
---. Passing Through: Pictures From the Life of Mrs. W. Garland Foster, née Annie H. Ross. 1939. TS. 248 pages. UNB Archives & Special Collections, Fredericton, NB. MG L 7.
Hanley, Mrs. Patrick. Some Accounts of the Families of James Ross, Donald McDonald, Joseph Story, James Doak and their Descendants. 1959. TS. 12 pages. UNB Archives & Special Collections, Fredericton, NB. MG L 7.
Bibliography of Secondary Sources
Belier, Patricia. "Passing Through: Pictures From the Life of Mrs. W. Garland Foster (née Annie H. Ross)." Officers' Quarterly 12.2 (Spring 1996).
McLean, Charles Herbert. Prominent People of New Brunswick in the Religious, Educational, Political, Professional, Commercial and Social Activities of the Province; Also, a Brief Historical and Biographical Reference to New Brunswickers of the Past and to Others of the Province Who Have Attained Prominence Elsewhere. Saint John, NB: Biographical Society of Canada, 1937.
Welwood, Frances. Passing Through Missing Pages: The Intriguing Story of Annie Garland Foster. Halfmoon Bay, BC: Caitlin Press, 2011.