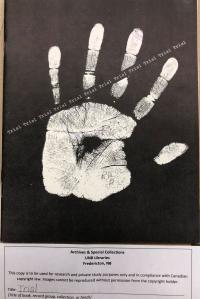 Trial was a student literary journal (a magazine of "literature and opinion") that was published at Mount Allison University in Sackville, New Brunswick in the 1950s and '60s. Published annually by the Mount Allison Arts and Letters Society, its content came from students and faculty. Early issues consisted of a combination of poetry, short stories, and short articles or editorials, while later issues consisted of poetry and works of visual art, with a few short stories or editorials. The first issue was released in 1955, and while publication ceased in the late 1950s, it resumed in 1960. Trial's final issue was released in 1968.
The identity of the editor of the first issue in 1955 is unknown, as that issue is uncredited; however, later editors include Angus Cameron in the early 1960s; Laurel Thompson and Brian Stevens in 1964; Susan Low-Beer and Chris Marshall, Rachel Brown and Paul Jackel in 1966; Valerie Ann Skidd and Nicholas Gardner in 1967; and John Gillan and James MacSwain in 1968. Faculty advisors who oversaw operations of the journal included professors Lloyd A. Duchemin in 1955, George H. Thomson in the early 1960s, and Michael J. Collie throughout the middle years of the 1960s.
The prefaces and editors' notes give insight into the tone and focus of the magazine, as well as into the culture on Mount Allison's campus at the time. The first introduction from 1955 states that Trial was created to fight against perceived anti-intellectualism and to spark literary and creative interest among students:
No magazine can ever be a success while there are no writers willing to write and no readers willing to read. And this, though stated a little badly, is the situation on the Mount Allison campus, the situation responsible for the failure of the ARTS magazine. The two groups who must always be responsible for the success of any magazine are, of course, the producers and the consumers. In this case, the producers are the Arts and Letters Society and Honours English students, and the consumers are the general student body. It takes both halves, and, at Mount Allison, they both appear to be too narrow and too childish, in their quite different ways, to support one, small, decent, annual publication of creative writing and intellectual opinion. (Trial 1955)
Evident throughout this and all subsequent editorials is that the people who contributed to the making of Trial were very passionate about literature, art, and creation. Each took the magazine very seriously, which is reflected in its content. The tone of the magazine was therefore quite serious, the content exploring a variety of themes and topics familiar to young, idealistic youth, often with philosophical or existential zeal. The style of the literature in the magazine was likewise varied and serious, as it was sourced from many different writers, with much of the poetry being modernist or confessional. The titles of the submissions reflect the magazine's high seriousness: "On the Joy of Life" by Rachel Brown, "Helpless" by Ivan Richardson, "The Crucifix" by Terrence Peter Ritchie, "God Is" by Janet Brown, "Annoyance and Tears" by Robert Knox, "Song of Happiness" by Jessie Parker, and "The Great Divorce?" by Chris Marshall.
Among prominent writers whose work was published in Trial is Elizabeth Brewster. Two of her poems, "Deaths" and "The Nature of the Sublime," appeared in an undated issue from the mid-1960s.
Trial began featuring visual artwork alongside literature in the early 1960s, that content contributed by the university's Fine Arts students. Visual art, in fact, became a primary focus in later issues, which featured equal parts literature and art. The magazine also displayed often-stunning cover art, the bulk of which was again provided by Fine Arts students. Cover artists credited in Trial include Kenneth Tolmie, Susan Low-Beer, Roger Savage, and Garrie Wilson.
Like other magazines of its kind, Trial had an inconsistent publishing life. It ceased publication for a few years between 1957 and 1959, but, once revived, was frequently produced and well received, with editor Angus Cameron stating in an issue from the early 1960s that
Trial gained a new lease on life last year under the editorship of Wayne Tompkins, and was an unqualified success. The entire issue was sold within three days, and this has encouraged us to put out another Trial in the hopes that it too will be accepted. The Arts and Letters Society and its publication have had an off-again-on-again existence, and we hope that these "Trials" will stir up all sorts of literary interest, creative, and perhaps, appreciative, and become a permanent feature. (Trial undated)
Trial was certainly successful in sparking literary interest among students, as the magazine ran until 1968 and was immediately succeeded by First Encounter, another student magazine (created in 1969) by the Student Administrative Council of Mount Allison University. That better-known magazine was published until 1987. Original copies of Trial can be found in Mount Allison University's Ralph Pickard Bell Library, with other copies located in archives of some Atlantic-Canadian libraries, including the Harriet Irving Library at the University of New Brunswick and Dalhousie University's Killam Memorial Library.
Delaney Ingalls, Winter 2021
St. Thomas University
Bibliography of Primary Sources
Trial. 1955-1968. Rufus Hathaway Collection. Archives & Special Collections, Harriet Irving Library. University of New Brunswick. Fredericton, NB.