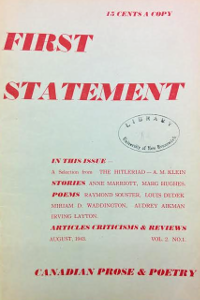 John Max Allen Sutherland was born on 21 February 1919 in Liverpool, Nova Scotia, to Lois (Parker) Sutherland and Frederick Sutherland. Sutherland would become known as a critic, editor, publisher, and poet, and he was especially influential in founding the modernist magazines First Statement in 1942 and Northern Review in 1945. Living only thirty-seven years, Sutherland died on 1 September 1956. He left a wife, Audrey.
The Sutherland family, including John's sister Betty (later the wife of Canadian poet Irving Layton), lived in Liverpool until 1926, when Mrs. Sutherland died from tuberculosis. After her death, John and Betty lived with their grandparents in Lockeport, Nova Scotia, which Sutherland would later recall in his poem "Climactic" as "a little sea town" (Whiteman ix). It wasn't until 1930, when Sutherland's father Frederick remarried, that the siblings would return to their father's care and relocate to Saint John, New Brunswick, where Sutherland would attend high school.
Sutherland did not take to his stepmother, Dorothy McNichol, as easily as his father hoped, and upon graduating from high school he set his sights far away from Saint John and the uncomfortable relationship that had developed. In 1939 he entered Queen's University in Kingston, Ontario for a Bachelor of Arts degree, but, stricken with an illness at the start of the next summer, he was forced to return to New Brunswick. It was there that he was diagnosed, like his mother before him, with tuberculosis, specifically tuberculosis of the kidneys. During his extended period of recovery from the disease, Sutherland's former high school teacher, Allen MacBeath, arranged for his personal friend, poet Alfred Bailey, to visit him in the hospital. Bailey, as well as Canadian poet P.K. Page, also living in Saint John at the time, read poems to Sutherland and effectively introduced him to literary modernism (Whiteman ix-x).
In 1942 Sutherland began studying English literature at McGill University in Montreal. There he met many of the writers who would soon appear in First Statement. Some of those writers came from McGill's student literary magazine. One was poetry editor Audrey Aikman, who would marry Sutherland on 27 November 1943. Another was the poet Miriam Waddington, who remembered Sutherland as "a surprising and remarkable figure who appeared from nowhere with little academic training and no pretensions" (Waddington 12). Despite a lack of training, Sutherland and his sister Betty, as well as their group of Montreal friends, steered First Statement through its turbulent and productive early days, publishing Canadian literary luminaries such as Patrick Anderson, Irving Layton, Louis Dudek, Raymond Souster, and Anne Wilkinson.
In June 1945, First Statement merged with rival magazine Preview to create Northern Review. Although both of the editorial teams had different views of what Northern Review should be, it wasn't until spring 1947 that major rifts and disagreements occurred. The first had to do with the resignation of A.M. Klein, the second with Sutherland's review of Robert Finch's Poems in 1947, which resulted in the resignation of half of the editorial board.
Sutherland's review was characteristically pointed: "There are, it is true, some fine effects of music and imagery in Poems," he wrote, "[but] in general the author is too much occupied with (a) versifying a moral truism and (b) playing a sort of verbal chess." Sutherland continued, "Mr. Finch is nearly always simple when he is profound. He plays with rhyme and metre like a kitten with a ball of wool, and with an air of doing something mysterious and significant" (qtd. in Waddington 144). The commentary was perceived as overly antagonistic, and Sutherland was abandoned to his own devices.
In later years, he began printing books and, despite detractors, continued to be a strong and opinionated advocate for excellence in Canadian literature. He kept Northern Review in publication until his death in 1956. He left a legacy of critical frankness and insight, and he was always grateful to New Brunswick poets for introducing him to the tenets of literary modernism.
Alexandra Van Rijn, Winter 2015
St. Thomas University
Bibliography of Secondary Sources
Dudek, Louis, and Michael Gnarowski, eds. The Making of Modern Poetry in Canada. Toronto, ON: Ryerson, 1967.
Gibbs, Robert. "English Poetry in New Brunswick, 1940–1982." A Literary and Linguistic History of New Brunswick. Ed. R. Gair et al. Fredericton, NB: Fiddlehead & Goose Lane, 1985. 125-44.
Tremblay, Tony, and Ellen Rose. "The Canadian Little Magazine Past and Present: Can Digitizing a Literary Subculture Make a Movement?" Canadian Literature 200 (Spring 2009): 16-35.
Waddington, Miriam, ed. John Sutherland: Essays, Controversies and Poems. Toronto, ON: McClelland and Stewart, 1972.
Whiteman, Bruce, ed. The Letters of John Sutherland, 1942–1956. Toronto, ON: ECW Press, 1980.