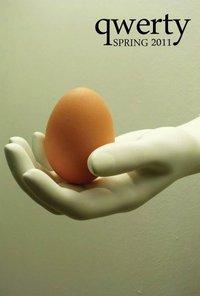 QWERTY is a student-run literary magazine affiliated with the University of New Brunswick. First published in the spring of 1996, QWERTY has released an average of two issues a year since that time. However, there have been a number of hiatuses and inconsistencies in this schedule since the magazine's inception.
The editorial board typically consists of graduate students from the University of New Brunswick's English Department who are majoring in the field of creative writing. Because this degree program is only twenty months in duration, turnover for editors is high, with students typically serving in various positions with the magazine for no more than three of four issues. However, there are exceptions to this rule. One example is Eric Hill, who acted as managing editor from 1996 until 2000 and contributed to seven issues in addition to the magazine's tenth anniversary anthology. Due to the high turnover of editors, the structure of the journal varies from year to year both in terms of its layout and the number and type of positions on its editorial board. Certain years have seen as few as three editors working on an issue, and others as many as sixteen.
Like the layout of the magazine, the tone of the work that QWERTY publishes varies depending on the tastes of the editors in charge at the time. QWERTY publishes a variety of genres, including prose, poetry, artwork, scripts, essays, reviews, and, according to its submission guidelines, "other work of unadulterated creative genius." However, entries from the first three categories are the most commonly submitted and accepted. While the work tends to vary in tone, QWERTY has consistently billed itself as a haven for the surreal or experimental. The magazine maintains an informal mandate to accept more off-the-wall and avant-garde work than UNB's more established literary journal, The Fiddlehead. Themed issues are rare and come about not through strict submission guidelines imposed beforehand by the editors, but by the prevailing mood or tone evident in the work received by the magazine in the time leading up to publication.
Notable contributors include Don McKay (multiple issues), John Steffler (issue 1), Michael Ondaatje (issue 3), bill bissett (issue 5), and Mark Jarman (multiple issues). Because of its reputation for accepting experimental, unusual, and off-beat writing, QWERTY has proven to be a good jumping-off point for New Brunswick's up-and-coming writers, such as Katia Grubisic, Dave Hickey, and 2009 Griffin Poetry Prize nominee Jeramy Dodds.
In its twenty-second issue, QWERTY became a member of Magazines Canada, which allowed it to distribute to bookstores across Canada. QWERTY's most recent issue was released in Summer 2020. As of June 2020, the editorial staff currently includes McKenna James Boeckner (managing editor and design & layout); Christine Wu (managing editor); Eliza Ives and Brittni MacKenzie-Dale (prose editors); Grace R. Taylor (poetry editor); Carlee Calver (art editor and editorial board member); Lauren R. Korn (design & layout); and Kendra Guidolin, Benjamin Hayward, Naomi Idler, Bethany Langmaid, Rebecca Salazar, Melissa Weiss (editorial board).
Justin Joschko, Spring 2009
University of New Brunswick
Bibliography of Primary Sources
Qwerty. Homepage. U of New Brunswick. 20 June 2020
<https://www.qwertyunb.com/>.
Bibliography of Secondary Sources
Anderson, Elliott, and Mary Kinzie. The Little Magazine in America: A Modern Documentary History. New York: Yonkers, 1978.
Davey, Frank. "Anything but Reluctant: Canada's Little Magazines." Canadian Literature 13 (1962): 39-44.
Dudek, Louis. "The Role of Little Magazines in Canada." Canadian Forum 38.4 (1958): 76-8.
Gnarowski, Michael. "The Role of 'Little Magazines' in the Development of Poetry in English in Montreal." Culture 24.3 (1963): 274-86.
Henderson, Bill. "The Small Book Press: A Cultural Essential." The Library Quarterly 54.1 (1984): 61-71.
McQuiddy, Steve. Read It if You Can: A Necessary and Long-Overdue Judgment Upon the Current Condition of Literary Journals, and Its Effect on Art, Education, and the Future of America. Oregon: Intangible, 1997.
Norris, Ken. The Little Magazine in Canada 1925–80: Its Role in the Development of Modernism and Post-Modernism in Canadian Poetry. Toronto: ECW Press, 1984.
Pacey, Desmond. "The Writer and His Public." Literary History of Canada. Ed. Carl F. Klinck. Toronto: U of T Press, 1967. 477-95.