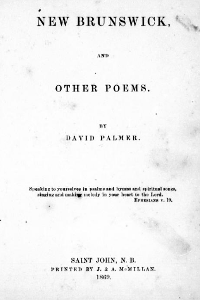 David Palmer (poet) was born 28 February 1789 at Douglas Harbour, Grand Lake, New Brunswick. His published work—a poetry book written in blank verse titled New Brunswick and Other Poems (1869)—consists of poems on religion, love, family, death, and marriage. However, his most notable poem, titled "New Brunswick," gives an account of New Brunswick, including explorations of the sociology and politics of the province.
Palmer's parents, Daniel Palmer (1748–1812) and Sarah Ann (Whittemore) Palmer (1758–1829) moved to Grand Lake with their children from Massachusetts in 1786. Daniel bought approximately 1000 acres in Grand Lake and farmed it for a living. The Palmer's had eight children: Elizabeth, Pheobe, Hannah, John, Daniel, David, Ann, and Deborah. Though the children did not attend school, they were educated at home by their parents' array of books; David taught himself math and literature from those (Johnson 1-4).
On 30 July 1818, David Palmer married Marion Hunter (1794–1867) who moved to Grand Lake from Glasgow, Scotland as a young girl. Together they lived in Douglas Harbour, where David farmed the land his father had cleared for him. They raised seven children: Elizabeth, Daniel, James, Isaac, John, Thomas, and George William. It is clear that Palmer thought highly of his family, dedicating his first and only volume to them. Below his dedication to his children is the following note:
In dedicating to you these effusions of my pen, I give you a more faithful portrait of your Father's heart than the most ingenious artist could give of his countenance on the polished plate or the finest marble. Here, you see the results of his most serious thoughts; what he has ventured to write for eternity; and what he hopes to seal with his dying testimony which he would rejoice to see published to the world. On the doctrines embodied in these pages he can freely venture his eternal interest and go forward to meet the presence of Him who sits upon the great White Throne…God is love; and nothing but love can find acceptance with Him.
In penning this message, important aspects of his personality are revealed: he had complete faith in God and found poetry a way of conveying that to the world.
Throughout his life, Palmer was an avid churchgoer and served as secretary of the Grand Lake Bible Society for thirty years. He became well-known in his community as a poet and his work was published in The Gospel Magazine (or Metrias). Though his poetry mainly focused on his faith, he wrote other "miscellaneous" pieces including a few poems to his wife, friends, and family members. Besides Christianity, death is a prominent theme in his work, though it is treated as entrance to an afterlife. He does, however, mourn the loss of loved ones, even though he professes to see them again and acknowledges that it is simply God's will that they leave him now.
Palmer's most interesting work is his long poem "New Brunswick." Written in two parts, the first gives an account of "non-invocation; outline of climate; productions; animals; rivers; savage life; colonization; lumbering" (9). The second part consists of "the Patriarch Oak—the date of its being planted—its locality; the Halcyon and the Bear; the oak glancing at what has transpired during a millenary; the discovery of America; reformation; bible society; progress of the arts; advice to youth" (15). Palmer wrote the poem through the eyes of "the Patriarch Oak," which he imagines has seen everything New Brunswick has experienced.
Palmer seems to have been especially influenced by Shakespeare. "To Marion," for example, is not unlike Shakespeare's "My Mistress' Eyes." Palmer's poem lists everything that his wife is not:
Marion, thy wedded love,
Not like a summer shower
That pours in torrents down,
Yet lasts but one short hour. (129)
Then, at the end of the poem, he explains that she is much more than a short memory to him; she is:
like the mountain spring
Whose waters never fail
But silently moves on
Through all the flowery vale. (129)
Their love is described as water flowing through the mountains, continuously, silently, and always present. This follows the same structure as Shakespeare's sonnet, which explains everything that his mistress does not have, only to state his rare love for her.
David Palmer passed away on 1 June 1866 and is buried on his farmland; Marion died less than a year later on 1 March 1867.
Katelyn Mokler, Winter 2010
St. Thomas University
Bibliography of Primary Sources
Palmer, David. New Brunswick and Other Poems. Saint John, NB: n.p., 1869.
Bibliography of Secondary Sources
Johnson, Daniel F. First Families. Fredericton, NB: Provincial Archives of New Brunswick, n.d.
Rhodenizer, Vernon Blair. Canadian Literature in English. Montreal, PQ: Quality Press, 1965.