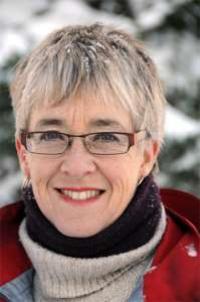 Beth (Davis) Powning (writer, essayist, and photographer) was born and raised in Putnam, Connecticut in 1949. From a young age, she had a strong love of books and aspired to become an author. Upon graduating from E.O. Smith High School in Storrs, Connecticut, she moved to Bronxville, New York to attend St. Lawrence College. It was during her stay at university that she met her future husband, Paul Powning, a sculptor and photographer, whom she married in 1969 (Powning, Shadow Child 39). While she briefly contemplated going into theatre, she studied creative writing under the mentorship of E.L. Doctorow, and graduated in 1972 with a Bachelor of Arts. After graduation, she and her husband moved to New Brunswick, where they purchased a small farm near Sussex (Shadow Child 44).
Upon arriving in New Brunswick, she kept her writing mostly to herself, as she sought to refine her voice before publishing (Shadow Child 47-8). As a result, she found herself gaining more of a reputation for helping her husband in his pottery business than for her literary output. In 1975, she became pregnant with her first child. Unfortunately, the baby boy, named Tate, was stillborn, which drove her into a period of depression, causing her to drift away from her writing. However, in 1977, she gave birth to her only surviving son, Jacob Powning. After Jacob's birth, she felt reinvigorated with life, and she returned to writing in between caring for her child and helping her husband.
During this period, she completed the first manuscript that she deemed worthy of sending to publishers. While she received positive feedback about the story, it was deemed too dark to sell (Shadow Child 213). This strongly discouraged Powning from submitting her work to publishers for a while, and her writing became secondary in her life for a long period. After publishing two anthologies of her nature photography, Roses for Canadian Gardens (1991) and Hardy Trees and Shrubs (1995), she found new inspiration to take up writing once more.
It was only after her son left for university that she truly committed herself to getting her works published. One of her manuscripts was accepted by Penguin, and was published as Seeds of Another Summer in Canada in 1995, and as Home: Chronicle of a North Country Life in America in 1996. The book necessitated the separate publishings as it featured not only Powning's essays, but also a collection of her full-colour nature photography, and thus was more of an undertaking to put to print than a regular book.
Powning's next published work, Shadow Child: An Apprenticeship of Love and Loss (1999), was a memoir about her experience as a mother who had to live with the loss of her first child. Shadow Child became a national bestseller, with reviewers remarking that in spite of its heavy subject matter, the book was "accessible and engrossing" (Waldman 36). Following this was Powning's first published novel, The Hatbox Letters (2004), which was even more critically acclaimed. Not only was The Hatbox Letters another national bestseller, but it also made the Globe and Mail's list of best books of 2004 as well as the longlist for the IMPAC Dublin Literary Award. In reviewing The Hatbox Letters, critics noted that Powning was able to draw from her own "reservoirs of grief" to depict the depression from which her protagonist suffers (Walker D05). Powning returned once more to the genre of non-fiction with Edge Seasons (2005), a memoir detailing her transformation into a writer. Much like her prior novel, Edge Seasons had a positive reception, becoming one of the Globe and Mail's best books of 2005.
Powning's most recent literary endeavour, The Sea Captain's Wife (2010), has been her most positively received book to date, getting rave reviews from many Canadian periodicals. Powning's commitment to period accuracy in conjunction with her literary talent led critics to say the book is "clearly thoroughly researched, yet never reads as written research, but as lives fully and panoramically lived. It reads as real" (Garnett F11). The novel was also praised for exploring "the gender expectations imposed upon women and the ways in which they each attempt to challenge them" (MacPherson 161). As well, it made bestseller lists in the Globe and Mail, Maclean's, and Amazon.ca, and once again landed her on the long list for the IMPAC Dublin Literary Award. It was also in 2010 that Powning received the Lieutenant Governor's Award for High Achievement in English-Language Literary Arts from the New Brunswick Arts Board.
Powning's literary style is notable for its poetic prose and highly accurate factual detail, as well as the strongly defined role and appreciation of nature. Also important is her treatment of women trying to live in a male-dominated world, an issue which has preoccupied her since childhood (Shadow Child 22). She has always been an avid reader, and her long history with literature has strongly influenced her style; she writes, that is, as a discerning reader. She admits to being influenced by many great writers whose books she read in her young adulthood, such as Tolstoy, Virginia Woolf, and the Brontës. She was also highly influenced in university by E. L. Doctorow, and in more recent years has developed a taste for Canadian literature, especially in the non-fiction genre (Tancock).
Powning's literary style has been praised for its descriptiveness, with critics saying she "writes with the sensibility of a photographer..., trying to capture the essence of the moment, the object, of life" (Dundas D14). An example of this vivid style can be found in the prologue of The Sea Captain's Wife where, describing a departing rowboat, Powning writes "Sailors lean to the oars. The bow of the rowboat rises, splashes down. Rises, splashes down. The little boat dwindles as it nears the square-rigged ship. It becomes barely visible, no longer part of Whelan's Cove once it passes into Zephyr's shadow" (2). In a review of her work in the Globe and Mail, poet Patrick Land remarked that "there are few writers who can evoke the wild world with such intensity and originality" (Lane D5).
While not born in Canada, Powning has spent much of her life in rural New Brunswick, and she has gladly taken it as her home. New Brunswick has had an influence on her writing, especially its wildlife. Critics have said that she is "a writer who has spent long years observing the living creatures of her farm and valley. Out of them she has honed and harboured a craft of striking originality" (Lane D5). Powning's depictions of New Brunswick's natural beauty parallels the sense of place that is prevalent amongst native-born authors of the province.
Powning currently lives in a farmhouse constructed in 1870s outside of Sussex, where she writes and lives with her husband. Beyond her love of writing, she also dabbles in photography, gardening, environmentalism, horseback riding, and choral and a capella singing. She is involved in community organizations related to literacy, conservation, and women's groups. She publishes an online newsletter detailing the events of her life and maintains contact with her readership through online social media.
Andrew Sketchley, Winter 2012
St. Thomas University
Bibliography of Primary Sources
Powning, Beth. Edge Seasons. Toronto, ON: Knopf Canada, 2005.
---. The Hatbox Letters. Toronto, ON: Knopf Canada, 2004.
---. Home page. 29 Nov. 2012.
<https://www.powning.com/beth/>.
---. The Sea Captain's Wife. Toronto, ON: Vintage Canada, 2010.
---. Seeds of Another Summer. Toronto, ON: Penguin Viking, 1995. [Published in the U.S. as Home: Chronicle of a North Country Life. New York, NY: Steward, Tabori & Chang, 1996.]
---. Shadow Child: An Apprenticeship of Love and Loss. Toronto, ON: Penguin, 1999.
Powning, Beth, and Robert Osborne. Hardy Trees and Shrubs: A Guide to Disease-Resistant Varieties for the North. Toronto, ON: Key Porter Books, 1995.
---. Roses for Canadian Gardens: A Practical Guide to Varieties and Techniques. Toronto, ON: Key Porter Books, 1991.
Bibliography of Secondary Sources
Dundas, Deborah. "Love and Sorrow Make Us." Toronto Star 3 Oct. 2004: D14.
Garnett, Gale Zoe. "Sailing Through." Globe & Mail [Toronto, ON] 23 Jan. 2010: F11.
Lane, Patrick. "The Year of Living Beautifully, Thoughtfully." Globe & Mail [Toronto, ON] 15 Oct. 2005: D5.
MacPherson, Andrea. "Great[er] Expectations." Canadian Literature 207 (2010): 161-163.
Moeller, Vanessa. "Recipients of the Lieutenant-Governor's Awards for High Achievement in the Arts Announced." Artsnb. 22 Nov. 2010. New Brunswick Art Board. 29 Nov. 2012
<https://artsnb.ca/>.
Tancock, Kat. "Interview with Author Beth Powning." Canadian Living. 1 Nov. 2005. Groupe TVA Inc. 29 Nov. 2012
<https://www.canadianliving.com/life-and-relationships/community-and-currents-events/article/interview-with-author-beth-powning>.
Waldman, Deborah J. "Shadow Child: An Apprenticeship of Love and Loss." Quill & Quire 65.2 (1999): 36-37.
Walker, Susan. "Grief, Memories and Gardening." Toronto Star 29 Aug. 2004: D05.