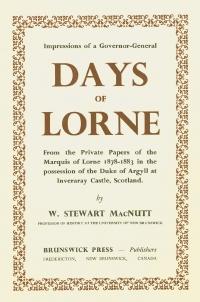 William Stewart MacNutt was born on 4 July 1908 to Thomas and Marian MacNutt in Charlottetown, Prince Edward Island. His parents were Anglicans, both from reputable families on the island, with his father holding a job as an insurance salesman, and his mother as a homemaker. MacNutt began his life surrounded by extended family. His father served as a secretary-treasurer for Hyndman and Co. before enlisting in the military in World War I. After returning, Thomas MacNutt became secretary-treasurer of the Charlottetown School Board, and became quite an avid historian, founding the PEI Historical Society. His involvement in this discipline throughout much of his son's childhood largely informed W. S. MacNutt's interest in and appetite for Canadian history, specifically, that of the Maritimes.
W.S. MacNutt attended both primary and secondary school in PEI, and left as soon as he graduated from Prince of Wales College. He next attended Dalhousie University, from which he obtained a Bachelor of Arts with honours. He was then awarded the Imperial Order of Daughters of the Empire Scholarship to study abroad at King's College, London. There, under the mentorship of A.P. Newman, a well-respected colonial historian, MacNutt did his masters degree focusing on Nova Scotia politics of the 18th-century. His thesis was titled "British Rule in Nova Scotia, 1713–1784." He returned to Canada after completing this degree to take a position at Rothesay Collegiate School, a private school in Rothesay, New Brunswick. He taught there for seven years, after which he joined the North Nova Scotia Highlanders to serve for the Allied forces in World War II.
During his time in the military, he attained the rank of captain, and served in both North Africa and Italy. His time during active service led him, in 1945, back to education, when he began teaching at Khaki College in Britain. This college was a military institution that had been created by the Canadian government to serve the academic needs of those Canadians serving in Europe. Though the college shut down after 1946, MacNutt was soon invited by Dr. Alfred Bailey to take an assistant professor's position at the University of New Brunswick. MacNutt would spend the remainder of his academic career at the University of New Brunswick (UNB), beginning as an assistant professor, attaining associate professor status in 1950, and becoming a full professor in 1952. This was also the year that he married Mary Bernice Gunn.
His popularity and success as a professor was evident in the increasing enrollment for his classes. Though sometimes seen as boring, Maritime history became a popular course of study in his hands, his flair for teaching and knowledge of the subject clearly evident. MacNutt continued to advance through the academic ranks at UNB, becoming Dean of Arts from 1964 until his retirement in 1974.
MacNutt's involvement in the history of the Atlantic world prompted further research on the subject. His first major publication, still in wide use, was The Making of the Maritime Provinces, published in 1955. His best-known work, however, is New Brunswick: A History, 1784–1867. With MacNutt's research and insight, the Maritime Loyalist diaspora was defined more clearly. This book is important for the New Brunswick literary community because it defines a colourful history and tradition.

MacNutt was prolific, writing articles, giving speeches, and collaborating on collective works with other historians in his field. Prior to his work, the field of Maritime history was widely viewed as inconsequential to both Canadian and global affairs. His research into the Loyalist settlements of the Maritime provinces, however, changed that, and his work led to an extensive Loyalist archive at UNB. This collection holds work by numerous other major contributors to this area of research, including Esther Clark Wright, a friend and contemporary.
MacNutt was awarded several honorary degrees from universities in the Maritimes, including St. Thomas University, University of Prince Edward Island, Dalhousie University, and his beloved UNB. During his lifetime he was the President of the Humanities Association of Canada, the Chairman of the International Program for Loyalist Studies, and was appointed as a Fellow to both the Royal Society of Canada and the Canadian Historical Society. His last extensive piece of work was the unpublished Select Loyalist Memorials, which is in the University of New Brunswick archives. It is a collection of Loyalist memorials that begin in the American Civil War and follow the settlers to the Maritimes.
MacNutt died on 10 February 1976 at the age of 67. In the posthumously published "The Loyalists: A Sympathetic View," the editor of Acadiensis remarked that, "No words can adequately describe the sense of loss Canadian historians must feel on learning of the death of W. S. MacNutt" (3). The present state of New Brunswick studies and Loyalist research is in part due to the influence of MacNutt, "a man who played such a major part in reviving interest in the history of the Atlantic Provinces" (3). His memory lives on in the W. Stewart MacNutt Memorial Speech which is given annually in his honour.
Dariel Green, Spring 2010
St. Thomas University
Bibliography of Primary Sources
MacNutt, William Stewart. The Atlantic Provinces: The Emergence of Colonial Society, 1712–1857. Canadian Centenary Series 9. Toronto: McClelland and Stewart, 1965.
---. "The Beginnings of Nova Scotia Politics, 1758–1766." Canadian Historical Review 16. March (1935): 41-53.
---. "British Rule in Nova Scotia, 1713–1784." MA thesis. London: University of London, 1932.
---. "Canada." Chambers's Encyclopedia World Survey. London: George Newnes, 1952, 1954.
---. "The Coming of Responsible Government to New Brunswick." Canadian Historical Review 33. June (1952): 111-128.
---. Days of Lorne: Impressions of a Governer General. Fredericton: Brunswick Press, 1955.
---. "The 1880s." The Canadians, 1867–1967. Ed. J.M.S. Careless and R. Craig Brown. Toronto: Macmillan, 1967. 70-107.
---. "Fanning's Regime on Prince Edward Island." Acadiensis, I.1. Autumn (1971): 37-53.
---. Foreword and Continuity Script. Canada in Cartoon: A Pictorial History of the Confederation Years, 1867–1967. Comp. William C. Werthman. Fredericton: Brunswick Press, 1967.
---. "Garrison Ghosts." Officer's Quarterly. 13&14.1 (1997): 39.
---. Introduction. "The Narrative of Lieutenant James Moody." Acadiensis I. 2. Spring (1972): 72-73.
---. Introduction. Select Loyalist Memorials: The Appeals for Compensation for Losses and Sacrifices to the British Parliamentary Commission of 1783 to 1789 from Loyalists of the American Revolution Who Came to Canada. Ed. W.S. MacNutt. i- ilxxi.1975. Canadian Committee for Loyalist Studies and Publications 1. 620 p. TS. U of New Brunswick, Fredericton.
---. "The Loyalists: A Sympathetic View." Acadiensis VI. 1. Autumn (1976): 3-20.
---. "The Loyalists of the Maritimes." Loyalist Gazette. Spring (1974): 3.
---. The Making of the Maritime Provinces, 1713–1784. Ottawa: Canadian Historical Society, 1955. Canadian Historical Association Booklets 4. Rpt. in: Journal of Education (Nova Scotia Department of Education 4 June (1955): 3-17.
---. The Maritimes and Confederation. Centennial Historical Booklet 2. Ottawa: Centennial Commission, 1967.
---. Les Maritimes et la Confédération. Collection de Brochures Historiques du Centenaire: 2. Ottawa: La Commission du Centenaire, 1967.
---. New Brunswick: A History, 1784–1867. Toronto: Macmillan, 1963.
---. New Brunswick and Its People: The Biography of a Canadian Province. Ed. A.W. Trueman. Fredericton: The New Brunswick Travel Bureau, 1952.
---. "New Brunswick's Age of Harmony: The Administration of Sir John Harvey." Canadian Historical Review 32. June (1951): 105-125. Rpt. in: Atlantic Anthology. Ed. Will R. Bird. Toronto: McClelland and Stewart, 1959.
---. "Our Loyalist Founders." Humanities Association Review 27. Spring (1976): 120-28.
---. "Political Advance and Social Reform, 1842–1861." Canada's Smallest Province: A History of Prince Edward Island. Ed. Francis W. Bolger. Prince Edward Island Centennial Commission, 1973.
---. "Radicalism and the American Revolution in Canadian History." Seminar on the American Revolution, Colonial Williamsburg, Virginia, September 1960. 18. 1960. TS. U of New Brunswick, Fredericton.
---. "The Rise of the Timber Trade." N.d. TS. UA Case 105, no. 9. 15 p. U of New Brunswick, Fredericton.
---. "The Universities of the Maritimes: A Glance Backward." Dalhousie Review 53. Autumn (1973): 431-38.
---. "Why Halifax was Founded." Dalhousie Review 12 January (1933): 524-532.
Tweedie, R.A., Fred Cogswell and W.S. MacNutt, eds. The Arts in New Brunswick. Fredericton: Brunswick Press, 1967.
Bibliography of Secondary Sources
Canada. Journal of the House of Assembly of Prince Edward Island : anno decimo, Victoriæ Reginæ, first session of the seventeenth General Assembly. Charlottetown, 1847. 1 Apr. 2010.
Gunn, Gertrude. "W.S. MacNutt: A Bibliography, 1932–1983" Acadiensis [Online], 14 10 Oct. 1984.
"Loyalist Collection at The University of New Brunswick." The Loyalist Collection. U of New Brunswick, 1 Mar. 2005. Web. 12 Feb. 2010
<https://loyalist.lib.unb.ca/>.
"1911 Census of Canada." Ancestry Library. Library and Archives of Canada, n.d. 1 Apr. 2010.
"Using the Archives." Public Archives and Records Office. Government of Prince Edward Island, 8 Feb. 2010. 1 Apr. 2010
<https://www.princeedwardisland.ca/en>.