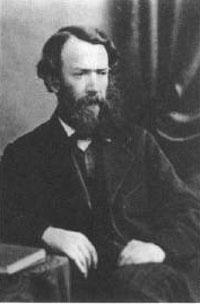 William Murdoch (poet, dramatist, journalist, shoemaker, gas manufacturer) was born in Paisley, Scotland, on 24 February 1823 and died in Saint John, New Brunswick, on 4 May 1887.
Referred to as "the Poet of Partridge Island," Murdoch was the son of John Murdoch, who lived in a cottage at Elderslie, Paisley (Jack, Saint Andrew's Society 164). John was a shoemaker by trade; his son William took to the craft as well after gaining a basic education of arithmetic, reading, and writing (Brown 174). After opening a boot and shoemaking business of his own, Murdoch married his wife Margaret in 1844 (Brown 174). He began to write at the age of sixteen, and he eventually became a member of the Literary and Convivial Association (LCA) in Paisley, which held weekly meetings attended by local academics and literati belonging to the well-to-do working class. While living in Paisley, Murdoch published various poetical pieces in local newspapers and periodicals using the signature "Hcodrum," which is his name in reverse (Brown 174). Murdoch was considered a very knowledgeable, respectable, and social man within his community: his place of business became the meeting place of many gifted men, such as Hugh MacDonald (author of Rambles Round Glasgow), Archibald McKay (historian, from Kilmarnock), James Yool (poet, from Paisley), and J. McIntyre (poet, from Glasgow).
In 1854, Murdoch was persuaded by his brother Gilbert, who had emigrated in 1842, to move his family to Saint John, New Brunswick. Murdoch and his wife moved with their four children: John (later a resident of Brooklyn, NY), William (civil engineer in Saint John, NB), George (first mayor of Calgary, AB), and Gilbert (drowned in 1884) (Jack, Biographical Review 181). After arriving in Canada, the Murdochs had another four children: Margaret (who died at the age of twenty-three), Mary (who died as an infant), Joseph, and Mary (Jack, Biographical Review 181).
Upon arriving in Saint John, Murdoch began work at a clothing store that was run by his brother and another man referred to as "Cockburn" (Jack, Biographical Review 180). In 1855, William also became involved with the gas industry when he was hired by Robert Foulis to make gas for his newly patented "illuminating gas apparatus" on Partridge Island (Wright, Partridge Island 24). Murdoch managed the gasworks for the Partridge Island lighthouse from roughly 1855 to 1865 (Brown 175).
Located in the mouth of the Saint John Harbour, Partridge Island overlooks the city of Saint John in the Bay of Fundy. An important location in Saint John history, Partridge Island was established as a quarantine station in 1785 (Wright, Diary 7). The station was constructed to handle the great numbers of immigrants that were arriving in Canada, beginning with the Loyalists in 1783. Between the years 1819 and 1829 alone, more than 28,000 immigrants were inspected by physicians on the island (Diary 7). In 1830, there was an outbreak of smallpox in the area, but 1847 became the most infamous year in Partridge Island history, when over 16,000 mostly Irish immigrants landed in the province of New Brunswick. As one commentator observed, "The conditions on the island that year were horrible. Two hospitals, each with a capacity of 100 patients, were the only accommodations available to sick immigrants. Dr. George Harding reported on June 21 that there were 2100 immigrants in quarantine" (Diary 8). Just over 600 people died on the Island that year, and 595 more died in the city of Saint John (Diary 8).
By the time William Murdoch began work on Partridge Island in 1855, conditions had begun to improve. The number of immigrants arriving had been drastically reduced, and during the 1860s, advancements in medicine and ocean transportation helped to ensure immigrants arrived in New Brunswick in better health (Diary 8). But by the time he left in 1865, the buildings on Partridge Island had begun to deteriorate, and the station closed in 1938 (Diary 8; Mitcham 189).
Murdoch published his first collection of poetry, Poems and Songs (1860), while he resided on Partridge Island, where he had an abundance of leisure time. He became known as not only "the Poet of Partridge Island" but also "the Hermit of Partridge Island." Murdoch refers to both of these titles within his "Epistle to Hugh McDonald, Esquire," where one Mr. Graysteil says, "An American letter for me; let me see't. Ou, ay; its frae Willie Murdoch, the hermit o' Partridge Island, aff Saint John, New Brunswick…Sae, rax me my specs, and I'll let ye hear what the poet o' Partridge Island has to say for himsel'" (Poems and Songs, 2nd ed. 147).
In 1865, Murdoch left Partridge Island to pursue journalistic and editorial work. He worked for the Saint John Daily News, where he was not only affiliated with the editorial staff, but was also responsible for supplying drama criticism for the paper (Stewart 147). It was during this time that he became acquainted with George Stewart Jr. (1848–1906), who wrote about Murdoch in his Essays From Reviews, particularly Murdoch's contributions to his Literary Quarterly Magazine. Murdoch published a number of his poems in the Quarterly, such as "The Lassie I Ken," which was published in 1867 (vol. I, no. 2). Murdoch also wrote alongside two other Scotch-Canadian poets in the Quarterly: Alexander McLachlan (1818–96) and Evan MacColl (1808–98). Stewart says of the three, "a trio of Scotch poets enriched the Quarterly with a stave now and then. Alexander McLachlan, William Murdoch and Evan MacColl were the bards" (Stewart 146).
Following his first edition of Poems and Songs, Murdoch published an "enlarged and improved" second edition in 1872, which contained a number of new poems such as "The City of the Dead," "A Mother's Wail," and "The Old Burial Grounds, St. John, [sic] N.B." He later released another collection, Discursory Ruminations, A Fireside Drama, &c., &c. (1876). In this work, Murdoch included a dramatic piece entitled "A Fireside Drama, in Three Acts," a lengthy poetic work made up of five parts ("Discursory Ruminations on Men and Things"), along with a number of poems, both new and old.
In his writing, Murdoch drew much inspiration from his native homeland. Many of his poems, such as "The Highlander's Wife," "To the Robin," and "The Exhile's Dream," reflect a primarily Scottish life and character (Stewart 149). "The Lassie I Ken," "The Land Where I was Born," and "Verses Suggested by the Recollection of a Scottish Spring" also display the love Murdoch had for the landscapes of Scotland
The trees send forth their sweetest buds,
The laverock seeks its native cluds,
And pours frae thence, in rapt'rous floods,
Its heavenly sang ("Verses Suggested by the Recollection of a Scottish Spring" 13-16).
Passages such as this also demonstrate the romantic overtones that Murdoch used when describing the rustic charm of his homeland.
Murdoch was also influenced by the Scottish poets Robert Burns and Robert Fergusson. Like Burns and Fergusson, Murdoch used a mix of Scottish-Lowland tongue and nineteenth-century English in his work. According to Stewart, "He employed the Scottish dialect principally, but he could write in English very sweetly" (148). Like Burns, Murdoch also had great respect for the communities that he was a part of. As Ian Campbell observed, "In a small country like Scotland, the power of community is not one to be underestimated" (44).
The concern Murdoch had for his native country was transferred to his new home in Saint John, where he maintained a very strong presence within the community. There, Murdoch and his brother Gilbert became members of the St. Andrews Society, a group to which he was especially close. This fact is evidenced in his dedication of Poems and Songs to the president of that society (James MacFarlane), its office bearers, and other members of the group. Murdoch's concern for his new-found home is also evident in his verse on rural New Brunswick. As Fred Cogswell notes, "although the themes and locals of most of the poems are Scottish, at least one poem is a pithy commentary on New Brunswick politics; another contains graphic descriptions of the results of a cholera epidemic in Saint John; and a third…castigates the New Brunswick winter and its effects" (Cogswell 111). A fine example of this local theme and Murdoch's characteristic style can be found in "The City of the Dead; or, Musings in the Rural Cemetery, St. John, [sic] N.B.":
Alone, like exhile far remote
From country, friends and home,
I seek thy mazy Cedar walks,
In musing mood to roam;
Or awe-struck, gaze with silent grief
Upon each narrow bed,
Which holds for thee my kindred's dust -
Lone City of the Dead. (1-8)
William Murdoch died on 4 May 1887, and his wife Margaret followed him shortly after on 28 August of the same year. Murdoch describes his own literary career with a quote from Robert Burns' poem entitled "Epistle to J. Lapraik, An Old Scotch Bard," which he used as an epigraph in all three of his published works:
I am nae Poet, in a sense,
But just a Rhymer, like, by chance,
An' hae to Learning nae pretense,
Yet, what the matter?
Whene'er my Muse does on me glance,
I jingle at her. (49-54)
Though Murdoch referred to himself as simply "a rhymer" who would occasionally "jingle" at his muse, he will continue to be recognized for his literary endeavours in the city of Saint John and the province of New Brunswick.
Laura M. Corscadden, Winter 2011
St. Thomas University
Bibliography of Primary Sources
Murdoch, William. Discursory Ruminations, A Fireside Drama, &c., &c. Saint John, NB: H. Chubb & Co., 1876.
---. Poems and Songs. Saint John, NB: Barnes and Co., 1860.
---. Poems and Songs. 2nd ed. Saint John, NB: J. & A. McMillan, 1872.
Bibliography of Secondary Sources
Brown, Robert. Paisley Poets, With Brief Memoirs of Them, and Selections from Their Poetry. Vol. II. Paisley, Scotland: J. & J. Cook, 1889.
Campbell, Ian. "Burns' Poems and their Audience." Critical Essays on Robert Burns. Ed. Donald A. Low. London: Routledge & Kegan Paul, 1975. 39-53.
Cogswell, Fred. "English Poetry in New Brunswick Before 1880." A Literary and Linguistic History of New Brunswick. Ed. Reavley Gair. Fredericton, NB: Goose Lane Editions, 1986. 107-16.
Jack, I. Allen, ed. Biographical Review: This Volume Contains Biographical Sketches of Leading Citizens of the Province of New Brunswick. Boston: Biographical Review Publishing Co., 1900.
---. History of St. Andrew's Society of St. John, N.B., Canada, 1798 to 1903. Saint John, NB: J. & A. McMillan, 1903.
Mitcham, Allison. "Partridge Island: A Matter of Opinion." Paradise or Purgatory: Island Life in Nova Scotia and New Brunswick. Hansport, NS: Lancelot Press, 1987. 178-97.
Murison, David. "The Language of Burns." Critical Essays on Robert Burns. Ed. Donald A. Low. London: Routledge & Kegan Paul, 1975. 54-69.
Stewart, George. Essays From Reviews. Vol. 2. Quebec: Dawson & Co., 1893.
Wilson, James Grant, and John Fiske, eds. "Murdoch, William." Appletons' Cyclopaedia of American Biography. Vol. 4. New York: D. Appleton and Co., 1898. 463.
Wright, Harold E., ed. The Diary of Nellie McGowan: Partridge Island Quarantine Station, 1902. Saint John, NB: Partridge Island Research Project, 1984.
---, ed. Partridge Island: A Gateway to North America. Saint John, NB: Partridge Island and Harbour Heritage, 1995.