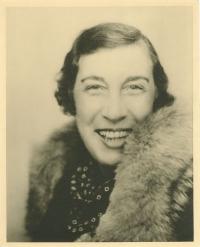 Louise Manny was born 21 February 1890 in the tiny western Maine town of Gilead, the daughter of Charles de Grass Manny and Minette Lee Harding. Louise Manny moved to Newcastle, New Brunswick, with her family at the age of three. She lived to the age of eighty, dying in Newcastle on 17 August 1970. She was a consummate historian and an authority on the folklore of eastern New Brunswick.
Manny received her early education in Newcastle at St. Mary's Convent and Harkin's Academy, later attending Halifax Ladies' College and Ursuline Convent in Quebec City. She earned her BA at McGill University, honouring in both French and English. She was also awarded two honorary degrees in 1961, one from St. Thomas College in Chatham and the other from the University of New Brunswick.
As a young woman, Manny's interests included tennis and badminton, but her interests later shifted toward historical research. She became fascinated with the songs and stories of her home region. After university, she taught briefly at Halifax Ladies' College and then returned to Newcastle to care for her ailing father. Her earliest writing was in her weekly newspaper column, "Scenes From an Earlier Day," which looked at the early history of central New Brunswick and the Miramichi region. She also hosted a popular weekly radio programme on local station CKMR for twenty years.
Manny collaborated with Lord Beaverbrook extensively. One of their projects was the 1946 restoration of Wilson's Point on the Miramichi River, close to Newcastle. Manny supervised the project, and Beaverbrook sponsored it. Around the same time, Lord Beaverbrook gave Manny some recording equipment and asked her to begin collecting local folk songs. She compiled three collections of recorded songs: Beaverbrook Collection, Dr. Manny Collection, and North Shore Collection. She played these recorded folk-songs during her weekly radio programme, instilling in locals an appreciation for the music and history of their region.
Another significant collaboration with Lord Beaverbrook was the establishment of the Newcastle library. Securing funds from Beaverbrook for the purchase and conversion of the old Presbyterian manse (his former home), Manny spearheaded the conversion from residence to new library. She became its first librarian and continuously worked on expanding its collection.
Manny was also responsible for establishing the Miramichi Folksong Festival, which was founded in 1958. At its inception, this was a three-day event in which folk singers and storytellers had a chance to perform and share stories. In the early years of the festival, performers were not allowed to use instruments. In the interest of maintaining the purity of the folk tradition, it was expected that the songs be performed a capella. The festival continues to be a yearly event and has since grown in size and scope, featuring local and national acts. In addition to her other pursuits, Manny was director of the festival from 1958 until 1969. Today, it is the longest-running festival of its kind in Canada.
A published author, she completed a series of three volumes chronicling New Brunswick's shipbuilding history. Her other book, Songs of the Miramichi, is a comprehensive collection of the region's folksongs.
In 1966, she was honoured by the American Association for State and Local History for her work as a historian and folklorist. She received the "Woman of the Century" medal from the National Council of Jewish Women of Canada in 1967. Additionally, the province of New Brunswick named a mountain in Northumberland County "Manny Mountain" after her.
Ian Gordon, Winter 2008
St. Thomas University
Bibliography of Primary Sources
Gallien, Arthur. History of Neguac. Trans. Louise Manny. Newcastle, NB: Miramichi Historical Society, n.d.
Manny, Louise. "The Ballad of Peter Amberley." Atlantic Advocate 53:11 (1963): 67-74.
---. Folksong Radio Program. Maritime Broadcasting System. CKMR, Newcastle. Nov. 1949–July 1965.
---. "From Miramichi to Fredericton: A Gleaner Story." Atlantic Advocate 58:1 (1967): 22-27.
---. "The Old Songs." Daily Gleaner 28 Sept. 1951: 15.
---. "Scenes From an Earlier Day" Union Advocate. 1935–1945.
---. Shipbuilding in Bathurst. Fredericton, NB: Brunswick Press, 1965.
---. Ships of Kent County, New Brunswick: A Partial List of Vessels Built in Kent County. Sackville, NB: Tribune Press, 1949.
---. Ships of Miramichi: A History of Shipbuilding on the Miramichi River, New Brunswick, Canada, 1773–1919. Historical Studies 10. Saint John, NB: New Brunswick Museum, 1960.
Manny, Louise, and James Reginald Wilson. Songs of Miramichi. Fredericton, NB: Brunswick, 1968.
Parker, Hedley. Miramichi Poet: Six Poems. Ed. Louise Manny. Saint John, NB: New Brunswick Museum, 1947.
Bibliography of Secondary Sources
Creighton, Helen. "Manny, Louise." The Canadian Encyclopedia. 2 July 2007. Historica Canada. 21 Nov. 2008
<https://www.thecanadianencyclopedia.ca/en/article/louise-manny-emc>.
Doyle, Arthur T. Heroes of New Brunswick. Fredericton, NB: Brunswick Press, 1984.
Hamilton, W.D. Dictionary of Miramichi Biography. N.p.: Hamilton, 1997.
Quinn, Shawna. "Dr. Louise E. Manny." Progress and Permanence: Women and the New Brunswick Museum: 1880–1980. 2006. U of New Brunswick. 20 Nov. 2008.
<http://womenandmuseum.com/bmanny.htm>.
Steiner, Margaret. "Regionalism, Revival and the Reformation of Community at the Miramichi Folksong Festival." Love and Language 12 (1994): 241-52.
"Women Folklorists." Maine Folklife Center. U of Maine. 19 Nov. 2008
<https://umaine.edu/folklife/women-folklorists/>.
Songs in Manny Louise's Collection
Dornan, Angelo. "Pretty Susan." Miramichi Folksong Festival. Elgin, Albert County, 1959.
Duplessis, George E. "The Jam on Gerry's Rock." North Shore Construction Company Collection. Eel River Bridge, 1950.
Hare, Marie. "Round Her Mantle So Green." Miramichi Folksong Festival. Strathadam, 1959.
Holland, John. "The Pride of Glencoe." Miramichi Folksong Festival. Glenwood, 1958.
MacDonald, Donald. "Jeremiah of Bartibogue." Lord Beaverbrook Collection. Black River Bridge, 1948.
MacDonald, Wilmot. "The Lumberman's Alphabet." Lord Beaverbrook Collection. Glenwood, 1947.
---. "Peter Emberley." Lord Beaverbrook Collection. Glenwood, 1947.
McMahon, Fred. "Howard Carey." Lord Beaverbrook Collection. Chatham, 1948.
---. "The Scow on Cowden Shore." Lord Beaverbrook Collection. Chatham, 1948.