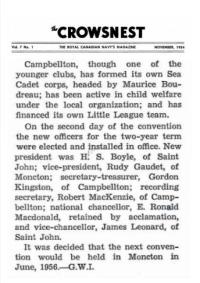 Gordon Elwood Kingston (12 December 1925–August 1990) was a Canadian radio-playwright in Campbellton, New Brunswick. He was born in Moncton, New Brunswick, and attended Moncton High School. He joined the Navy shortly after graduation in 1943. His duties there were to run a convoy from Newfoundland to Bermuda and to work on Corvettes.
After leaving the Navy in 1945, Kingston attended the Academy of Radio Arts in Toronto under Lyon Himan Green (stage name Lorne Greene, 1915–87) and Lister Sinclair (1921–2006). Lyon Green later played Ben Cartwright in the 1960's television show Bonanza. Lister Sinclair was a famous Canadian broadcaster and polymath who hosted CBC Radio's Ideas from 1983–99. Kingston's instruction under these people influenced his later work in radio and his dream of being a television personality.
Gordon Kingston moved to Campbellton in 1951 and began his career as an electrician for the CNR (Campbellton was the major CNR hub for northern New Brunswick). Although he was a popular radio-playwright, Kingston's literary works have been mostly lost. Only fragments exist, one of which is the short wartime poem "The People of London":
The people of London are courageous and strong
They laugh and they joke while the Germans rain bombs
They make us Canadians feel very proud
To belong to a nation so courageous a crowd.
The skies in the daytime become filled with smoke
From the factories and workshops that make every stroke
Count like the minutes that pass each hour
On the clock called big Ben on parliament tower.
Kingston's community activities are still remembered in northern New Brunswick, where he was a very active citizen. His radio plays were extremely popular and his letters from Santa were seasonal favourites, earning him the affectionate title of the "Real Santa" around town. He recited poetry by Robert Burns and William Henry Davies, an early 20th-century Welsh poet who'd spent time in Canada, and he wrote poetry himself. He acted the lead roles in plays put on by Saint Thomas Aquinas Church, helped found the Sea Cadets, did impressions and minstrel shows at the old Capitol Theater, and participated in a local softball league as the pitcher. He was known by a local journalist at the Tribune as the "Great Elwood" for his pitching abilities, the name derived from a famous ball player, Elwood "Bingo" De Moss, of the Chicago Brown Bombers in the Negro league of the 1940s.
Kingston also had many family responsibilities. He was married to Mary Bertha Goddard and had two children, Doug and Paul. He later divorced and married Bertha Main, with whom he had another child, Grace. He told his family he regretted not pursuing a career in television; instead, he chose the security of a full time job.
Kingston was transferred in 1969 to Toronto, Ontario, and then to Fort Erie in 1981, where he retired. Gordon Elwood Kingston died in Fort Erie, Ontario of a heart attack in August 1990.
Tyler Pitre, Summer 2010
Dalhousie Regional High School
Bibliography of Primary Sources
Kingston, Doug. Telephone interviews. 28 Apr., 7 May, 18 May 2010.
Bibliography of Secondary Sources
"Lister Sinclair, Renaissance Man." CBC Digital Archives. nd. Canadian Broadcasting Corporation. 2010
<https://www.cbc.ca/archives/entry/lister-sinclair-renaissance-man>.
"Lorne Green: Canadian Actor." The Museum of Broadcast Communications. nd. Museum of Broadcast Communications. 2010
<https://museum.tv/>.