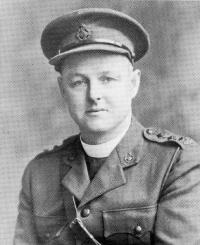 Raymond Myles Hickey (1905–1987), was a priest, author, and veteran of the Second World War. Better known as Reverend R.M. Hickey, and later Monsignor, he enjoyed a long, illustrious career filled with numerous awards and honours for his many accomplishments. Hickey is the author of three books, his most well-known being The Scarlet Dawn (1949), which retells his wartime experiences with the North Shore Regiment from 1940 to 1945.
Reverend R.M. Hickey was born on 12 September 1905 in Jacquet River (located in Restigouche County), New Brunswick. He was the fourth of eleven children born to Alexander and Clara Hickey. The Hickeys were a very religious family; many of the children went on to become priests or nuns. He attended the local school until age 16, at which point he left to pursue jobs in a lumber mill and on a farm in order to save enough money for future education. Hickey returned to finish his studies in 1923, attending St. Thomas High School in Chatham (now Miramichi). He went on to graduate from St. Thomas University as Valedictorian of his class in 1928.
After graduation, Reverend Hickey attended Holy Heart Seminary in Halifax, Nova Scotia in the fall of 1928, where he studied Philosophy and Theology for five years. He was ordained at St. Michael's Basilica on 25 June 1933 by Bishop P.A. Chaisson, who appointed him pastor to the parish of Notre Dame du Sacré Coeur in Bathurst, 50 kms south of his hometown of Jacquet River, where he served from 1933 until 1937. During his time in Bathurst he aided the community by organizing sports teams for youth and starting the Scout Movement. In 1937, he became a member of faculty at St. Thomas University in Chatham, where he remained for three years.
On 5 June 1940, the North Shore Regiment mobilized as part of the 8th Brigade, 3rd Canadian division. Lt. Col. Arthur Leger personally requested that Reverend Hickey become a chaplain for the North Shore Regiment. Leger sought approval from the Bishop, who was known for being unenthusiastic about his young priests going off to war. Though the Bishop ultimately agreed, Hickey was still unsure about his decision, until advice was given to him from a fellow priest and resident of New Brunswick, Reverend B.J. Murdoch. Having served in World War I, Murdoch did not hesitate to recommend the experience to the younger priest, telling him "Yes, go Father Raymond; you will make a good chaplain; and if you are killed, well you'll save your soul" (qtd. in Scarlet Dawn 12). The Regiment, along with Hickey, gathered in Woodstock on 17 July 1940 to begin training for the war.
The North Shore Regiment relocated to Sussex in December 1940, and in July of the next year the unit made its way overseas, sailing from Halifax to Liverpool, England. For the next three years, the Regiment moved around Europe, going through training the entire time. Reverend Hickey actively participated. In My Hobbies Three (1973), he recalls a particular incident in which he passed a group of young soldiers who had "fallen out" during a thirty-mile march. The young men were amazed at how "tough" the older Father Hickey appeared to be: "At that time I was the venerable age of thirty-six; but to them, in their late teens and early twenties, I, at thirty-six, was old. I wonder what they would say today if I hobbled by at sixty-six?" (7). During his time in the army, Hickey was known for keeping the morale high among the soldiers. He would frequently organize such events as large sing-alongs or sports games. In fact, he coached the North Shore Regiment baseball team, which went on to become the champions of the Canadian army in 1942.
In the early hours of the morning on 6 June 1944, Hickey was among the first waves of infantry to arrive on the beaches of Normandy, France to partake of the slaughter that would become known as D-Day. When the beach became filled with wounded and dying soldiers, Reverend Hickey went to each one he could reach, giving them spiritual or medical help. By the time the war ended, Hickey was promoted from Captain to Major, and also received the Military Cross from King George VI for "exceptional bravery and courage during the landing in Normandy, France, at St. Aubin-Sur-Mer on D-Day, 6 June 1944."
Reverend R.M. Hickey returned to New Brunswick after the war, where in 1946 he was appointed pastor of St. Thomas Aquinas Church in Campbellton. It was during that time that he began writing his first book, The Scarlet Dawn, a memoir of the five years he spent with the military and overseas. The book was released in 1949. The Scarlet Dawn was well-received, both praised by critics and also eliciting feedback from readers about how much they enjoyed the book. Hickey himself commented on its success in his second book, My Hobbies Three: "Frankly, its reception surpassed even the high expectations of the author, which are always high!" (17). The book itself is comprised of several short pieces written by Hickey, describing chronologically his experiences and thoughts while serving in the Army. The narrative covers his entire five-year tenure in the military, beginning with Col. Arthur Leger asking Hickey to become a chaplain. Hickey spares no details, vividly describing events experienced during the war and in turn placing the reader there with him. For example, when describing being in the middle of a war zone, Hickey wrote:
There is nothing more weird than the sound of an air raid siren. I often think that the howls of the demons in hell must be something like it. Only those who were there know what the English people went through for five long years. Night after night, just as darkness was falling, up would go the awful wail of the sirens, bewailing the approach of German planes. In all directions people would run to the cold cement air raid shelters; on would go the searchlights that swept the sky like giant northern lights; from a distance would come the unmistakable "ou, ou, ou" of the German planes; with a deafening roar our anti-aircraft guns would open up - you huddled as small as you could, covered your head, held your breath and waited for the bombs that came with a terrifying whistle, then shook the earth with an awful blast and covered the place with death and destruction. (112)
Throughout the course of the book, Hickey recounts similar memories, such as his medical exam before entering the army, the baseball team, visiting Ireland, the death of his father, and many other insights into what he was thinking or going through on the battlefield. In her review of the book, Melynda Jarratt praises Hickey: "And even though I have read it at least a dozen times, I can still find a little gem here and there that has me burst into laughter or tears at the sheer simplicity of his wisdom and his profound observations of human nature during war time."
Upon his return, Hickey was appointed pastor of St. Mary's in Newcastle, N.B. in 1946. After completion and blessing of the new church, Hickey was made a Monsignor.
In 1961, he suffered a heart attack that forced him into retirement. He stayed at Mount St. Joseph in Chatham, where he kept himself busy with writing and other activities. His book My Hobbies Three is about the hobbies he had taken up since retirement: writing, painting, and music. Included in the book are also short stories and poems, pictures of some of his paintings, selections of his favorite poems, as well as autobiographical information. Monsignor Hickey found great solace in these hobbies, and believed that they were an important part of life, saying "A hobby will help to distract our mind from the problem that is gnawing at us; it can help to keep us from introspection and self pity; it will make us look at our problems objectively, to see them in their true light. A hobby can support us in this battle of life and keep us convinced that life is still worth living" (10). In 1976, Hickey was awarded his degree of Doctor of Law, Honoris Causa, from his Alma Mater, St. Thomas University.
In 1979, Monsignor Hickey was chosen to represent the Canadian R.C. Chaplaincy Service at the 35th anniversary of D-Day in France. This experience formed the subject of his third and final book, D-Day Memories (1980). Hickey wrote about being chosen for the ceremony, the ceremony itself, as well as revisiting many sites from his war days.
On 14 September 1987, Monsignor Hickey was in Carpiquet, France attending the unveiling of a monument to the fallen men of the North Shore Regiment. Some hours after delivering a speech, he died of natural causes. Monsignor Hickey returned to Jacquet River one last time, where he is now resting in St. Gabriel's Cemetery.
Chris Daley, Spring 2010
St. Thomas University
Bibliography of Primary Sources
Hickey, R.M. D-Day Memories. Saint John, NB: Keystone Printing & Lithographing Ltd., 1980.
---. My Hobbies Three. Saint John, NB: Keystone Printing & Lithographing Ltd., 1973.
---. The Scarlet Dawn. Fredericton, NB: Unipress, 1949.
Bibliography of Secondary Sources
Breen, Fergus. "St. Thomas Soldiers Remembered." Connections Alumni Magazine. 2001. St. Thomas U.
<https://www.stu.ca/alumni/connections/>.
Crerar, Duff. "In the Day of Battle: Canadian Catholic Chaplains in the Field, 1885–1945." CCHA Historical Studies 61 (1995): 53-77.
Driscoll, Shauna. "Lest We Forget." ICCANB. 2008. Irish Canadian Cultural Association of New Brunswick.
<https://www.newirelandnb.ca/lest-we-forget/>.
Jarratt, Melynda. "The Scarlet Dawn." Canadian War Brides. 2004. Maven New Media Inc. 8 July 2020
<http://www.canadianwarbrides.com/hickey-father.asp>.
Moar, Frederick F. "Pastor, Author Monsignor Hickey to Be Freeman."Miramichi Weekend 14 Mar. 1986: A9.