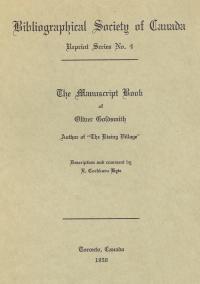 Oliver Goldsmith (narrative poet) was born 6 July 1794 in St. Andrews, New Brunswick. He was a Loyalist by descent and Canadian by birth; he was also Canada's first native-born English-speaking poet of renown. His most famous poem, The Rising Village (1825), was published first in London and then released in New Brunswick in The Rising Village With Other Poems (1834). It was influenced by the poem The Deserted Village (1770), which was written by Goldsmith's great uncle and namesake, Oliver Goldsmith. The latter poem depicts the pioneer activities of struggling Loyalists to forge a new settlement in the New World. Also included in The Rising Village collection are his well-known poems, "The Kiss," "The Mistake," "The Death of Finnette," and "New-Year's Address for 1826, 1827, and 1828."
Goldsmith's father, Henry Goldsmith, was an officer in an Irish regiment serving in America during the Revolutionary War. He moved his family to St. Andrews, New Brunswick, where Oliver was born. His mother Mary (Mason) Goldsmith suffered through the difficulties of pioneer life in New Brunswick with her husband and nine children. After two years of living in St. Andrews, a fire destroyed their home and property. As a result, the family relocated to Annapolis Royal, a town located in the western part of Annapolis County, Nova Scotia. The Goldsmiths eventually settled in Halifax in 1796, where Oliver later went to the Halifax Grammar School. Not enjoying school, and with encouragement from his father, he entered the Commissariat of the British Navy on 5 June 1810. According to his autobiography, he was not quite sixteen years of age (Goldsmith 5).
For brief periods, he took part in several trades, including those of book seller, ironmonger, and apprentice in a lawyer's office. When he failed to cultivate interest in these occupations, his father found him a position as a clerk in the Commissary Department of the British Army. Following his father's death in June 1811, Goldsmith's mother moved back to Plymouth, England, followed there by her son Oliver in 1816. A year later he was sent back to Nova Scotia on a sailing excursion that took him 160 days. Goldsmith reveals in his autobiography that this was the last time he saw his mother again; she died shortly after his departure (11). He was successful in his position, however, retiring after forty-five years as Assistant Commissary General. This retirement in 1855 took him to Liverpool, England, where he lived with his sister, Jane. His stay in Liverpool was important to him personally because it was his father's homeland. He died there in 1861, "leaving among his papers a short and largely accurate autobiography" (New 130).
The first edition of The Rising Village was published as a forty-eight quarto volume in 1825 by the John Sharpe Company of London. This volume was written at the suggestion of friends and because of Goldsmith's dismay at his great uncle's earlier poem. He felt that The Deserted Village reflected negatively on his countrymen, and he hoped to portray the experience of settlers more positively than his great uncle portrayed their demise.
The theme of The Rising Village centers on the new versus the old. The poem depicts settlement frenzy, aggression toward the natives, community spirit among settlers, developing commerce and industry, and the sowing of a distinct New World culture, one that was not British or American but uniquely Canadian.
Goldsmith's hope for a more utopian society in this new land is reflected in his excitement as the population expands, and a store, church, and schoolhouse are built. The line, "The arts of culture now extend their sway, and many a charm of rural life display" (12-13), reflects the hope that a vibrant village life will take root and prosper. Goldsmith ends the poem with, "These are thy blessings, Scotia, and for these,/ For wealth, for freedom, happiness, and ease" (36).
The Rising Village was largely scorned by British critics, who considered it inferior to Goldsmith's great uncle's poem. Canadian critics, however, scoffed at this view and gave the poem favourable reviews. One wonders, then, what Desmond Pacey's motives were when he concluded that the poem "failed to give us a detailed and accurate picture of social and economic conditions in the Nova Scotia of his time" (qtd. in Jackel 155).
Goldsmith's career as a literary writer was relatively short. After he died in Liverpool, England, an autobiography was found among his family papers. These papers were edited by W.E. Myatt and published in 1943, with a new edition in 1985. Goldsmith's hope for the New World will be forever remembered, especially by people in the Maritimes. The impact of his death on 23 June 1861 was especially deeply felt in Saint John, where members of the Albion Lodge conducted a Lodge of Sorrow ceremony. Goldsmith never forgot his roots in New Brunswick, leaving his collection of Chinese artifacts to the New Brunswick Museum. To the people of New Brunswick, he left his poetry and his autobiography.
Erin Watling and Deirdre Pinder, Winter 2009
St. Thomas University
For more information on Oliver Goldsmith, please visit his entry at the New Brunswick Literature Curriculum in English.
Bibliography of Primary Sources
Goldsmith, Oliver. The Autobiography of Oliver Goldsmith. Ed. W.E. Myatt. Toronto, ON: Ryerson, 1943.
---. The Rising Village. London, UK: J. Sharpe and C. and C. Whittingham, 1825. Ed. Gerald Lynch. London, ON: Canadian Poetry, 1989.
---. The Rising Village With Other Poems. Saint John, NB: John McMillian, 1834.
Bibliography of Secondary Sources
Bentley, D.M.R. "Oliver Goldsmith and The Rising Village." Rev. of The Rising Village, by Oliver Goldsmith. Studies in Canadian Literature 15.1 (1990): 21-61.
Gibbs, Robert. "Oliver Goldsmith (6 July 1794–1861)." Canadian Writers Before 1890. Ed. W.H. New. Vol. 99. Vancouver, BC: U of British Columbia P, 1990. 129-30.
Jackel, David. "Goldsmith's Rising Village and the Colonial State of Mind." Studies in Canadian Literature 5.1 (1980): 152-166.
Myatt, W.E., ed. The Autobiography of Oliver Goldsmith. Toronto, ON: Ryerson, 1943.
---. Autobiography of Oliver Goldsmith: A Chapter in Canada's Literary History. Hantsport, NS: Lancelot, 1985.
Pacey, Desmond. "The Goldsmiths and Their Villages." University of Toronto Quarterly 21 (1951–52): 27-38.
Vincent, Tom. "Goldsmith, Oliver (1794–1861)." Oxford Companion to Canadian Literature. Ed. William Toye. Toronto, ON: Oxford UP, 1983. 305-306.