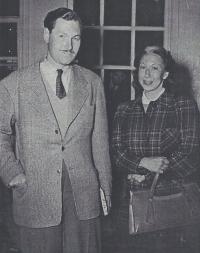 Lawrence Earl is an internationally known journalist, novelist, and photographer. He was born on 29 April 1915 and is the son of Herman Wiezel. Earl attended Saint John High School, which was close to his father's shoe store in the uptown area. Earl's was the last class to graduate from the school's location on Union Street before it moved. In high school, he founded a school newspaper, The Red and Gray, before graduating in 1932. His professional career as a journalist began at the Montreal Standard, where he met Jane Armstrong, whom he later married in 1943. Armstrong grew up in Toronto and went on to achieve a long list of individual accomplishments, including being one of two women correspondents during the Second World War.
While working with the Montreal Standard, Earl frequently went overseas as a photographer and correspondent. He photographed the first German jet fighter as well as an explosion of German secret weapons. In 1946, his photo essay called "Mending Dikes in the Netherlands" was published by The National Geographic. In 1948, his photo of Queen Juliana of Holland made the cover of Time magazine, and, together, he and his wife interviewed the first King of Italy. Earl was also editor of the Star Weekly, but it was his job with the British magazine Illustrated that took him to London, where he lived for the next 50 years.
Earl's first book was called Yangtse Incident (1950). It depicts the true story of the HMS Amethyst, and was later made into a movie starring Richard Todd. In 1953, he won the Stephen Leacock Award for Humour for his novel The Battle of Baltinglass. That same year, literary critic Horace Reynolds at The New York Times deemed Earl a pre-eminent journalist: "Skilled in the art of objective reporting, [he] selects, proportions and arranges his facts, guiding his readers into opinion by evidence, not argument. He does not tell them; he lets them tell themselves. He talks only between the lines." Earl followed these successes with five books: Crocodile Fever (1954), The Frozen Jungle (1955), She Loved a Wicked City (1962), The Riddle of a Haunted River (1962), and Risk (1969).
During their summers, Earl and his wife left London and returned to a family home in Grand Bay near Saint John, where they enjoyed salmon fishing. In 1999, his wife died at the age of 84, and two years later she was honoured by Earl with the creation of The Jane Armstrong Earl Fund. That same year, Earl received an honorary doctorate from UNB. Lawrence Earl passed away at the Saint John Regional Hospital on 5 April 2005.
Matt J. Belyea, Winter 2008
St. Thomas University
Bibliography of Primary Sources
Earl, Lawrence. Battle of Baltinglass. London: G.G. Harrap, 1952.
---. Crocodile Fever: A True Story of Adventure. New York: Knopf, 1954.
---. The Frozen Jungle. Toronto: McClelland and Stewart, 1955.
---. "Mending Dikes in the Netherlands." National Geographic 90.6 (Dec. 1946).
---. The Riddle of the Haunted River. The Secret Circle Mysteries 2. Boston: Little, Brown, 1962.
---. Risk. Toronto: McClelland and Stewart, 1969.
---. She Loved a Wicked City: The Story of Mary Ball, Missionary. New York: Dutton, 1962.
---. Yangste Incident: The Story of H.M.S. Amethyst. London: G.G. Harrap, 1950.
Bibliography of Secondary Sources
"Alumni Obituaries: Lawrence Earl (formerly Wiezel) (1915–2005)." Saint John High School Alumni News. Vol. 21. 2006. Nov. 2006. 15.
<http://www.sjhigh.ca/uploads/1018/newsletter2006.pdf>.
"Books: Hunter of Saurians." Rev. of Crocodile Fever, by Lawrence Earl. Time Magazine 1 Mar. 1954. Nov. 2006
<http://content.time.com/time/magazine/article/0,9171,819545,00.html>.
"Books: Ordeal on the River." Time Magazine 23 July 1951. Nov. 2006
<http://content.time.com/time/magazine/article/0,9171,890217,00.html>.
The Greater Saint John Community Foundation. "Community Foundation Announces Jane Armstrong Earl Fund." Report to The Community, 1976–2001: 25th Anniversary Edition. 2001. Nov. 2006. 5.
<https://thecommunityfoundationsj.com/>.
"Lawrence Earl." Canadian Books and Authors website. Nov. 2006
<http://www.canadianauthors.net/e/earl_lawrence/>.
Reynolds, Horace. "Aunt Katie's Successor." Rev. of Battle of Baltinglass, by Lawrence Earl. New York Times 4 Jan. 1953: BR6. Nov. 2006
<https://www.nytimes.com/1953/01/04/archives/aunt-katies-successor-the-battle-of-baltinglass-by-lawrence-earl.html>.
"UNBF to Confer Three Honorary Degrees at Convocation." UNB News Release Archives. 21 Sept. 2005. Nov. 2006
<http://blogs.unb.ca/newsroom/>.