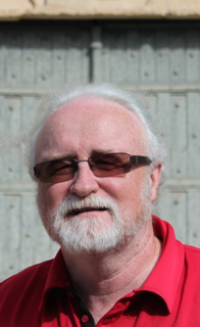 Stewart Leo Donovan was born on 16 December 1954 in the small fishing village of Ingonish, Cape Breton Island, Nova Scotia to Leo Donovan, a lineman for Nova Scotia Power and a World War II veteran, and Sarah Ann McLellan, a homemaker who passed away in 2006. Leo Donovan was a staunch conservative, but Sarah didn't always share the same views. Their son Stewart recalls with amusement that his parents "cancelled out each other's vote for 50 years" (Personal interview). Third oldest in a family of nine children, Donovan uses the term "underclass" to describe growing up in Cape Breton. Education was an important motivator for all of the Donovan children, and each went on to university studies.
Upon graduation from Ingonish Beach Consolidated School in 1972, Donovan enrolled in St. Francis Xavier University, where he received his BA in literature four years later. He studied under Rev. R.J. MacSween, the inspiration for two of Donovan's future works. In 1978, Donovan completed his MA at the University of Ottawa, and eventually received his PhD in Anglo-Irish literature and drama from University College Dublin in 1985, studying under Irish writers such as John McGahern, Seamus Heaney, and Denis Donoghue.
In 1985, Donovan accepted a position at St. Thomas University, where he has taught modern literature, drama, film, and cultural studies over the years. In 1994, he became the founding editor of The Nashwaak Review, a literary, arts, historical, and cultural magazine designed to showcase Maritime writers. The magazine has published literature, photography, and art by many new and established artists and writers. Donovan has been a regular contributor of poetry, short stories, essays, and reviews. The magazine drew inspiration from R.J. MacSween's own literary magazine, The Antigonish Review, which had published Donovan's earlier work.
During his studies in Ireland, Donovan's admiration for the trials and tribulations of the Irish grew, and so did his political awareness. Since returning to Canada he has been involved with the Canadian Association for Irish Studies, organizing conferences on Irish Studies in 1987 and 1989.
In 1997, he initiated the Irish Studies Program at St. Thomas University, an interdisciplinary liberal arts program designed to highlight the arts, culture, history, and social fabric of the Irish, at home and abroad. It is meant to complement the multitude of other university programs offered at St. Thomas that highlight the contributions of the people of Ireland, and the many immigrants that have made New Brunswick what it is today. That same year, Donovan also participated in the founding of the The Film and Media Studies Program at St. Thomas.
As mentioned, R.J. MacSween, an ordained Roman Catholic priest, would play an inspirational role in Donovan's literary career. Donovan would honour his mentor by publishing the biography The Forgotten World of R.J. MacSween: A Life (2007), and then The Essential MacSween (2008), a selection of MacSween's poetry. In a review of the work, Tony Tremblay calls The Forgotten World "a loving tribute to the halcyon days of MacSween's age of high literacy. . ." (2010). For his effort, the biography was shortlisted for the Dartmouth Book Award for Non-Fiction and the Writers' Federation of Nova Scotia's Elizabeth Richardson Award for Non-Fiction.
Donovan's first novel, Maritime Union: A Political Tale (1992), is a satirical look at the politics, patronage, and exploitation that exists in the Atlantic provinces. Written with the pace of a theatrical comedy, this pun-laced tale is described by reviewer Hilda L. Thomas as a "light-hearted dystopia" (167). It would be twenty years later that Donovan would return to the novel format with Wake of the Aspy (2012). This book, the first of a planned trilogy, is a fictionalized autobiography that draws from the lives of his parents and the community around him in Cape Breton (Personal interview).
Donovan, however, is predominantly drawn to the poetic form. He has published Cape Breton Quarry (1990); The Molly Poems and Highland Elegies (2005), a tribute to the paintings of renowned Canadian artist Molly Lamb Bobak; and From Ingonish Out (2012), which showcases the passion of the people of Cape Breton through the trials of exploitation, expropriation, and the drive for tourism.
In each of these collections, Donovan draws from his east coast roots to deliver powerfully raw poems of the gritty rural living in the Maritimes. He writes of places and people we may not know, but to whom we feel a deep connection nonetheless, like faded pictures in our parents' photo albums. In From Ingonish Out (2011) the poem "Child Care" evokes the realism and recollection evident in much of his work:
How many children were unbuckled in the back seat to be
baby-sat between two doors of a fifty-six Pontiac
Catalina? There must still be legions or at least a cohort? (1-3)
………………………………………………………
Outside in the dark we counted Big Dipper
stars, drank Sussex Ginger Ale, ate Humpty
Dumpty potato chips and sang early Elvis and Hank Snow
(never Patsy Cline) until our pre-breathalyzer
Dads emerged from behind green doors with Howdy
Doody smiles and drove us home tanked up only
to the point where, if challenged, they could talk—and
probably walk— a blue or white streak. (11-17)
It is this level of realism that poet Louis Dudek, on the title page of From Ingonish Out (2011), refers to when calling Donovan "a hard-rock realist with a new kind of regionalism," while on the same page, poet George Elliott Clarke considers Donovan a "poet of specifics" who "crates clear-eyed poems concerned with recapturing, seizing, the seen facts of an up-against-it history."
Don Lavoie, Winter 2012
St. Thomas University
Bibliography of Primary Sources
Donovan, Stewart. Cape Breton Quarry. Wreck Cove, Cape Breton, NS: Breton Books, 1990.
---. ed. The Essential MacSween: The Poetry of R.J. MacSween. Essential Cape Breton Library Series 1. Sydney, NS: Cape Breton UP, 2008.
---. The Forgotten World of R.J. MacSween: A Life. Sydney, NS: Cape Breton UP, 2007.
---. From Ingonish Out. Wreck Cove, Cape Breton, NS: Breton Books, 2011.
---. "Land War." The Men's Breakfast. Wreck Cove, Cape Breton, NS: Breton Books, 2011.
---. Maritime Union: A Political Tale. Fredericton, NB: Non-Entity Press, 1992.
---. The Molly Poems and Highland Elegies. Wreck Cove, Cape Breton, NS: Breton Books, 2005.
---. Personal interview. Fredericton, NB. 12 Oct. 2012.
---. Wake of the Aspy: A Novel of Northern Cape Breton. Wreck Cove, NS: Breton Books, 2012.
Bibliography of Secondary Sources
Brennan, Patrick. "Always Challenging the Status Quo." The Aquinian. 14 Feb. 2012. 25 June 2020
<http://theaquinian.net/always-challenging-the-status-quo/>.
Thomas, Hilda L. Rev. of Maritime Union: A Political Tale, by Stewart L. Donovan. Canadian Literature 141 (1994): 166-7.
Tremblay, Tony. "Remembering Rural Maritime Catholicism & Other Orthodoxies." Rev. of The Forgotten World of R.J. MacSween: A Life, by Stewart Donovan. The Antigonish Review 155 (Autumn 2008): 105-10.