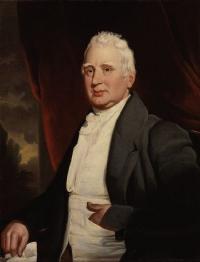 William Cobbett (1763–1835) was born 9 March 1763 in Farnham, Surrey County, England. He was married to Anne (Reid) of Woolwich, London County, England, and they had seven children. Cobbett was an author, satirist, journalist, and editor who published a large collection of political dissertations. He started and edited over fourteen periodicals and newspapers, including Porcupine's Gazette and his most famous and longest running, Political Register.
Cobbett's mother, gave birth to him and his three brothers at the Jolly Farmer, a tavern owned by his father, George (Spater 7). Farnham was a rural farming community and as a young child Cobbett worked as a ploughboy. In 1783, at the age of twenty, he moved to London to work as a lawyer's clerk. After only a few months at that job, he enlisted in the 54th Regiment at Chatham of Kent County in 1784.
Cobbett had little formal education. His father taught him how to read, write, and do some arithmetic (Spater 9). While on garrison duty in Chatham, Cobbett joined a small circulating library. Although the library had limited resources, he read every book available to him more than once as "the library was not very considerable" (The Life and Adventures of Peter Porcupine 20). Soon he began to study in depth and particularly the field of grammar because he was promoted to copyist for his colonel. He admits in his autobiography (Peter Porcupine, 1796) that he made many mistakes as a copyist in the beginning. His colonel told him that he required study. Cobbett purchased a Lowth's Grammar Book and studied thoroughly: "I read, still I read and studied with such unremitted attention, that, at last, I could write without falling into any very gross errors" (Peter Porcupine 21).
Cobbett and the 54th Regiment arrived at Fort Howe in Fredericton in spring 1787. With his newly acquired understanding of grammar, he was promoted to clerk of the Regiment, overseeing every aspect of its business. His next appointment to sergeant-major put him in contact with the top officers, and he discovered, "[their] profound and surprising ignorance in a twinkling. But I had a very delicate part to act with these gentry" (Spater 21). He was aware of their military power and wanted to keep on their good side.
During his rise through the ranks, Cobbett was involved in two particularly significant events in New Brunswick history. In 1785, he and his unit were called to suppress riots at the election at Mallard House in Saint John. Thirty-two years later, in 1817, Cobbett explained in Political Register that he and one hundred and fifty-six troops were prepared to vote in the election for the Lower Cove party but through a constitutional technicality were refused the right. Cobbett wrote that this was because "Our officers were, of course, of the Upper Cove party" (Political Register, 13 December 1817, 1148-51). The second incident occurred at the close of Cobbett's military career in 1791. He discovered that his officers were hiring out the services of common soldiers to work for the Loyalists on their land; Cobbett was outraged, returning to England and requesting a discharge from the military. Next, he filed corruption charges against the military, releasing an account of his views in his first published work, A Soldier's Friend (1792).
Upon the book's release, he and his wife fled to France to avoid arrest after his accusations against the military were ignored. With revolution looming in France, Cobbett and his wife fled again to Philadelphia. This is where he really began his career as a writer, targeting Joseph Priestley, who was an English theologian and a supporter of the French Revolution. After hearing Priestley's thoughts, Cobbett wrote a pamphlet expressing his own. Observations on the Emigration of Dr. Joseph Priestley (1795) was distributed first in Philadelphia, then New York, Birmingham, and London. Its success sparked Cobbett's career in political criticism and satire for the next four decades. The following year he released several controversial pamphlets, including A Bone to Gnaw for the Democrats, which was an attack on the British exiles and their American sympathizers; A Kick for a Bite, which was a defensive reply to a female critic; and A Little Plain English Addressed to the People of the United States, which was focused on a British treaty.
One of Cobbett's more famous feuds was with American lexicographer Noah Webster. Like Cobbett, Webster was an editor of a newspaper in New York, Minerva. Cobbett's Gazette and Webster's Minerva were affiliated, but a disagreement between their two editors sparked a journalistic quarrel. Cobbett began to ridicule Webster's shortcomings in the Gazette. Webster called Cobbett a "bully" and accused him of rallying British immigrants in an attempt to discourage American interests; Cobbett's rebuttals were less subtle. He called Webster a "wretch" and "a spiteful viper." In April 1797, Cobbett published a mock article called "Will and Testament" directed at Webster and his children's spelling books. Cobbett bequeathed "six Spanish milled dollars" to Webster so he could print a portrait of himself at the beginning of his books, that "[w]hich graces it at present being so ugly that it scares the children from their lessons" (Spater 93).
After a barrage of criticism, Cobbett wrote a satirical autobiography in 1796 entitled, The Life and Adventures of Peter Porcupine. "Peter Porcupine" was the alias his critics had given him. In 1797, Cobbett established a daily newspaper called Porcupine's Gazette, but after several name changes and a move to New York in 1799, the paper sputtered. Eventually, Cobbett and his wife returned to England where, in 1800, he established the Political Register, which would prove to be his longest-running newspaper. He edited Political Register for thirty-five years until his death.
Cobbett's writing was littered with angst, emotion, and passionate responses to his political environment. At the beginning of his military career in New Brunswick, he largely remained silent about the corruption in his regiment. When he finally reported on the misbehaviour, he was ignored and hushed. Clearly, his experience in New Brunswick set the ground for his radical political journalism. It must also be said that while stationed in New Brunswick, he took a keen interest in learning the customs of the land. This exposure was behind some of the later publications in his career, such as Cottage Economy (1821), which listed good bread and beer-making recipes along with helpful hints for domesticating animals. Likewise, The Woodlands (1825(28)) was a manual for agricultural success; both were rooted in his New Brunswick experience.
Cobbett died on 18 June 1835 in London. Although he was only in New Brunswick for six years, the province had a significant impact on him.
Lance McNeill, Spring 2010
St. Thomas University
Bibliography of Primary Sources
Cobbett, William. A Bone to Gnaw for the Democrats, or, Observations on a Pamphlet Entitled "The Political Progress of Britain." Philadelphia: William Cobbett, 1795.
---. Cobbett's Political Register. London: Wm. Jackson, 1802–1835.
---. Cottage Economy: Containing Information Relative to the Brewing of Beer, Making of Bread, Keeping of Cows, Pigs, Bees, Ewes, Goats, Poultry, and Rabbits, and Relative to Other Matters Deemed Useful in the Conducting of the Affairs of a Labourer's Family. London: Peter Davies, 1821.
---. A Kick for a Bite; or, Review Upon Review; With a Critical Essay, on the Works of Mrs. S. Rowson. Letter to the Editor, or Editors, of the American Monthly Review. Philadelphia: Thomas Bradford, 1796.
---. The Life and Adventures of Peter Porcupine, With a Full and Fair Account of All His Authoring Transactions; Being a Sure and Infallible Guide for All Enterprising Young Men Who Wish to Make a Fortune by Writing Pamphlets. Philadelphia: William Cobbett, 1796.
---. A Little Plain English, Addressed to the People of the United States. Philadelphia: Bradford, 1795.
---. Observations on the Emigration of Dr. Joseph Priestley: To Which Is Added, a Comprehensive Story of a Farmer's Bull.: [Four Lines of Verse in French from Boileau]. Philadelphia: Richard Folwell, 1795.
---. Porcupine's Gazette. Philadelphia: W. Cobbett, 1797.
---. The Soldier's Friend, or, Considerations on the Late Pretended Augmentation of the Subsistence of the Private Soldiers. London: J. Ridgeway, 1792.
---. The Woodlands: Or, A Treatise on the Preparing of Ground for Planting; on the Planting; on the Cultivating; on the Pruning; and on the Cutting Down of Forest Trees and Underwoods; Describing the Usual Growth and Size and Uses of Each Sort of Tree... the Trees Being Arranged in Alphabetical Order, Including Those of America As Well As Those of England, and the English, French and Latin Name. London: William Cobbett, 1825(28).
Bibliography of Secondary Sources
Bell, D.G. Early Loyalist Saint John: The Origin of New Brunswick Politics, 1783–1786. Fredericton: New Ireland Press, 1983.
Brown, Wallace. "William Cobbett." Dictionary of Canadian Biography. Vol. 6. Toronto: U of Toronto P, 1987. Dictionary of Canadian Biography Online. 2003. U of Toronto/U Laval. 26 June 2020
<http://www.biographi.ca/en/bio/cobbett_william_6E.html>.
MacNutt, W.S. New Brunswick, A History: 1784–1867. Toronto: Macmillan, 1984.
Pearl, M.L. William Cobbett: A Bibliographical Account of His Life and Times. London: Oxford UP, 1953.
Spater, George. William Cobbett: A Poor Man's Friend. Vol. 1. New York: Cambridge, 1982.