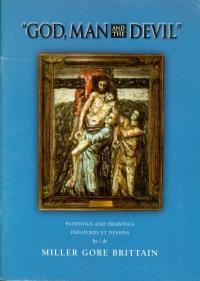 Miller Gore Brittain was born in Saint John, New Brunswick, on 12 November 1912. As an adolescent, he enrolled as an arts student at the Saint John Vocational School. Later, in 1930, he left to study at the Arts Students League of New York, a school that had offered low-fee art instruction since 1875. It was there that he found inspiration in a mentor by the name of Harry H. Wickey, Brittain's favourite teacher. He studied in New York until 1932, earning a reputation as a bon vivant.
Under increasing pressure from the economic depression, Brittain returned home to paint, focussing on images of the working and lower classes. He soon became known as "the Canadian Brueghel." His participation in the Christian organization the Oxford Group demonstrated his bias against institutionalized religion. In the early 1940s Brittain joined the RCAF and was posted to No. 78 Squadron in Breighton, Yorkshire, as a bomb-aimer. However, he acted principally as a war artist and was so designated along with thirty-two others in 1945. Brittain faced extreme moral turmoil during the war and found comfort in the writings of William Blake. He carried Blake's Songs of Innocence with him on bombing missions. He sympathized with Blake's idea that "evil necessarily exists in all goodness, just as goodness must exist in all evil."
It was after Brittain was discharged from the war in 1946 that his work took on new and more eccentric directions. That same year, he did a pencil drawing of Mary Magdalene that is considered to be the first work of this new phase. In January 1949, he had his first important exhibition at the New Brunswick Museum in Saint John. The exhibition was so positive that it led to a solo show in New York. In 1968, at the age of fifty-six, Brittain was awarded the Canadian Centennial Medal for his contribution to Canadian art. That same year he died tragically of a stroke. Miller Brittain was an icon of the Saint John arts community, an inspiration to poets and writers (especially to his contemporary Kay Smith and, later, to the novelist David Adams Richards), and an unparalleled talent who was among the first to document the pedestrian lives of New Brunswick's working classes.
Matt J. Belyea, Winter 2008
St. Thomas University
Bibliography of Primary Sources
Brittain, Miller Gore, Curtis Joseph Collins, and Brian Foss. "God, Man and the Devil": Paintings and Drawings by Miller Gore Brittain. Fredericton, NB: Beaverbrook Art Gallery, 1998.
Bibliography of Secondary Sources
Harper, John Russell. Miller Brittain: Painter. Sackville, NB: Owens Art Gallery, 1981.
Miller G. Brittain: 1919-1968." Gallery 78.
<https://www.gallery78.com/artists/miller-gore-brittain>.
Mogelon, Alex. Miller Brittain in Focus. Toronto: S. Dresdnere, 1998.
Smart, Tom. Miller Brittain: When the Stars Threw Down Their Spears. Fredericton, NB: Goose Lane Editions, 2007.