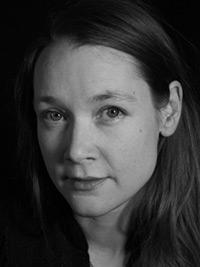 Tammy Lynn Armstrong (poet, novelist) was born 26 March 1974 in St. Stephen, New Brunswick. She attended school in St. Stephen before moving to Vancouver, British Columbia in 1992.
While living in B.C., she flourished as a student, receiving the highest honours for both her BFA and MFA degrees in creative writing from the University of British Columbia. She published her first two books while there, which included a book of poetry, Bogman's Music (2000), and the novel Translations: Aístreann (2001). Though her success was first found out west, her inspiration has always come from the landscapes of the southern coast of New Brunswick. The inspiration from the east coast, combined with her decade-long urban experience of the west, has added layers to Armstrong's work that are unique to New Brunswick poetry. It was also in Vancouver that she discovered her love for teaching; she worked as an ESL (English as a Second Language) teacher for a number of years.
In 2005, Armstrong returned to New Brunswick and took up residence in Fredericton. In her home province, she published her third book of poetry, titled Take Us Quietly (2006), and two years later she published her fifth book, a novel entitled Pye-Dogs (2008). In that same year, she began a PhD in literature at the University of New Brunswick. Her current studies focus on ecocriticism in relation to the role that animals play in Atlantic Canadian poetry.
Armstrong has travelled extensively, not only within Canada, but also throughout the world, visiting at least seventeen countries on four different continents. These travels have left their mark on her writing, helping her to understand the position as an "outsider, visitor, [and] representative" (Interview with author). Moreover, her travels have helped her to understand herself from a perspective that is not easily found in familiar settings. This idea is reiterated in the last two lines of her poem "Bogman's Music": "nothing better than my own stories of place / where craving belongs" (39-40). When asked what country has left the deepest impression on her, she answers, "Iceland for its immensity and its humbleness beside such incredibly sublime landscapes" (Interview with author).
Armstrong's poetry often contains an unnerving nostalgia. She writes emotionally laden reminiscences, especially about childhood. She writes of the father in "Boat Builder": "You've kept me away all these years, / running me to the house to refill three-fingered drinks… a ten-year-old cocktail waitress who wondered / about this hidden world" (10-11,12-13). In the poem "Winter Guests", she describes the dynamics of a drunken kitchen party from the perspective of a child, neither criticizing nor glamorizing the moment:
Mother's gingery banter crept over beer hisses,
over the embarrassed laughter of other sober housewives
who no longer acknowledged drunken flirtations;
their words fell like ice into an always empty tumbler.
(7-10)
These passages display the exactness of her writing and the buried memories that are present in all her poems. What they do not show is the great diversity of her work, which ranges from painful to playful and from haunting to hope-filled.
Critics often cite the complexity and beauty that are simultaneously present in her work. One critic referred to these complexities in relation to place, saying that Armstrong's work blended "the geographically proximate and an exotic elsewhere" (Guest 149). Similar paradoxes seem to be a frequent theme in Armstrong's writing. An example can be found in her poem "Panajachel, Guatemala" in which she writes: "Slow through the streets / an ex-pat asks if we want to get high" (1-2), a situation that raises the paradox of the familiar in the foreign. These paradoxes reflect her wide cultural experience, which is a combination of the urban and rural, the national and international, and the west and east. This sense of the cosmopolitan will likely deepen as she continues to mature as a poet.
Armstrong's work has received almost universally stellar reviews, and has been nominated for and awarded many prizes. Bogman's Music won the Alfred G. Bailey poetry prize and was shortlisted for Canada's most prestigious literary award, the Governor General's Award. Her first novel, Translations: Aístreann, won the David Adams Richards Prize, and Unravel was nominated for the Relit Award. She has also received a number of grants and scholarships, most notably from both the Canada Council and the New Brunswick Arts Council. In 2008 she won the William S. Lewis Doctoral Fellowship, which is awarded to doctoral students from the University of New Brunswick who have the potential to become leaders in their fields.
John Van Buskirk, Spring 2010
St. Thomas University
For more information on Tammy Armstrong, please visit her entry at the New Brunswick Literature Curriculum in English.
Bibliography of Primary Sources
Armstrong, Tammy. Bogman's Music. Vancouver: Anvil Press, 2001.
---. "Killing Ofeig." Canadian Geographic 128. 5 (2008): 102-102.
---. Personal interview. 4 Mar. 2010.
---. Pye-Dogs. Ottawa: Oberon Press, 2008.
---. The Scare in the Crow. Fredericton: Goose Lane Editions, 2010.
---. Take us Quietly. Fredericton: Goose Lane Editions, 2006.
---. Translations: Aístreann. Regina: Coteau Books, 2002.
---. Unravel. Vancouver: Anvil Press, 2004.
Bibliography of Secondary Sources
Guest, Kristen. "Three Canadian Poets." Canadian Literature (Spring 2008): 148-150.
Messerli, Douglas. "Poet Biographies: Tammy Armstrong." Green Integer. 2006. Green Integer. 19 Feb. 2010
<http://greeninteger.com/pipbios_detail.cfm?PIPAuthorID=15>.
Neale, Heather. "Profile: Poet Armstrong Tells It Like It Is." Peak. 13 Jan. 2003. Simon Fraser U. 8 Mar. 2010
<https://newspapers.lib.sfu.ca/peak-1093/peak>.
Nowlan, Michael O. "Tammy Armstrong's New Book of Verse Both a Challenge and a Pleasure." The Canadian Press 31 Oct. 2006: n. pag.
"Tales of Love and Loss (Book Review)." Resource Links 9.1 (Oct. 2003): 61 (2).
"Tammy Armstrong." Anvil Press. 2010. Anvil Press Independent Publishers. 19 Feb. 2010
<http://www.anvilpress.com/authors/tammy-armstrong>.
"Tammy Armstrong Awarded Dr. William S. Lewis Doctoral Fellowship." News @ UNB. 19 Dec. 2008. U of New Brunswick. 19 Feb. 2010
<https://blogs.unb.ca/newsroom/>.