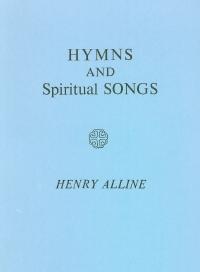 Henry Alline was born on 14 June 1748 in Newport, Rhode Island. He was the son of farmers William and Rebecca Alline. He began his education in Rhode Island until his family moved to the township of Falmouth in Nova Scotia. He was eleven. Due to the recent expulsion of the Acadians, the land was vacant for the taking; however, expulsion also meant that there were no formal buildings for schools or churches. Despite the lack of infrastructure, Alline grew up to become a dedicated preacher and a poet. According to Thomas Vincent, "Henry Alline is best known to historians as a dynamic evangelical preacher who precipitated a major religious revival of great social and political significance in late-eighteenth century Nova Scotia" (7). From a young age, he had a great fear of God, and he lived with the prospect of hell. In his journal he stated: "I now used to pray at every opportunity, even while I was walking along, when going to school, or elsewhere, that this angry God would not send me to hell" (30). With no theological training, he became an itinerant preacher in April 1776. Until his death in 1784, he preached throughout Nova Scotia and New Brunswick, working to establish independent churches, which were the first steps in what led to the Baptist movement in the Maritimes (Alline, Life and Journal 11).
Between 1780 and his death in January 1784, he produced two theological works (Two Mites, 1781 and The Anti-Traditionalist, 1783), three sermons, two volumes of religious verse, and a detailed travel journal. In the 1790s, many of his works were printed and used by the Free Will Baptists in New England.
Alline was influenced by the mystical and ascetic elements in the works of William Law, an English theologian (Vincent 7). Law was an early-eighteenth-century Anglican pietist. His doctrine was, said one commentator, "peculiar if not downright incomprehensible" (Bumstead vi).
Alline's own views seemed to be somewhat conflicted between his passion for the inner experience and his need to spread the word (Vincent 8). He was criticized in his day for this contradiction by Jonathan Scott from Yarmouth, who published a religious tract that picked Alline's theology apart. Scott attempted to discredit Alline by saying Alline was "wandering away from New England religious practices and traditions" (Rawlyk & Stewart 98). Despite Scott's efforts, Alline continued to keep and gain followers: "Everything seemed to hinge on Alline's ability, during his preaching, to (awaken) the people. As long as he was successful in this, his doctrinal inconsistencies became irrelevant" (Rawlyk & Stewart 99).
Alline translated his theological conflicts into themes of struggle and peace in his poetry. This is evident in his Hymns and Spiritual Songs (1786). This collection of over 480 hymns reads like a spiritual autobiography (Vincent 8). He was going to Boston to publish it, but died of consumption in New Hampshire in 1784.
Henry Alline's writings were written from a Christian preacher's point of view. Even his journal is filled with his experiences of finding revelation. Paramount are his struggles of faith and joys of salvation: "Farewell, vain world, with all your toys I sold my soul for you" (6). Alline's human inclinations were always at odds with his spiritual desires; this explains his popular appeal to sinners. He wrote and spoke with hope, yet in a realistic fashion. In an introduction to Alline's hymns, John Bumstead states, "while one finds poetry in heroic couplets and blank verse scattered throughout Alline's writings, it is in the hymns and songs that we see the clearest evidence of his literary importance as the poet of the ordinary Maritimer of his period" (vi).
Although he died more than two hundred years ago, Alline remains an important early figure in New Brunswick verse.
Caitlyn Stymiest, Spring 2010
St. Thomas University
Bibliography of Primary Sources
Alline, Henry. Hymns and Spiritual Songs. Sackville, NB: Ralph Pickard Bell Library, 1987.
---. The Life and Journal of The Rev. Mr. Henry Alline. Ed. James Beverly and Barry Moody. Hansport, NS: Lancelot Press Ltd., 1982.
---. The Sermons of Henry Alline. Ed. George A. Rawlyk. Baptist Heritage in Atlantic Canada 7. Hansport, NS: Lancelot Press Ltd., 1986.
Bibliography of Secondary Sources
Bell, David Graham. Henry Alline and Maritime Religion. Ottawa: Canadian Historical Association, 1993.
Bumstead, John. Introduction. Hymns and Spiritual Songs. By Henry Alline. Sackville, NB: Ralph Pickard Bell Library, 1987. V-IX.
Rawlyk, George. Ravished by the Spirit. Montreal and Kingston: McGill-Queen's UP, 1984.
Rawlyk, George and Gordon Stewart. A People Highly Favoured of God. Toronto: Macmillan Co. of Canada Ltd., 1972. 79-194.
Vincent, Thomas. "Canadian Writers Before 1890." Ed. William H. New. Dictionary of Literary Biography. Vol. 99. Detroit: Gale Research, 1990. 7-8.