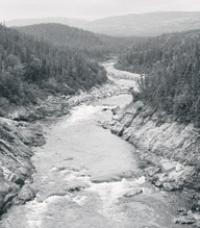 The Anchorage Press is a print publishing company located in Jolicure, New Brunswick, approximately nine kilometres northeast of Sackville (NB). Since its establishment in 1987 by Mount Allison University professor Thaddeus Holownia, the aim of the Anchorage Press has been to publish works that focus on the interplay between image and text, usually in the form of photographs paired with poetry. The most recent publication from the press, Silver Ghost (2008), is a combination of photographs by Holownia and essays by Harry Thurston. This book placed third in the Pictorial category of the 2009 Alcuin Society's Awards for Excellence in Book Design in Canada. Another work published by Anchorage Press is The House That Stands (2008) by Stefan A. Rose, which took first place in the Poetry category of the 2009 Alcuin Society's awards.
Thaddeus Holownia graduated from the University of Windsor (ON) in 1972 with a BA in Communications and Fine Arts. Through his exposure to the Toronto arts community in the late 1960s and early 1970s, and his subsequent exposure to small-scale printing, Holownia began to realize the potential that books held for him and the presentation of his photographs. He moved to Sackville in 1977 to teach in the Department of Fine Arts at Mount Allison University. Upon his arrival there, he began acquiring retired letterpress equipment from local print shops since many were upgrading to newer technologies. By 1983, Holownia had set up his own print shop in the basement of the university's library with the help of people like Douglas Lochhead, a noted poet and fellow faculty member at Mount Allison. Lochhead had gained experience with letterpress printing while he was a librarian at Massey College, a branch of the University of Toronto.
After a conference in 1987, the "Anchorage Symposium on Printing and Publishing in Atlantic Canada (1751–1987)," Holownia approached the administration of Mount Allison University with an idea to create a "poet's house" by converting an old carriage house on campus into a working press with small living quarters. The members of the administration, however, did not support his vision and turned him down. Holownia decided to adopt the name of the carriage house, "The Anchorage," and create a press of his own that was independent from the university. The printing equipment was moved out of the library basement and into the current residence of Anchorage Press, overlooking Jolicure Pond. It has since become informally known as a "satellite campus" of the university. Holownia continues teaching at Mount Allison and is currently professor and head of the Fine Arts Department.
Holownia maintains that the Anchorage is a teaching press, with many of his students producing work that forms a portion of the press's annual output. These books most often showcase the students' artwork in the form of photography and text, with the images often being the main focus. Some works—Stefan A. Rose's The House That Stands and a collaborative student project between photographer John Haney and writer Amanda Jernigan—do not fall into this category, however, and distinguish themselves by a combination of engaging words and captivating photography.
Subsequent to the publication of Tribute to Judy Jarvis (1987)—a series of ten black and white photographs with no accompanying poems or essays—the goal of the Anchorage Press was to combine text and image in a harmonious way, with Holownia collaborating with many different poets over the years. Some of his notable collaborations have been with the poet Peter Sanger for Ironworks (1995), a collection of photographs on nineteenth-century hand-wrought iron objects and tools, and Arborealis (2006), which received an award of excellence in design and printing from the Applied Arts Magazine. With its thirty-one photographs of Gros Morne National Park and the Great Northern Peninsula of Newfoundland, paired with thirty poems by Sanger, Arborealis won the award for its printing, design, and typographical merits and, perhaps more importantly, for its alchemical combination of image and word.
Another of Holownia's important partnerships has been with Nova Scotia poet, writer, and naturalist Harry Thurston, with whom he collaborated to make Ova Aves (2003), a collection of thirteen colour prints of bird's eggs and thirteen accompanying poems. The pair collaborated more recently on Silver Ghost, which was designed by Andrew Steeves. The work was a successful melding of photographs from several salmon rivers in New Brunswick, Nova Scotia, Newfoundland and Labrador, Québec, and Maine, and musings by Thurston on the elemental nature of the natural settings presented in Holownia's photographs.
On the Anchorage Press website page for Silver Ghost, there is a quote from Henry David Thoreau on the beauty of fish and their value as a muse as opposed to a meal. Holownia was greatly inspired by Thoreau, having visited Walden Pond on several occasions to photograph the area and its trees. This travel resulted in two photo collections: 24 Tree Studies for Henry David Thoreau (2001) and Walden Pond Revisited (2001-2003). Holownia is currently collaborating with American poet Marie Howe on his series of Walden photographs.
Since its inception in 1987, the main focus of the Anchorage Press has been the printing and presentation of photographs, usually in the form of 8x10 and 7x17 inch large-format camera prints. Over the years, however, Holownia and his collaborators have experimented with the complementary use of words in conjunction with images, with a focus given to poetry and new ways of giving words impact. Though Holownia's photography can be captivating and beautiful on its own, it is the one element essential to letterpress printing—the text—that gives the perfect counterpoint to image and makes the printed works of the Anchorage Press so unique and worthy of praise.
Will L. Pacey, Winter 2009
St. Thomas University
Bibliography of Primary Sources
The Anchorage Press. 20 Nov. 2009
<http://anchoragepress.ca/>.
Holownia, Thaddeus. "Thaddeus Holownia: Biography." Thaddeus Holownia. 2009. 20 Nov. 2009
<http://holownia.com/biography/>.
Rose, Stefan A. The House That Stands. Jolicure, NB: Anchorage, 2008.
Sanger, Peter. Arborealis. Jolicure, NB: Anchorage, 2006.
---. As the Eyes of Lyncaeus: A Celebration for Douglas Lochhead. Jolicure, NB: Anchorage, 1990.
---. Ironworks. Jolicure, NB: Anchorage, 1995.
Thurston, Harry. Ova Aves. Jolicure, NB: Anchorage, 2003.
---. Silver Ghost. Jolicure, NB: Anchorage, 2008.
Bibliography of Secondary Sources
De Decker, Laura. "Stefan A. Rose: The House That Stands – Press Release." 2008. 20 Nov. 2009
<http://www.stefanrose.ca/media-thehousethatstands.html>.
Holmes, Matthew. "The Long View: An Interview with Poet Peter Sanger on his Collaboration with Photographer Thaddeus Holownia." Arc Poetry Magazine 56 (Summer 2006). 20 Nov. 2009
<http://arcpoetry.ca/2006/07/09/interview-with-peter-sanger/>.
Lederman, Marsha. "A River Runs Through Him." Rev. of Silver Ghost. Globe and Mail 17 Jun 2008.
<https://www.theglobeandmail.com/arts/a-river-runs-through-him/article1056432/>.
Steeves, Andrew. "A Brief History of the Anchorage Press: The First Twenty Years." Devil's Artisan 54 (Spring/Summer 2004).
<http://www.devilsartisan.ca/anchorage_press.html>.