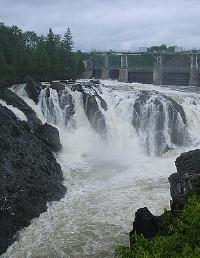 Adam Allan was born in 1756 and died in 1823 in his sixty-sixth year. One of the first published poets of New Brunswick, Allan was a Lieutenant commissioned in the Queen's Rangers. He was one of the first Loyalists to settle at Sainte Anne's Point (now Fredericton) and lived in one of four houses that stood in Fredericton in 1785. In 1798 he was stationed at a military post in Grand Falls, New Brunswick. During this time he composed his well-known description of the falls. His son Jacob later published Allan's poetry in England; however, this volume of his work cannot be found. Allan was later an employee of the fledgling New Brunswick government where he worked to lay out the first roads. He settled with his wife (daughter of Dr. Joseph Clark) near Pokiok Stream. One can read an inscription made by one of his descendants on a gravestone near the junction of the Pokiok Stream in the Parish of Dumfries, along with a copy of Allan's poem "Grand Falls," in The River St. John and its Poets. "Grand Falls" was first published as a preface to a volume of the The Gentle Sheperd, which was originally written by Allan Ramsay in a Scottish dialect and was translated by Adam Allan into modern English.
Allan is an important New Brunswick poet because his description of the falls provides us with one of the first literary perspectives we have of the province. He created an image of the falls from a visitor's viewpoint: because of his Scottish birth, there is a lack of the authenticity or expression that someone of origin would have had. One reviewer called "Grand Falls" a "very spirited and graceful poem" (MacFarlane n. pag.). There are many different literary critiques of Allan's work; however, there is a universal appreciation for his attempt to poetically portray a provincial landmark.
Stacey McCarthy, Winter 2008
St. Thomas University
For more information on Adam Allan, please visit his entry at the New Brunswick Literature Curriculum in English.
Bibliography of Secondary Sources
Bentley, D.M.R. "A New Dimension: Notes on the Ecology of Canadian Poetry." Canadian Poetry: Studies, Documents, Reviews 7 (Fall/Winter 1980): 1-20.
MacFarlane, William Godsoe. New Brunswick Bibliography: The Books and Writers of the Province. Saint John, NB: Press of the Sun Print, 1895.
Maxwell, Lilian M. Beckwith. The River St. John and its Poets. 2nd printing, enl. Sackville, NB: Tribune Press, 1947.